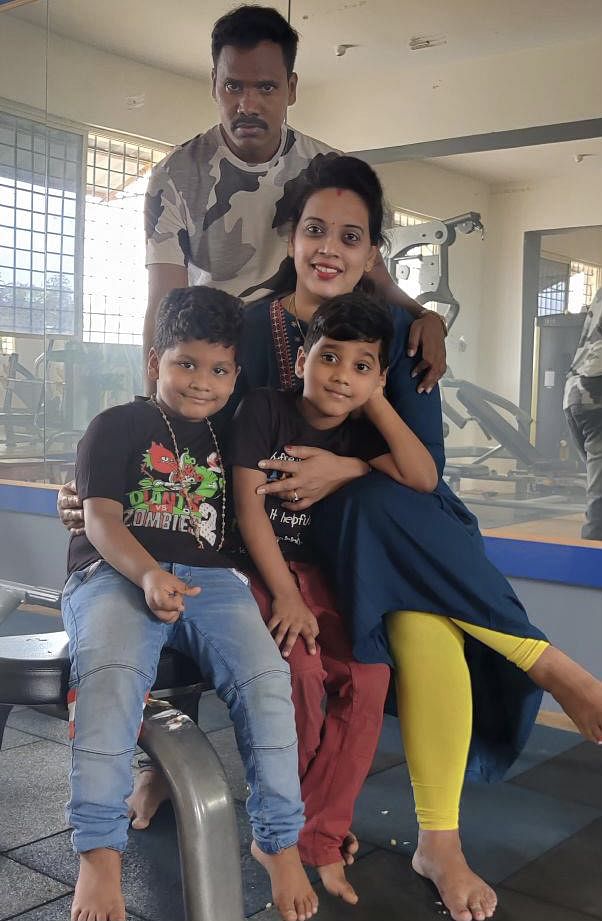 This campaign is created by Balaji Bapu Rao and Sanjay Bapu on behalf of their family and in support of their cousin Lakshmi (Nagalakshmi B. G). Balaji's brother-in-law, a resident of Mysuru and who also happens to be Lakshmi's cousin will be helping her in the immediate future till she takes control of the situation.
Lakshmi and Gautham were happily married and were blessed with twin boys Nikhil and Nikhit. Lakshmi's family lived with her parents. Gautham owned a gymnasium and was an excellent personal trainer. He was the sole breadwinner of the family. With the support of loving parents, husband, and kids, it was a perfect family!
Lakshmi's mom passed away two years ago. Her dad was bed ridden for last two years and passed way six months ago. The family was healing from the loss of her parents.... and then came the COVID-19.
Gautham contracted COVID-19 in April 2021. After about two weeks of hospitalization, he succumbed to it. Gautham passed away on May 06, 2021.
In November 2018, Gautham had taken a loan of 16 Lakh Indian Rupees (16,00,000 Rupees) for the gymnasium, which was the only source of income. The loan was secured by their home as collateral. With the onset of the first wave of COVID-19, the gym was closed from March 2020 to September 2020. With the second wave, the gym is again closed since April 2021.
Gautham's hospitalization alone has cost 3 Lakh Indian Rupees (3,00,000 Rupees). Her dad's extended medical expense on top if it, has drained most of their savings.
Currently, her monthly financial obligation includes,
A. 30,000 Rs towards loan payment.
B. 15,000 Rs towards rent for gym
C. Education Expenses for kids
D. Miscellaneous Expenses.
Losing loved ones has sent her reeling with pain. This is furthered with financial debts and uncertainty. Lakshmi now holds the baton to raise the kids, give them a good education, and this, she plans to do by running the gym.
Lakshmi has gone through a lot in life, and each time she has come back stronger. Now at the most fragile moments in her life, she seeks your help and support. With your help, we are sure that she can overcome the hurdles this time too and secure a bright future for her kids.
We graciously request your timely support and help in putting Lakshmi's life back in order.
We thank you very much in advance.
Sincerely,
Balaji, Sanjay and Lakshmi's Family