Update: Thanks everyone for your kind support. Please don't donate Now.
Hi, I have created this fundraiser profile for my beloved uncle Mr. Ved Singh (Nekram Singh) (address: Village-Bahanpur, Post-Kailora, Dist.-Hathras, State-Uttar Pradesh, Country-India, 204102). At present, he has been battling with multi internal organ failure. He is a poor farmer and lost all his savings in treatment. He has two small kids and nobody is there to take care of kids after him.
He was facing problems for the last few months, but due to his poor financial situation, couldn't take proper treatment. Now, the problem is very critical and he doesn't have money to get treatment from a specialist. We admitted him to a good hospital in Agra, but after few days he went out from there due to the extremely high hospital expenses (he want to die, but don't want to ruin his family after him). I spend my childhood with him and have lots of good memories. Now, I don't want to lose my uncle (chachaji) easily. We also helped him, but the expenses are too much and we can't afford this.
At present, we have temporarily admitted him to Sarojini Naidu Medical College, Agra (ward no-101, bed no-11). You can call and visit the hospital for further verifications. The doctor told us to arrange around INR 50 lacks for treatment in a good hospital. Therefore, I request you to financially support my uncle to start the proper treatment (so his life can be saved). All contributions, big or small (even INR 1), are welcome. Warm wishes are equally welcomed. Request you all to extend a helping hand to this cause. He and his family also have dreams.
You can find his hospital video here: https://drive.google.com/file/d/1whfKYH8VY2beCjCYclKV7kYM_7NVAUzD/view?usp=sharing
Medical reports are attached herewith: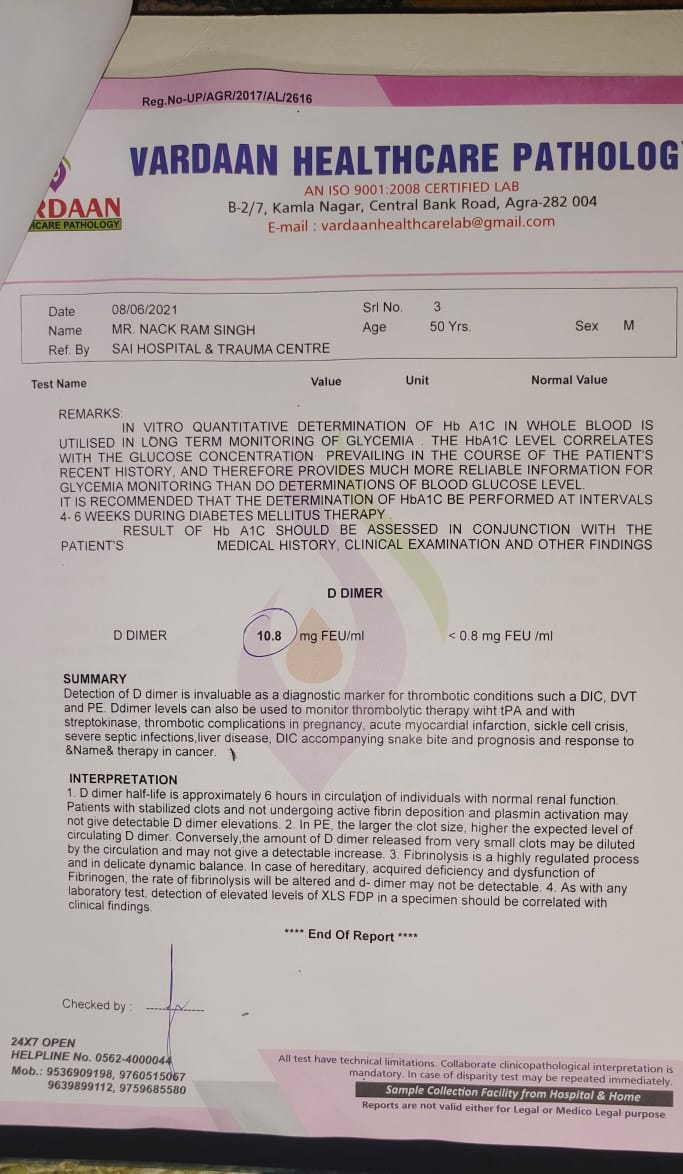 For more clarifications, you can check my profile on Google with the name 'Sandeep Singh Sengar'. If you have any doubt, just please send a message on my public profile.
Thanks In Advance,
Dr. Sandeep Singh Sengar
(On behalf of Mr. (Ved Singh) Nekram Singh)
Contact: +91 9999635492 (only Whatsapp call and text message)
Another contact number of my brother (Mr. Ashish Sengar): +91 8475807053
The contact number of the patient: +91 9675720160