About Mindora
Just like any other muscle and organ, our brain has its own way of coping with problems. A sad, anxious, and depressed society is bound to succumb. According to WHO, India is the 6th most depressed country in the world, and there exists a social stigma of acknowledging one's mental health problems and seeking help in the knowledge of their family and friends.
Mindora is a Guwahati based social organization with a new-age solution to these uprising mental health issues like depression, stress & anxiety.
We provide online mental health counseling to beneficiaries of all demography across India. Also, promote mental health awareness among communities as well as individuals, and encourage them to seek professional help.
Right now, we have a team of 18 individual experts in diverse fields like clinical psychology, psychiatry, operations, and technical support.
The Problem and our Services
The ongoing Covid-19 lockdown and social isolation have already started breaking down the economy, livelihoods, businesses, jobs, relationships, and whatnot, which all are channeling a huge imbalance in the mental health of the mass population. We must get emotionally and mentally ready with a solution-centric approach to face the shift that has started to happen. Recently, the World Health Organization posted an update with the severity of the issue in the current crisis scenario and the need to address it.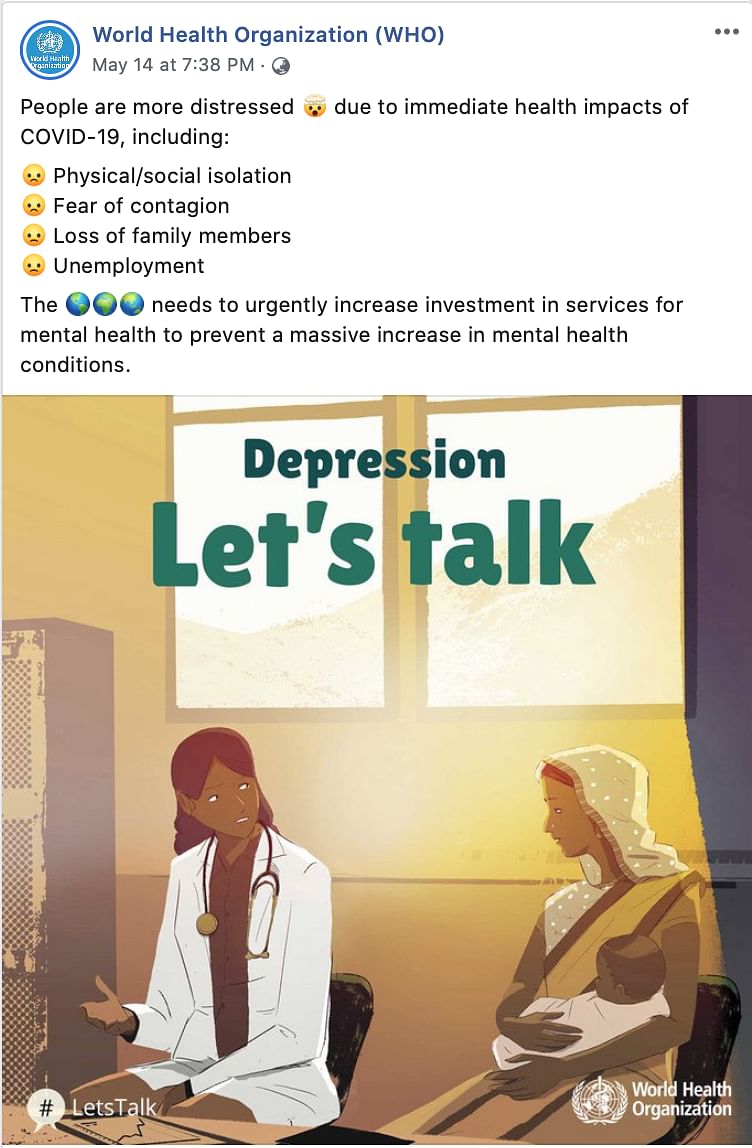 In view of the rising demand in this crisis period, we have launched our services across India all free of cost. Right now, the bookings are being taken through a form via our social media handles and providing help through chat and phone calls (according to the user's choice). Daily, on an average 7-9 new people are booking for Mindora's services from different cities (Guwahati, Barpeta, Biswanath, Shillong, Bangalore, Chennai, Mumbai, Delhi, Lucknow, and more) and so far, we have successfully completed 1047 cases across India.
Media feature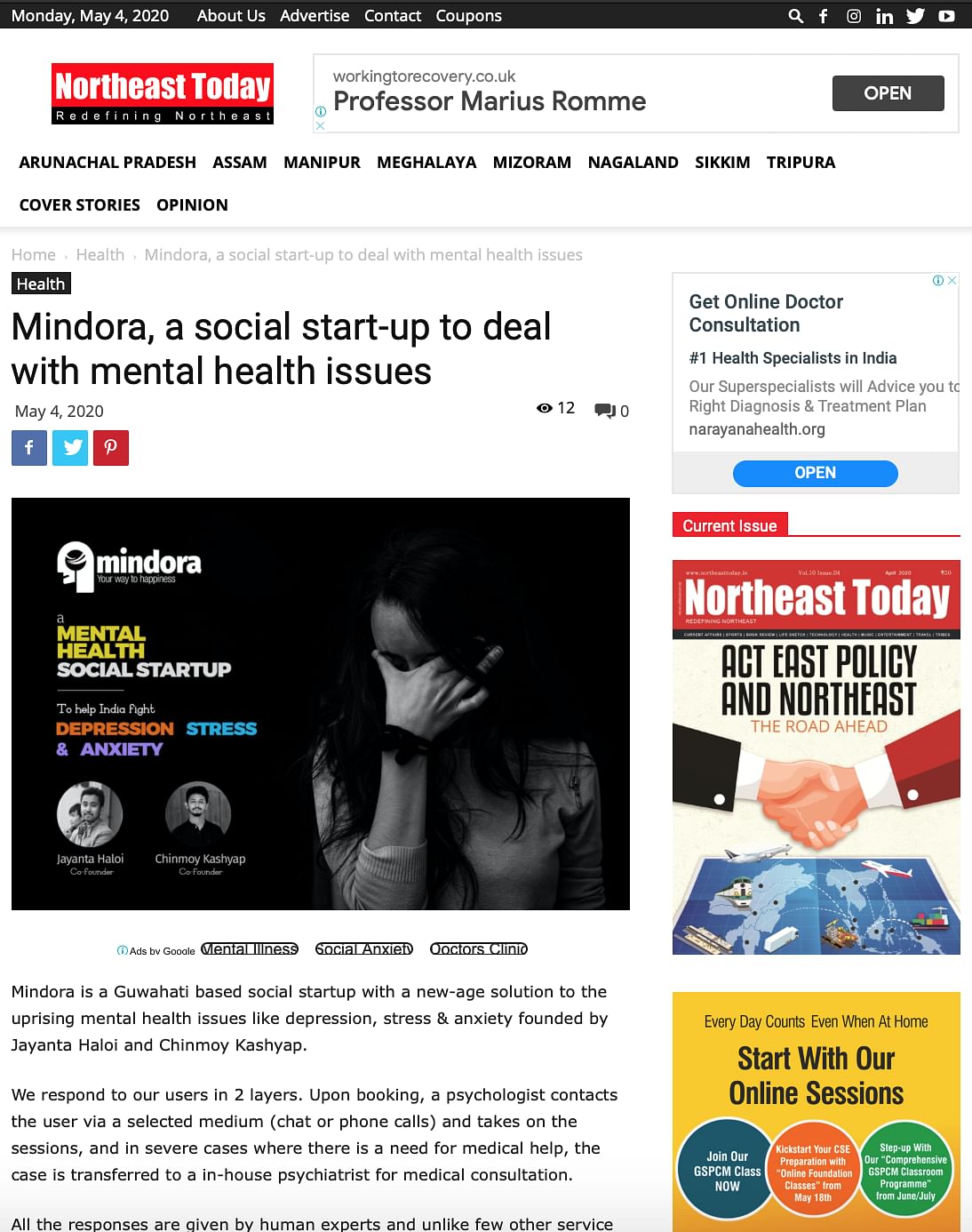 ​Read the full story in the
Northeast Today
What we ask for
We are developing a digital platform where people can check their scale of mental health and take help from the psychologists & psychiatrists keeping their identity safe. This will increase the lacking awareness and encourage people to opt for help breaking the social stigma of acknowledging one's mental health problems and sharing it with others.
We are offering the best possible services to our beneficiaries all free of cost. However, we cannot do it without your support. We request you to come forward and help us collect this fund. All of your contributions will be used for:
Developing the interactive digital platform for the beneficiaries to enable them to seek expert help with confidence in their privacy.
A 24X7 helpline to assist people in distress situations, and book for a psychologist/psychiatrist session.
Integrate and employ existing as well as new psychologists & psychiatrists.
Run awareness campaigns across institutions, rural areas, communities, and digital platforms.
All the funds collected shall be used in the next 5 months for the following purposes:
Rs. 50,000 for developing and maintenance of the digital platform to facilitate easy access for the beneficiaries with complete privacy.
Rs. 78,000 to launch and operate a 24X7 toll-free helpline.
Rs. 45,000 to train and sensitize the team and volunteers to be sensitive-community friendly on the field.
Rs. 4,50,000 for employing and providing salary and expenses to 5 consultant psychologists.
Rs. 2,45,621 to conduct awareness campaigns in institutions, workplaces, rural communities throughout northeast India, and on social media platforms.
Your generosity with a donation would be highly appreciated. If you are not in a position to donate, please spread this message to your friends and family so that more victims of mental health issues get some help.