Rebuilding Lives is an initiative of Meetali Anup Sinha, launched by Under The Tree (UTT). The UTT works in the inter-related fields of education, nutrition, and skill development.
Started by Meetali in 2014 with a few children, Under The Tree has grown both in scope and scale over the years.
Meetali, a graduate in Home Science from Jabalpur and a B. Ed, has worked in the field of nutrition & education since 1991. She started her career with schools and finally became a social worker devoting her time for the UTT to uplift the marginalized sections of society. For the past five years, she has been working for children of migrant construction workers and daily wagers in NOIDA, India, and has helped over 600 Children get the basic education under the UTT.
While Covid pandemic hit India, Meetali launched the campaign Meal First to provide immediate relief to poor migrant workers and daily wagers. Under this ongoing campaign, she has supported over 1600 persons multiple times and distributed ration worth 1.6 lakh meals so far.
Over 500 hygiene kits were also distributed during the campaign.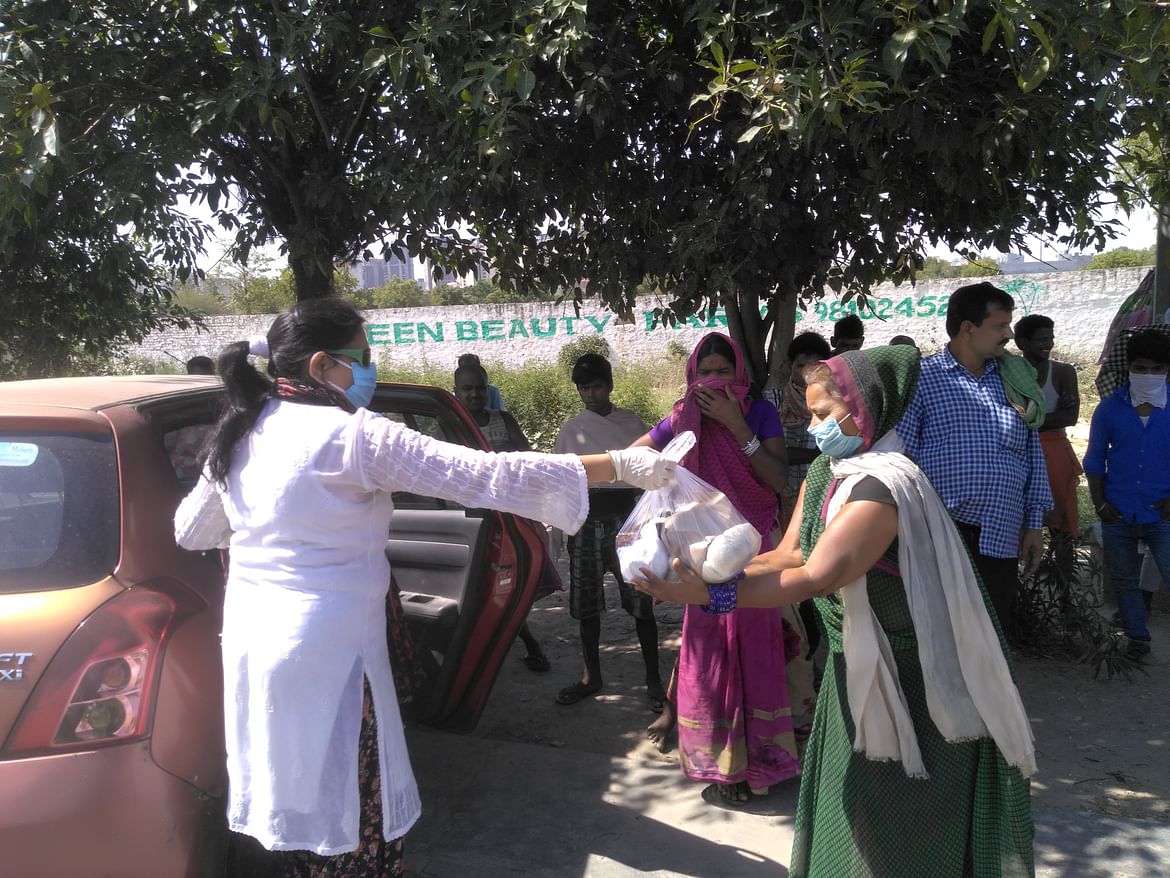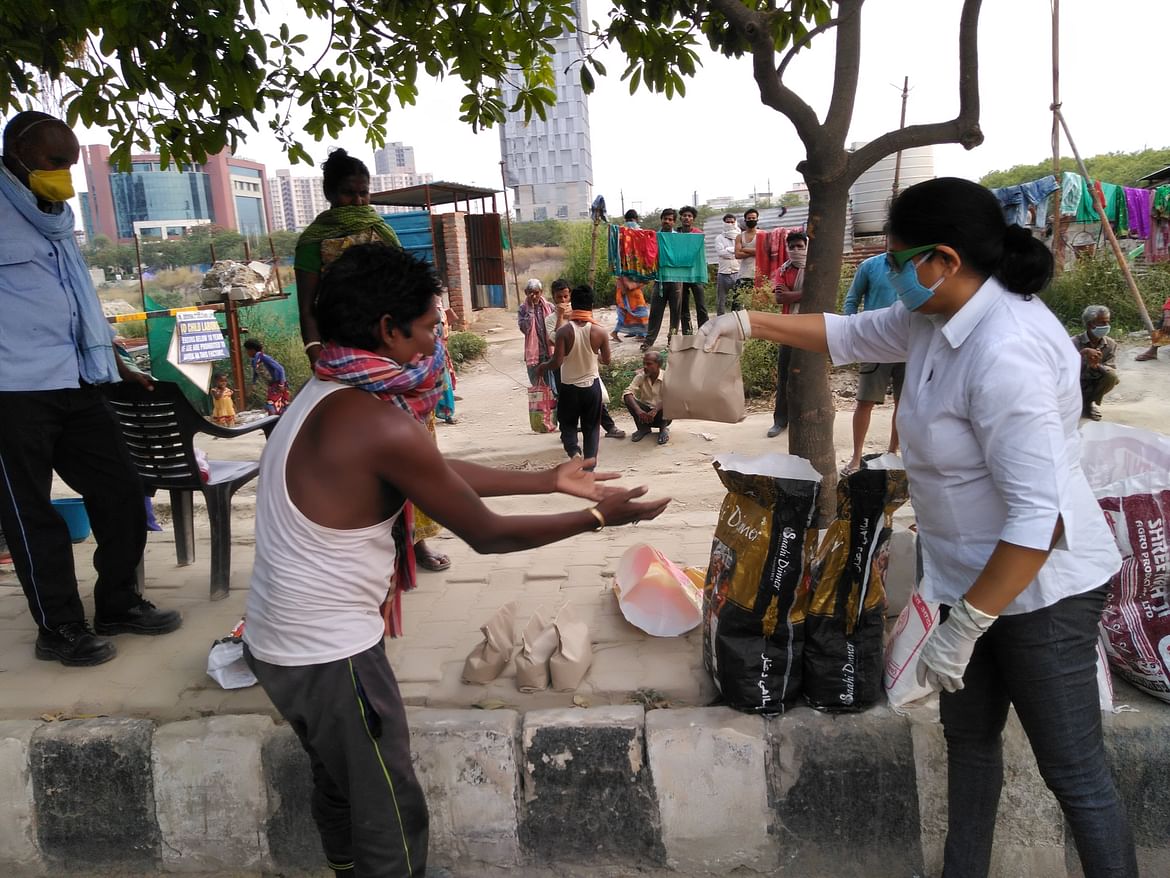 The Meal First campaign will continue for a while before it becomes an important component of Rebuilding Lives. While working for the covid relief, Meetali realized the ration and food distribution is necessary but is an ad-hoc solution. Unskilled and daily wagers need to be given sustainable livelihood support. A holistic approach encompassing many components of health and hygiene, education, skills training, capacity building and awareness must be adopted towards a sustainable livelihood. Battle against Covid pandemic is a long one. It has come as an unprecedented shock that magnifies the impact of inequality, hitting the poor the hardest. Immediate steps need to be taken to help a significant number of low-skilled /unskilled workers.
In the new unlocked economy, there will be new ways of doing business and over 30 percent of low-skilled workers will not be employed. Mostly hit are daily wagers and unskilled workers.
There will be social and economic issues if these people do not get food and gainful employment.
Rebuilding Lives campaign is part of a long-term program of providing sustainable livelihood to urban poor, daily wagers, house helpers and unskilled workers. Special focus would be on unskilled women workers.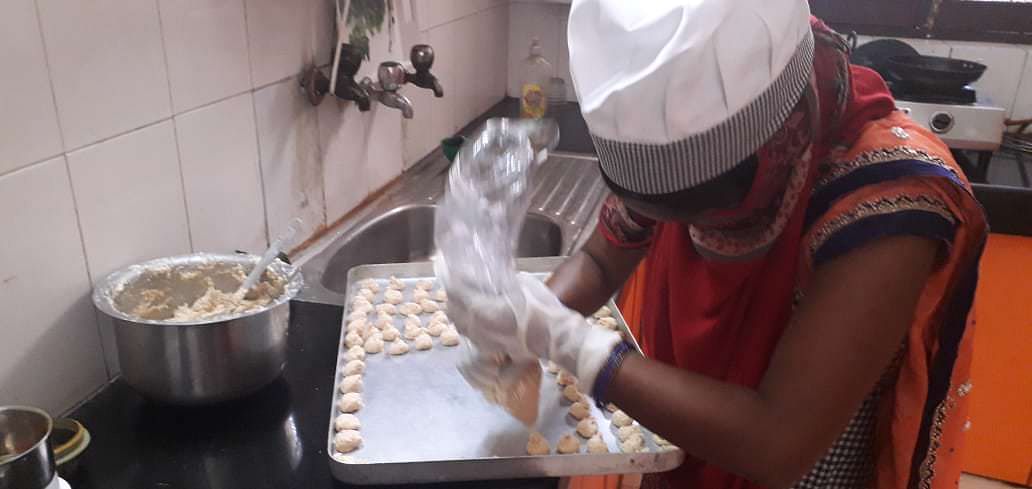 In this campaign, all trainees will be given:
A. Mandatory covid19 hygiene training. Hygiene kits will be provided for their family members as well.
B. Training in one or more in making pickles, namkeens, masala, Bakery, seasonal food items, tailoring, etc.
B. Fixed monthly remuneration during the training
C. Free one meal for the immediate family of the trainee
D. Free education to children up to 14 years in Under The Tree school and other benefits available to UTT children
E. Other support like blankets, Tshirts, woolen clothes, etc available from time to time.
The trainees will be given completion certificate and to encourage entrepreneurship will be provided handholding support as well.
This is a long term program designed to provide continuous support to the beneficiaries. We aim to reach out to over 1500 people in a year.
The campaign works on a comprehensive model to provide skill/upskill training to urban poor and carries out various stages of the training programme, that is, pre-training, during training and post-training.
1. Pre-training stage
i. Spread awareness and door to door advocacy
ii. Draw inspiration from the best practices and through interactive sessions with the women
and the family members
2. Training stage
i. Soft skills training and COVID hygiene training to enhance service delivery and employability in parallel to skill-based training in making pickles, namkeens, masala, Bakery, seasonal food items, tailoring, etc.
ii. Regular interactive sessions with the best practitioners within the community to inspire
trainees to sustain their interests throughout the training programme.
3. Post training stage
i. Placement cell for in-house employability as well as to create linkages between the employers, creditors and the trainees so that they can avail themselves of better market opportunities and overcome institutional logs.
ii. Finance cell to link trainees with loan providers such as banks, CSR grants or any other credit provider
iii. Information Cell to creating a skill pool with alumni network will encourage the exchange of ideas and experiences.
What Rebuilding Lives campaign gives is a start with continued support until they are empowered in the holistic sense.
OUTCOME
Over 1500 beneficiaries are expected to get livelihood support in NOIDA under the Rebuilding Lives in the first year of the campaign.
WHAT WE HAVE DONE SO FAR
Under the Rebuilding Lives campaign, the UTT has undertaken a rigorous skill mapping exercise. Based on this, the registration of trainees has started.
02 trainees have already been given training and 04 more to join soon.
So far, we have received more than 23 queries for training.
REQUIREMENTS
To provide sustainable livelihood training, all trainees needs to be given mandatory covid19 hygiene training first. The following are required for the training and skilling:
Hygiene kits
Basic equipment like OTG, freezer, etc
Packaging material and sealers
Fixed monthly remuneration during the training
Kitchen to provide meals for the immediate family of the trainee
Stationaries and printing cost
FUNDING
Rebuilding Lives reaches out to urban poor, unskilled workers, daily wagers and house helpers who do not have a sustainable livelihood. The project has been run on self-funding and community support primarily. Efforts will be made to generate revenue through sale of products under the campaign.
WHAT YOU CAN DO TO HELP
Provide financial support for monthly establishment cost, training material, equipment and food for trainees and their family members and other support provided to the trainees.
Spread the word among your family and friends by distributing various communications sent to you from time to time
WHAT YOU GET
After donation, you will be getting regular progress reports of the trainees. You will be getting products prepared by the trainees from time to time and personal "Thank You" cards from the beneficiaries. You will get invites to meet the beneficiaries on special occasions.
It is a long journey and we count on your support