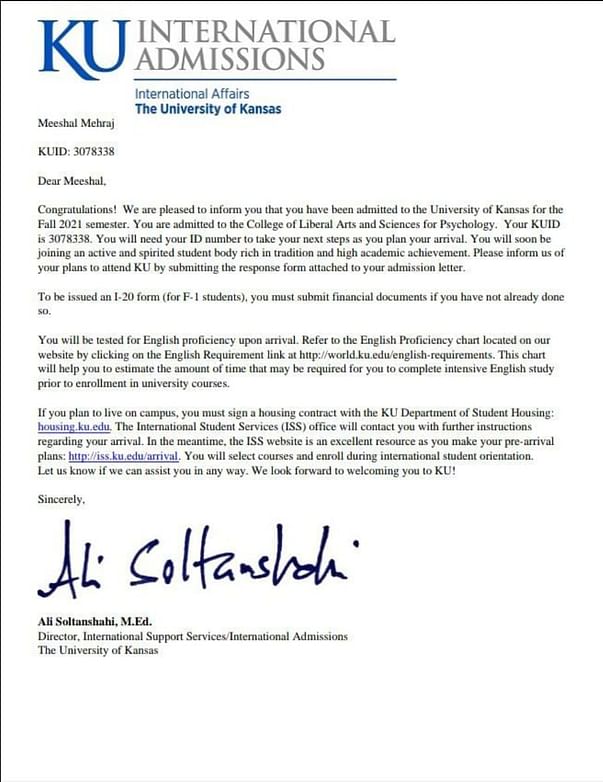 My name is Meeshal, 21 years old and I come from Srinagar, Jammu and Kashmir.
I have been given an unconditional opportunity to get my bachelor's degree from the prestigious University of Kansas (KU), Lawrence Main campus, USA. The University is offering me a merit based scholarship of $36,000 for a 4 year undergraduate program in psychology department of the College of Liberal Arts and Sciences, KU.
None of my family member has been outside of the country for higher studies, I'm humbled by getting admitted in such a prestigious University which has the best research programs to offer which will allow me to learn through experience and in a multicultural environment. And I want to make my admission a pathway for many other students to study in an environment which grants the opportunity to earn an education that is integrative, broad-base and in depth knowledge, but my financial conditions do not allow me to avail this opportunity. I have always felt good in comforting people and trying to help others. I have a burning desire to inspire people towards positivity and understanding others; because it's something WE ALL DESPERATELY NEED! I yearn to study to bring a change, TO BE A CHANGE. I have a passion for studying human psychology as I yearn to help people with their mental health challenges. As of today, psychological problems are increasing at an alarming rate and our community is becoming less digestible of one another, leading to a large impact on our society. Mental health issues and psychological impacts on our daily lives are the most underrated topic in our society and I want to make a change to that; I'm deeply concerned by this mishap as I dream for the betterment of my society.
My family's main source of income is the J&K tourism and as it's known that from the past few years owing to the political problems in Kashmir and the pandemic has deeply shaken the Tourism sector in Kashmir Valley; me and my family are facing a challenging time with our day-to-day expenses and in such situations I cannot even think of getting my further studies done in the United States as my family's financial conditions cannot support it.
I humbly request you to help me achieve my goal and do not let me be disadvantaged due to my financial inabilities. I want to study this course so that I can better understand people and their problems and help them and many others to make the world a kinder place.
The total fee for 4 years is $113,456 (84,21,328.33 INR).
After getting the scholarship of $36000 (26,72,388 INR), the balance amount is $77456 (57,49,791.25 INR).
I cannot afford my education as my father is the lone earner in the family. He is a small-time businessman and has hardly had any work in the last few years due to the political problems and the Covid-19 pandemic. Without any external help, it will be impossible for me to go to KU; something which I am keen on.
The most we can generate is my travel expenses after much trouble. Taking a loan is also an option but we do not have any collateral to give to the bank.
As an Indian student, like many before me, I would also work while I am studying there and earn for my living expenses.
Since I come from a background where my parents had to let go of their education due to lack of funds, I desire to help out the marginal sections of Indian society with their education dreams. I hope to be the bridge between them and their dreams while I pursue my career in psychology and continue to create a positive impact through my work.
For this I require your help and assistance in making my dream a reality, so please do contribute. Even if one person donates Rs 100 or Rs 500, it will help a lot as I hope to reach out to over many people in this month before I leave.