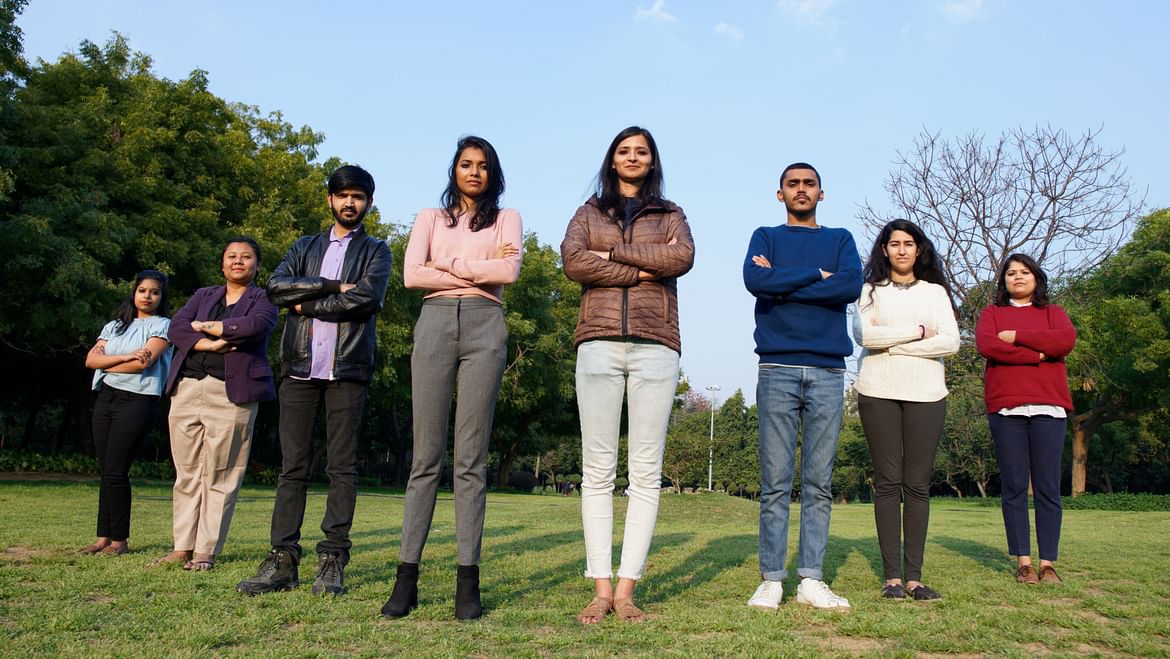 My name is Aprajita and I am the Founder & CEO of Haiyya
. Today is my 35th birthday and I am starting this fundraiser to crowdfund for Haiyya. Creating and running Haiyya has been my biggest moment of courage, vulnerability and responsibility. I hope you will consider learning more about Haiyya and contributing to our mission & work as a way to celebrate with me.
My story
I was born and raised in Raigarh (Chhattisgarh) to the most loving, connected and adorable couple who brought me on this planet as their first born, and later on came my beautiful little brother. My parents fought with their families for their love back in 70s and hence love, commitment, connection and bravery are some of the behaviours, traits and values I imbibe from them. I am told that I was quite a social, curious and filmy kid while growing up :) (watched and mimicked Anil Kapoor from Tezaab when I was 3 years old. No kidding!). My story to where I am today and why I do what I do, traces back to many events, experiences, people and discoveries. But the most significant and strongest source is my family's struggle to fight a painful legal battle for almost 25 years of our lives, and it all started when I was 8 years old. I have spent all my childhood, adolescence and most of my youth feeling lost, doubtful, angry, frustrated and powerless. I experienced systemic injustice, discrimination, social boycott and stigma all my life and didn't know what was the way to find my source of hope and agency.
I thought maybe the best thing to do is to become more powerful, famous and rich than most people around me. So I knocked on so many doors, and gave so many exams - doctor, engineer, professor, probably a foreign diplomat, a scientist. Only the scientist thing worked out on some level and something else did, I joined a Tata Institute of Social Sciences (Bombay) to pursue my Masters in Social Work and Gender Studies. I thought to myself - I have found my home and my people - and even if it's imperfect that's okay because I am not alone here - I feel powerful! I found real power & love in organizing and campaigning while running a campaign with a group of women in 2013 Delhi state assembly elections. We had organized over 6000 women creating 80 organizers in 5 constituencies of Delhi. The election day, chilly winter morning of 4 December 2013 when we were knocking on the door to ask women to go out and vote on the issues that mattered to them. I remember big long lines at the polling booth and an unprecedented turnout of women to vote in Delhi. Which later also became a big news that this time 62% of the women voters came out to vote. We managed to be a drop in the ocean of efforts. And I fell in love with organizing and camaraderie - it was real! Post which we started conceptualising the idea of Haiyya with one central question -
How do we build young people's agency and power to lead the next wave of social, political and economic change in India? How do we build an ecosystem where we can share stories, experiences, knowledge, skills and resources to build youth-led movements?
I am telling my story, not because it is unique, but because IT IS NOT! It is the story of many of us. And I say this knowing and recognizing that almost all of us have felt powerless, felt shame, rejection, boycott, failure and frustration at some point in our lives. We have all felt like we are trying but nothing is working and nothing is changing. Powerlessness robs us, it divides us!
I chose to build and lead Haiyya because that was my way of of doing something for my story and my struggles, and also the most incredible way of working with people who have stories like mine. I feel extremely blessed to spend 10 years of my life working in the social justice space -- that gives me joy, meaning and hope to fight for what's right, what's ours, and what's needed. And today I invite you to build a relationship with Haiyya by learning about our work and donating to us. I am sharing more information about Haiyya below.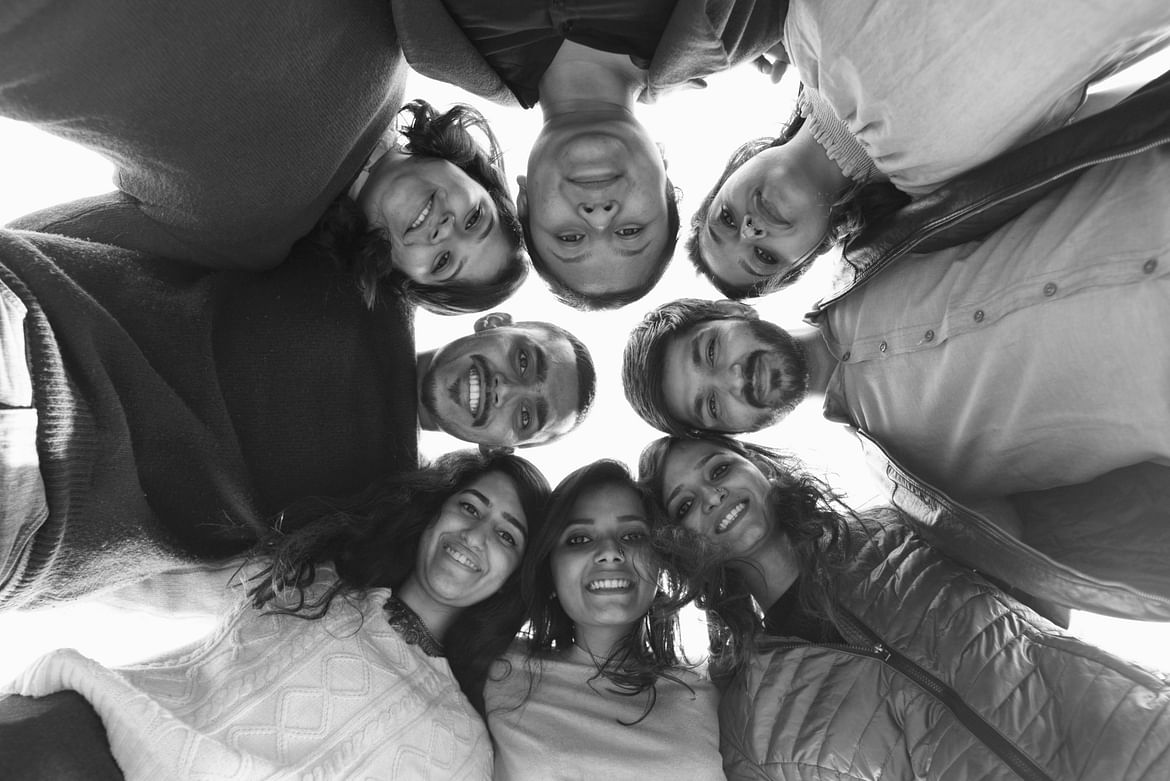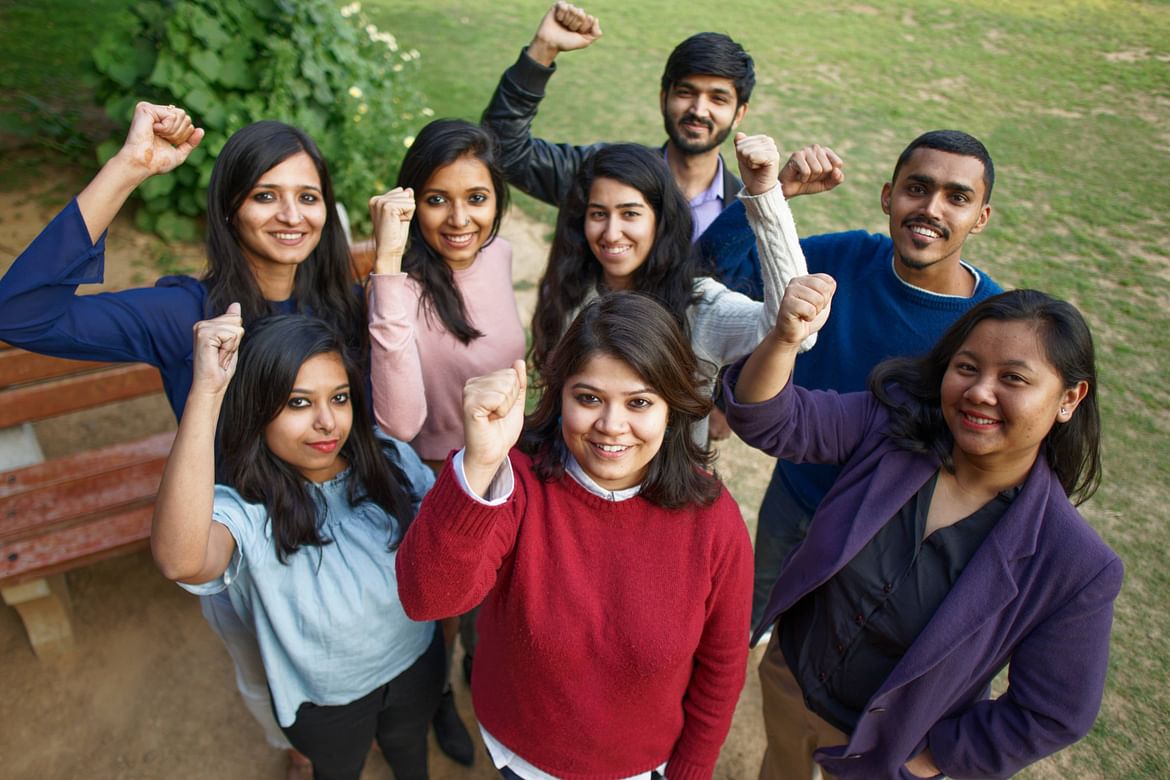 About Haiyya
I institutionalised Haiyya in 2015 and this February we completed 6 power packed years of our work. We set up Haiyya because we were frustrated at how the development sector was significantly failing to create and sustain meaningful leadership pathways for young people who want to make a difference. We're on a mission to fix that!
Haiyya was founded in 2015 with a vision to build an alternative progressive ecosystem for youth that can catalyse and amplify the rise of 21st century youth leadership on the key issues of our time- both invisible and visible issues that impact our lives as citizens of India. We are young feminist new age movement building organisation that aims to enable a space where 21st century social justice campaigns and movements can take birth, get nurtured and create ripples. We equip social changemakers, organizations and citizen groups to learn, innovate and adapt to the needs of the changemaking landscape. Using cutting edge modern day campaigning and community engagement frameworks, we create a loud thumping voice of participatory people-powered programs.
Our Vision, Mission & Work
Our long-term vision is to build India where youth-led modern age movements for social, economic, environmental and political justice have transformed power and privilege for a few into equity, equality and sustainability for all; power is decentralised and held accountable to make policies, governance and systems beneficial and accessible for all and every community is at a level playing field with new leadership from the margins is paving the way forward
Our mission is to build a new age movement infrastructure by developing community organizing and campaigning capacity that can create, nurture and demonstrate the disruptive power of youth led movements to influence and shape progressive change in their communities and geographies across India.
To achieve our vision and mission, we have chosen four strategic goals that informs all our programmatic and organizational interventions:
Campaigns & Mobilization: To run, support and amplify youth-led people-powered campaigns that builds citizenship values, culture and brings systemic change
Leadership Development for Organizing: To train and develop new youth leaders and communities who are effectively leading their movements and organizations with enhanced capacity and skills
Developing a Conducive Ecosystem for Organizing: To create a wider discourse of youth organizing & civic engagement through narrative building, resources & tool creation and path-breaking partnerships to inspire & sustain organizing efforts
Inspire & support youth-led feminist organization building: To develop and establish Haiyya into a strong and sustainable organization that is fit for future and purpose and becomes an example for emerging leaders by sharing our lessons, learning and resources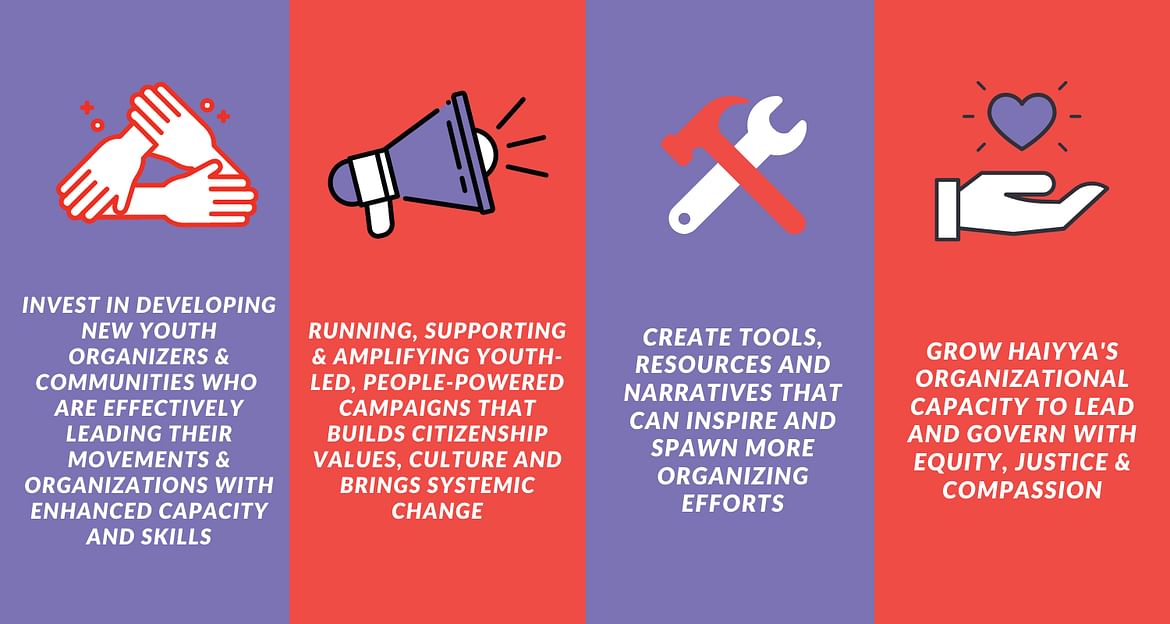 Our Impact so far
Inspired by the work of Professor Marshall Ganz from Harvard Kennedy School, we at Haiyya are applying and innovating 'Community Organizing' in India. We started our journey as a small collective by running local level campaigns and training young people to become community organizers back in 2013 and 2014. Today, we have put ourselves on the global map with prestigious awards, media mentions, recognitions, affiliations and partnerships. We have worked with many clients, partners and funders to design campaign strategy, implement programs and training curriculums engaging more than 5,000 young change-makers in our network. In the past 6 years, we have been hired by reputed organizations, funded by trusted grant bodies and collaborated with renowned partners to advance leadership and participatory approaches that build sustainable change in India.
Haiyya's framework and model allows us to work across issues, communities and geographies. We do not call ourselves issue experts and there it allows us to bring many stakeholders and run projects and campaigns with a holistic approach. Over the past 6 years, our work has evolved and spread in many ways through constant learning of the sector and our understanding of Haiyya's need and expertise in the ecosystem.
We have directly run 5 Delhi NCR level grassroots campaigns on climate, sexual and reproductive health, women's voting rights, sexual harassment and public safety that has brought in local policy and decision shifts and engaged more than 10,000 citizens
We have run 20+ fellowship and leadership development programmes in collaboration with partners and organizations who work with or want to invest in young people
We have run 80+ training workshops and trained about 5000 young people as organizers and campaigners
We have trained and built capacity of 60 small to large scale organizations to adapt organizing to their local and regional context
Please watch some of our videos below:
Why am I asking for your donation and how will your contribution be used?
Because Haiyya has been dreamed, created and built by many heads, hearts and hands. The power of Haiyya's work comes not from what we call ourselves, but from the passionate people who live and breathe our shared mission every day. When I had started Haiyya, I was clear of one thing - Haiyya is born out of emotions, desires, aspirations and dreams of young people like me and it will always be YOUTH-LED. As I turn 35 today, I also commit to pave a clear transition pathway for myself and Haiyya to find it's new leadership in the next 3 years. And today I want to create yet another milestone towards by joining hands with new supporters, who will allow me to take Haiyya to a new and fresh direction in 3 years before I pass this hat to new people.
Your contributions will be used to:
Run our current campaigns - Health Over Stigma (on sexual and reproductive health rights of unmarried young women) & Jal Se Jalashay (on underground water crisis in Delhi)
Strengthening youth-led campaigning and citizen organizing on issues that lack collective narrative and actions
Fostering relevant dialogue, connections and collaborations in the rapidly evolving landscape of organizing and campaigning
Upskilling, empowering and nourishing young organizers, campaigners and practitioners to organize effectively at scale to take their campaigns to the next level
Building an adaptive and innovative ecosystem and organizing framework that's conducive to the development and advancement of organizers and collectives working in India
Start building regional hubs and chapters to decentralize knowledge, access and capacity development
You can read media stories
about us and our work here
Follow us on social media
Website
|
Facebook
|
Instagram
|
Youtube
|
Twitter