"My family and I moved to Mumbai from Tirupati for my treatment. They have been my pillars of strength through these tough times. I still can't help but feel like a burden."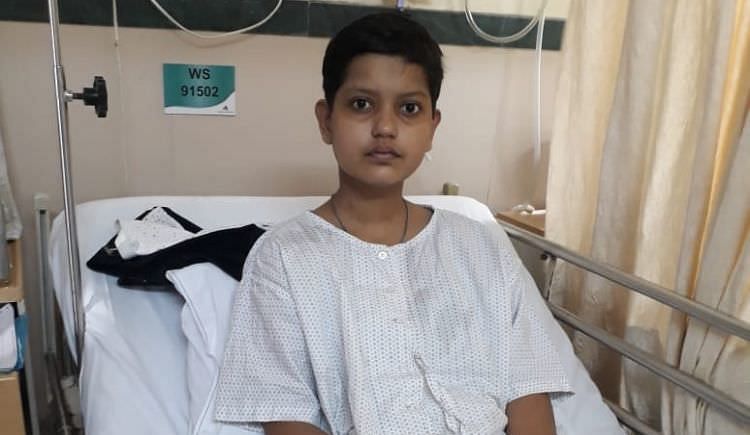 I am Madhurima Baidya and I have been fighting cancer since 2016.
Four years ago, I was diagnosed with Non-Hodgkins Lymphoma, a deadly cancer that starts in white blood cells, which are part of the body's immune system. I underwent treatment for the same. It made me so weak that I had to drop out of school for a while. It has been 4 years since, and I still haven't been able to go back to school.
In 2017, when I was supposed to be in recovery, I relapsed. My cancer was in remission and the doctors said that if I did not get a Bone Marrow Transplant immediately I would not have very long to live. This sent shivers down my spine but I stayed strong. I had my family's love and support to see me through this. Luckily my sister was a perfect match for a donor so I underwent the transplant as soon as possible. After the procedure, I was told to come in for a regular check-up in 3 months to see my progress. I was relieved as I thought I was finally healthy again. Little did I know that fate had different plans for me.
When I went for the next check-up, the doctors told me I had relapsed again. They told me I needed a Donor Leukocyte Infusion (DLI) which could help control recurrent cancer me. Post this procedure, they ran a few PET scans, but nothing changed. If it weren't for my family constantly being there for me and helping me stay positive, I would have given up this time. They helped me get through this and gave me hope again. Finally, now I am undergoing immunotherapy, which seems to be working.
Unfortunately, we are no longer financially capable of funding this life-saving treatment. My parents have exhausted their life savings and have also taken loans to pay for my treatments. We can barely manage to buy the medicines.
Please donate however much you can. Please help save my life.