Profile
I am Lohith S, a resident of Kattegolahalli in Tumkur district in Karnataka, India. I am currently studying in the final semester of my Bachelor's Degree in Biomedical Engineering at A.C. S College of Engineering. I live with my relatives in Bangalore while pursuing my education. I am from a family of farmers and deeply interested in studying further.
Biomedical science has always interested me and I hope to accomplish as much as I can in the field. I am also interested in human rights efforts, skill-building in youth, education rights, gender and sexuality rights, and many more. I have been involved with non-government organisations (NGO) like Signa Yuva Samvada Kendra, in Tumkur, and Samvada in Bangalore, by volunteering for them, becoming a youth leader, and helping organise events and discussions. Some of my achievements in this have been listed in the recommendation letter from the Director of Samvada, Bangalore and is attached here.
Click here
to read.
To follow up on my academic interests, I applied for a Master's degree in Biomedical Engineering in 4 different universities in the United Kingdom (UK). I received acceptance offers from 3 of these. I chose the University of Bristol, UK for their academics and because they offered a good scholarship, which I was confident of getting.
However, the COVID-19 pandemic has hampered these efforts and the scholarship that I was approved for was £2,500 whereas the expected amount was between £10,000 and £20,000. As you may already know, the cost of living and being educated in the UK is extremely high. It would mean that I would have to raise the entire balance amount or miss the opportunity of a further education.
Background
I belong to a lower middle-class family with no consistent income. My mother, who supports my endeavours, has managed to finance my education till now. I am also in the process of applying for a bank loan, but am prevented from raising much because of the lack of collateral. My mother and I had rallied the help of a few of our relatives who made promises to help me pursue any higher studies.
Although I have always known that I was different from most people around me, interacting with different communities through my volunteering efforts made me more confident about myself. As a result, I was more comfortable with myself and came out as queer over the last two years to friends, colleagues in the NGOs, and many others. Although my mother supports me, our relatives have refused to keep their promises once they found out about my sexuality. They've also actively been trying to prevent me from going to University. In addition, I have been forced by various relatives to try to get medical treatments in order to change my sexuality. I have resisted these efforts to the best of my ability. But it has made me very wary of my family and their intentions for my future.
The COVID-19 pandemic brought some relief from the harassment. But this was only because my relatives were stuck in their respective homes and not regularly harassing me or my family. The thought of what they might do and the violence they might resort to makes me uneasy and fear for my future. The situation continues to stress me, but I persist due to a supportive set of friends and well-wishers who accept me for who I am and are helping me pursue my dreams.

Education
I completed my 10th Board Exams (SSLC) at Renuka Vidya Peetha High School with 88%.
I completed my 12th Board Exams (PUC) at Renuka Vidya Peetha P.U. College with 73%.
Although my Bachelor's degree final exams are ongoing, the University of Bristol has given me approval to meet all other criteria and also begin to attend their courses online (due to the pandemic) and submit my Certificates once I obtain them after exams and graduation. The online courses will be held till January and I will be attending classes at the University post that. I am confident of receiving an aggregate of over 70% for my Bachelor's degree.

Finances
The various expenses related to studying at the University of Bristol would amount to, in total, approximately £32,300 [£22,300 in tuition fees; over £10,000 for accommodation, food, and other daily needs]. As mentioned earlier, the scholarship offered by the University covers only £2,500. With my mother's help, I hope to raise a loan of approximately £10,000 pounds, which would mean that I have to raise at least £20,000 to meet the full expenses. The University is happy to accept the fees in two instalments, but the first instalment is due in the first week of October, 2020.
Request
I hope to raise the remaining amount in multiple ways and your generous donations can help me achieve this target. Please contribute in any way you can and help me reach my goals and pursue my dreams of getting a Master's degree in Biomedical Engineering at the University of Bristol. Your support will help build my confidence even more.
Additionally, if you can forward this request to as many people you know who might be able to support me that would also be an incredibly helpful gesture.
If you have any queries about any of the above, please reach me at lohithdev72@gmail.com.

Attachments
The marks sheets of my 10th and 12th Board Exams.
The acceptance letter from the University of Bristol.
Link to recommendation letter from Samvada, Bangalore.
Thank you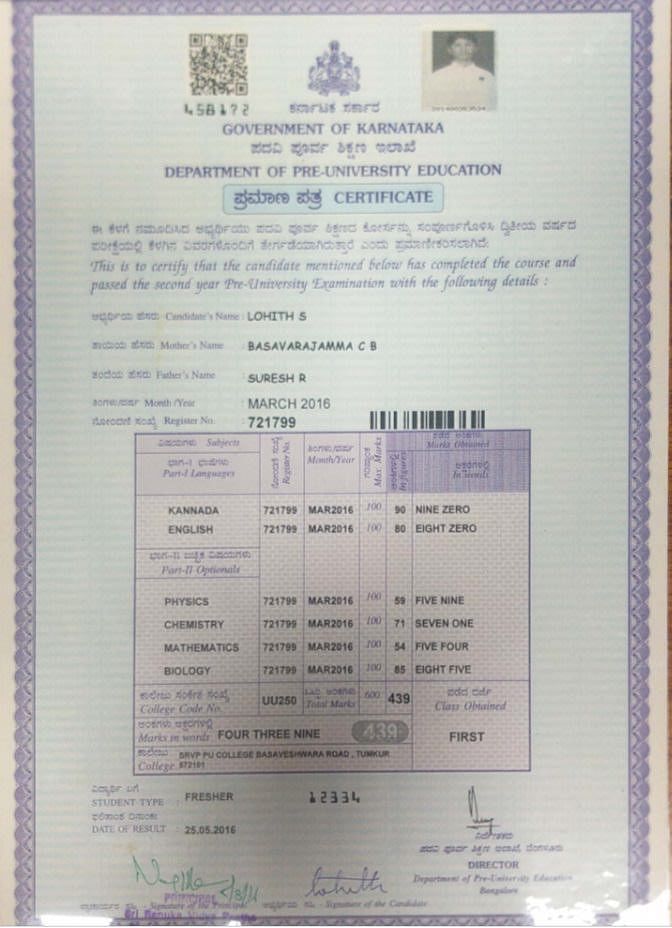 The above image is the image captured from a photo copy of the below shown marks sheet as the original marks sheet is in college and the color snap is taken in hurry.