I Have No Husband - No Son
I am just a daily wager, I have spent all Rs.50000/- that was my only savings of life time. I was saving that money for my daughter's marriage, But fate has got us here. My daughter has never done wrong to anyone. Tears fill my eyes, When i see her in pain.. Please contribute to save my daughter's life. God bless you.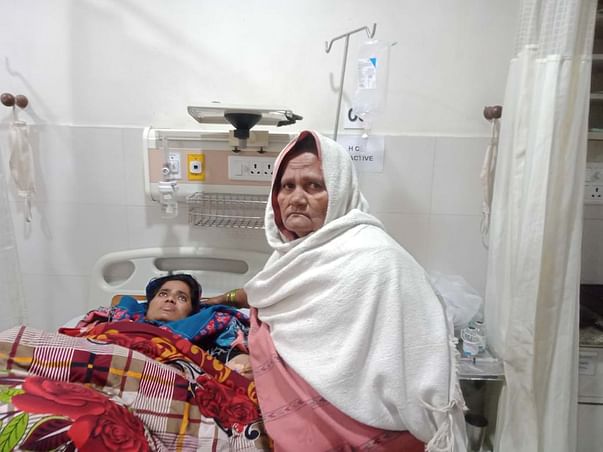 The suffering started from Gallstone and now the infection is spreading in her entire body.

Kahkashan 25 years (unmarried) lives in Budaun, Utter Pradesh with her widow mother, Her father Shubber Husain passed away many years ago, and her mother Nattho 60 years old stiches ladies suits at home.
She is suffering from Gallstone a stomach infection and is identified hepatitis C virus (HCV) Reactive for the past 3 days, The same disease killed her father. She is currently admitted and receiving medication at Max Care Hospital, Bareilly, Uttar Pradesh.


I don't know where to go, I don't know what to do Any more. I have no husband - no son, I have no support from anywhere. I feel so helpless, Someone please.... please help me save my daughter's life !
Until now, They have spent about Rs. 50,000. They arranged the amount from loans & selling assets.
They hardly can afford one more day of treatment cost which is 7000-10000 per day.

In the next 30 days, They need Rs.1,50,000.00 more for emergency expenses and further treatment. They have no support from anyone. if they don't get funds here they will have to stop the treatment as all their savings are exhausted now.
Please come forward to support this campaign. Any contribution will be of immense help. Do contribute and share this campaign link with your friends and family.
"I have absolutely no money left. I can't afford a bed so I sleep on the hospital floor near my daughter. I can't even afford food, I only eat when somebody takes pity on us and gives us some for free. Please, I'm just a daily wager,
I have no source of raising such a huge amount in such a short time. You are our only hope, you have to help us! Don't let my daughter die!" —
Kahkashan's Mother