JEEVAN STAMBH FOUNDATION

* has set up a Covid Care Centre at Hathin, Palwal, Haryana.
It is a
25 bedded facility with oxygen concentrators/cylinders for every bed to treat moderate cases, including 10 beds with BiPAP machines for critical cases, along with free medicines and cooked food
. The centre will also have ECG facility and cardiac monitors. The centre has an ambulance attached and severely ill patients can be easily shifted to nearest hospital with required facilities.
The centre, being set up in Hathin, which is one of the most backward regions according to NITI Aayog, will cater to the most vulnerable Covid patients in this rural area and its vicinity.
People who have no money to even buy basic medicines and nutritious food, will get proper treatment with doctors, trained staff and best amenities for free.

We need your support in maintaining the operations at the facility including but not limited to:
Free medicines
Free cooked meals thrice a day
Salary for the non-medical staff
Expenses incurred towards supporting low income patients in getting lab and imaging tests done at nearby centres.
PPE kits for staff and volunteers
Free masks and regular sanitisation
Community outreach program
As Covid surges more in rural areas and we know the sorry state of healthcare infrastructure in our villages, we need to extend our help there. This CCC will save many lives and prevent patients from getting critical in the initial stage itself. Every rupee you contribute, will directly go towards saving the most vulnerable and economically weak patient's life. Please donate and help us run this CCC and set up more by replicating this model in other villages. No amount is small, every rupee counts!
Volunteers while setting up the CCC at Mewat Public School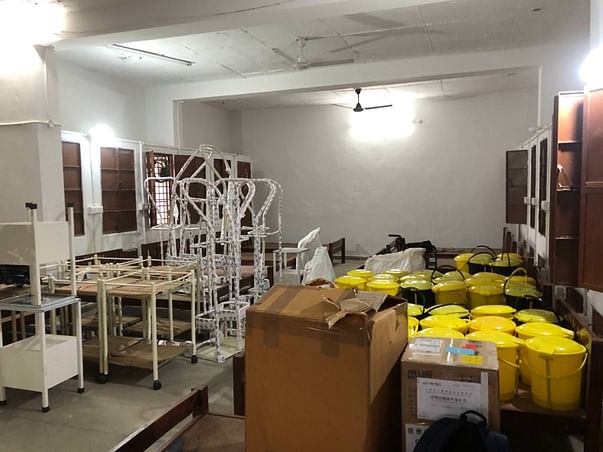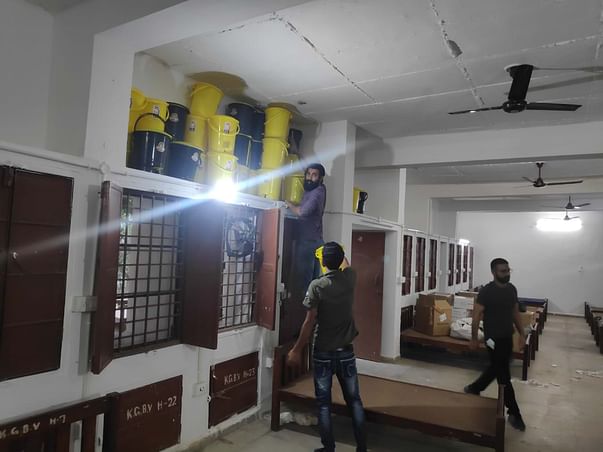 ----------------
*

JEEVAN STAMBH FOUNDATION

is a group of committed volunteers based out of Delhi, with the primary objective to rehabilitate & restore lives and livelihoods of people from economically weaker sections of Indian society during Covid-led crisis.You can look at our previous work on twitter
@MigrantTravel
| Instagram
@_jeevanstambhfoundation_
| Facebook
bit.ly/JSF-Facebook
Previous work:
During the COVID-led lockdown in 2020 that brought the biggest migrant crisis seen in India, we helped 6100+ migrants reach home safely through support from fellow citizens by arranging buses, train tickets and air tickets.

<<Media Coverage>>

The Wire covered the chaos on Thursday, 18th June, lead by #mismanagement in #ShramikSpecialTrains, that left 200+ #MigrantsOnTheRoad. Fortunately, our team could spring to action and help everyone reach #home safely! all thanks to our team!

https://thewire.in/rights/delhi-migrant-workers-stranded-message-shramik-trains


Article in The Print covering our initiative thoroughly! Please read >

https://theprint.in/india/how-a-small-delhi-group-helped-over-4200-migrant-workers-reach-home-in-up-bihar-jharkhand/446445/
https://theprint.in/features/on-international-day-of-awareness-of-food-loss-and-waste-how-indians-have-fed-the-hungry/512212/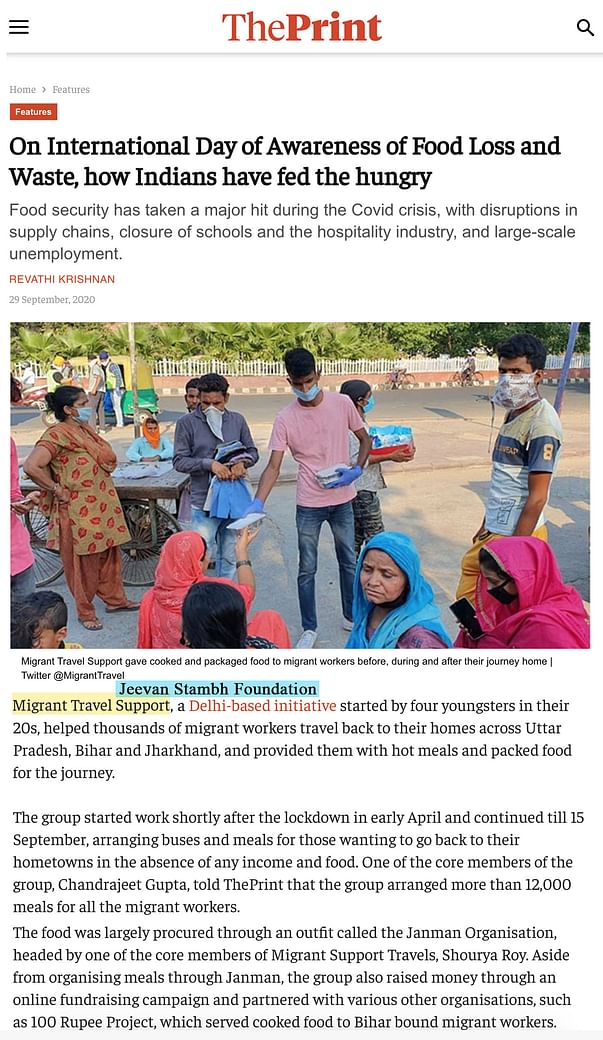 The Hindu writing about a migrant family's hardships and how we helped them meet their ailing father, 'Lost in the lockdown: For the families of those who died during the pandemic, life has mostly been about grieving in small groups and sharing experiences online.'

https://www.thehindu.com/news/cities/Delhi/lost-in-the-lockdown/article32198662.ece