"Janavikas Rural Development Society (JVRD) NGO" is a registered Voluntary Organization founded in the year 2010 by a group of like-minded social activists who have the passion and enthusiasm for voluntary services for rural lives and areas. It is an organization founded to facilitate the process of development of villages. In its endeavor JVRDS NGO has envisaged to promote responsible participation of people in their own Development. The area of operation chosen is KARIMNAGAR, Warangal, Jangaon, Siddipet, Jagityal, Peddapalli, Rajanna Siricilla, Bhupalpally, Mahabubabad, Nalgonda and the slum areas of Hyderabad, Rangareddy districts of Telangana state .
The group's main aim is to support the people who are on the margins of the lower strata of the society. These people are not financially, capable of managing natural/ man-made disasters or any other form of tragedy that could cause major interruptions in a regular life.
Therefore, in times of disasters Like Covid-19 Pandemic, they are even deprived of help from the government. These people are not aware how to manage disasters. Moreover, their financial conditions would have failed them anyway, even if they were aware. In this scenario, "JVRDS NGO's agenda is to make these people aware of the ongoing scenarios, provide them with relief and help them secure a better future. The group operates mainly in Karimnagar , Jangaon and it's adjacent areas.
They have been crowdfunding and reaching out to the villages and suburbs in and around Karimnagar .They are a Registered Society Under Registered under Public Societies Registration Act of A.P. (Act 35/2001) Act With a Supported Bye Laws. The Group is also FCRA Funding Certified .
From beginning of the Lockdown They are distributed Grocery Kit , Sanitizer between more than 1256 villagers .
Now the NGO is planning to Community Kitchen , Raw food items distribute to poor people and conduct the awareness programme for the villagers . For that purpose NGO want to raise the fund .
Estimate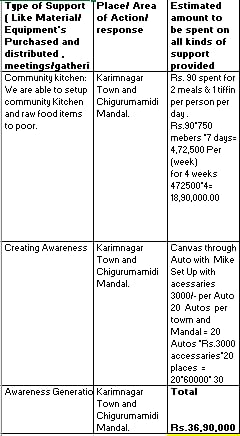 My name is Koushik Ghosh Choudhury . I am a social worker from Jamshedpur, Jharkhand . Founder of the NGO is my family friend and I am here to raise funds to support the underprivileged Village.
we are grateful for the help!