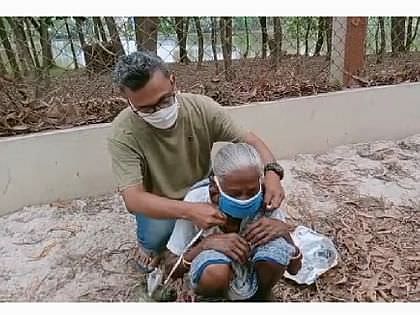 THEDESIGN STUDIO
A social enterprise held by few young designers and a mentor. For the last 2 years, it has been working with different concepts of sustainability. It basically works in 3 sections - Textile, Woodcraft, and Ceramics. Right from day 1, The design studio works to fulfill some social responsibilities like awareness campaigns, workshops, skill development training, women empowerment and revival of age-old crafts. It always aims to work for the wellbeing of society with the design field.
Today in this pandemic situation of our society The design studio decides to stand with the people in need. At present, a mask is one of the essential weapons to save an individual from being affected. But due to the rise in demand for the mask, the price of the available mask is rising gradually. Poor people are unable to afford a mask due to the high price.
The design studio left behind all other works and get focused on manufacturing masks at a minimum cost.
The design studio team has committed all its resources and capabilities for helping the nation leaving no stones unturned. It has converted all its resources and manpower to produce the need of the hour "Mask" to be distributed across the city and donated to the front-line warriors.
The design studio is involved in the Design field, the current scenario of economical conditions of poor artisans is also known to us. As we always support local artisans, underprivileged people, and daily wage laborers by employing them in different activities, now it has been decided that they can produce masks under our supervision and guidelines so that they can earn a bit in order to sustain in this pathetic situation of the economy.
We are very much determined to fight against this global threat Coronavirus and are gratified to serve the society in every way possible.
Natural dyed multilayered cotton mask.
We need an amount of 40,000 INR to make 1000 pcs. of the mask.
40*1000= 40000
Specification of the mask:
1. Multilayered- According to WHO the mask should be made up of multi-layer of fabric in order to prevent respiratory droplets while talking, sneezing and coughing.
2. Natural dye- Natural dyes are obtained from renewable resources of nature. Thus it will not affect nature in anyways. Several sources of plant dyes are rich in Napthoquinones are reported to exhibit antibacterial and antifungal activities, some dyes have medicinal properties too.
3. Cotton- As the mask is made up of cotton fabric it is reusable and washable. It also allows breathing without restrictions.
Please come forward and help...
Thankyou!