You can't feed hundred people then Just feed One - Mother Teresa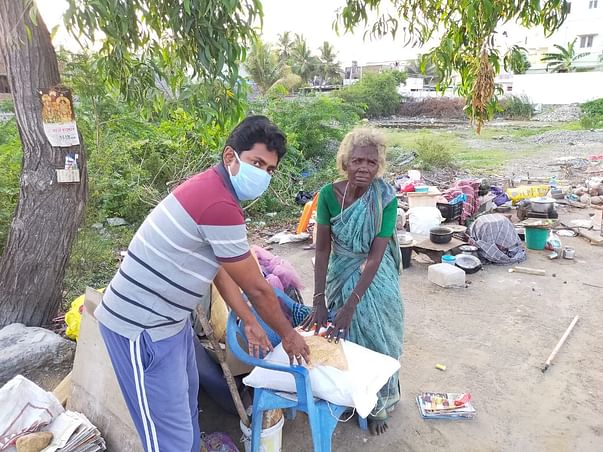 Our aim is to ensure that this model can be replicated at scale across India and perhaps even the world.
At this Covid-19 situation, people are in real hunger without money due to which No Food. From day 1, we were involved in serving the needy and hungry people on the Roadside. As of now, we feed more than 1500+ people and donated Groceries to 2500+ Families.
However, still more people are in hunger. Without all your support definitely this is not gonna be happen then it's just a dream. Please support us as Mother Teresa said, Just feed one.
Along with attaching our Portfolio along with Video and Photographs to know more about
us.

We are planning to serve with following groceries to needy people.


Funds utilization:

1. Rice Bags - 1,60,000.00 ( 5 Tons ) per Rice bag # Rs. 800.

2. Cooking Oil - Rs. 84,000.00 ( 1 Ton ) per Kg Cooking Oil # 84

3. Atta - Rs. 28,000.00 ( 1 Ton ) per kg # 28

4. Rava - Rs. 41,000.00 ( 1 Ton) per kg # 41

5. புளி Tamarind - Rs. 36000.00 ( 200 kgs ) per kg # 36

6. பூண்டு Garlic - Rs. 24,000.00 ( 200 kgs ) per kg # 120

7. மிளகு Pepper - Rs. 20,500.00 ( 50 Kgs ) 1kg # 410

8. சீரகம் Throne - Rs. 10,800.00 ( 50 Kgs ) 1kg # 216.

9. கடுகு Mustard - Rs. 3,000.00 ( 50 kgs ) 1kg # 60.

10. உ.பருப்பு Urad Dal - Rs. 22,400.00 ( 200 kgs ) per kg # 112.

11. க.பருப்பு Chana Dal - Rs. 14000.00
( 200 Kgs ) per kg # 70.

12. து.பருப்பு Dudan pulses - Rs. 82,000.00 ( 1 Ton) per kg # 82.

13. உடைத்த கடலை Broken Sea - Rs. 20,000.00 ( 200 Kgs ) per kg # 100.

14. சர்க்கரை Sugar- Rs. 20,000.00 (500 Kgs) per kg # 40

15. மி.தூள் Chilly Powder - Rs, 9000.00 (50 Kgs) per kg # 180.

இதற்கு மொத்தம் தேவைப்படும் தொகை Overall estimated amount: 5,74,700

Looking forward to your help and support 🙏