The campaign is to help those still suffering from the lockdown and the virus.
India is facing a brutal second COVID wave. For the millions on daily wages or without homes this is a crisis. No money, no food, no safety and no ability to self-isolate or social-distance. This is the true front line of the Coronavirus.
India urgently needs help. We are not a NGO, we are a group of friends residing outside of India and trying to help our motherland in any way possible during this unprecedented crisis. This will be our first attempt to raise a public fund and help people in need. But we are committed to make it a success and do our bit to help the people in need. Me along with my group of friends in India will be utilising this fund to help as many people we can and make sure the benefits reach them directly instead of channelizing it through a third party. As the crisis has developed we want help as many families as possible in the most simple way. Provide food!
Please help! A donation of 100 Rupees will support one person for a day. 1000: five families. 10,000: 10 families. Funds will be withdrawn in India from where this campaign is managed. Funds will then be used to pay for essential food, supplies.
100% of funds will be spent on food supplies for those in need. Our process is to identify at-risk groups, assess their situation and then put in place a food and supplies plan for each group. Supplies are procured direct from wholesalers and payment is made upon receipt of an invoice. We plan to keep very detailed records of all transactions and of supplies used and will report this back to donors.
The groups we want to help are migrant workers, daily-wagers and refugees. We identify these groups in one of the following ways: requests from local councillors for help; media reports or NGO appeals for help. We will keep everyone updated on how the funds will be used.
Consider the following:
• Donate generously for the cause.
• Can't donate? No problem. Invite your friends.
• And if you do all of the above. Countless love for you, from all of us.
Blessed be those who feed the hungry.
So, what are we waiting for?
D O N A T E | S H A R E | P R A Y
If you are self-isolating or at home please support those who cannot afford this privilege. On behalf of our team and those we help, thank you very much.
Few heart warming migrant crisis pictures from India:
Lets treat them the same way we treat our families: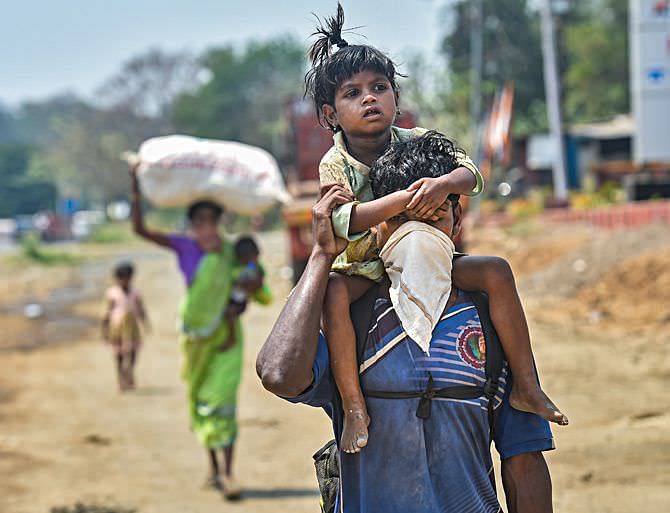 Lets lend our shoulders in the time of crisis: