On 18 January 2019, two angels came into our lives.We became parents of twin girls. We named them Ibaadat Kaur (Ibu) and Inaayat Kaur (Inu). Ibaadat means 'prayer' and Inaayat means 'blessing'. Our daughters filled our life with happiness with their innocent faces and beautiful smiles. We always introduced ourselves as "proud parents of twin girls". Our heart filled with a love so deep and so pure, we never knew we could experience. Both our girls were so active and naughty. They were everyone's little darlings. We just loved watching their cute little antics. By six months of age, both started crawling.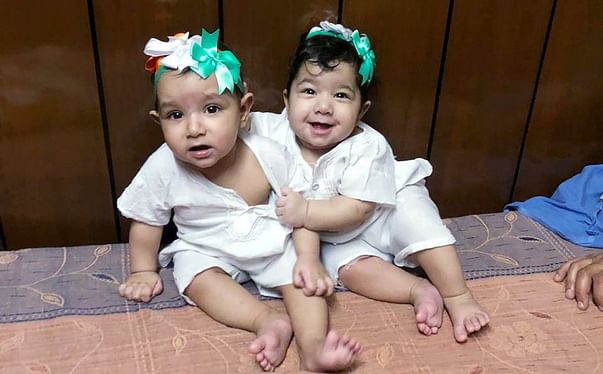 S
Specially, Ibu loved crawling, moving all over the house to reach for her toys. We were looking forward to the time when they would start walking. But who knew this time would not come so soon for our baby girl, Ibu. Just thirteen days before her first birthday, she fractured her left leg while trying to stand up. She did not have a fall or injury.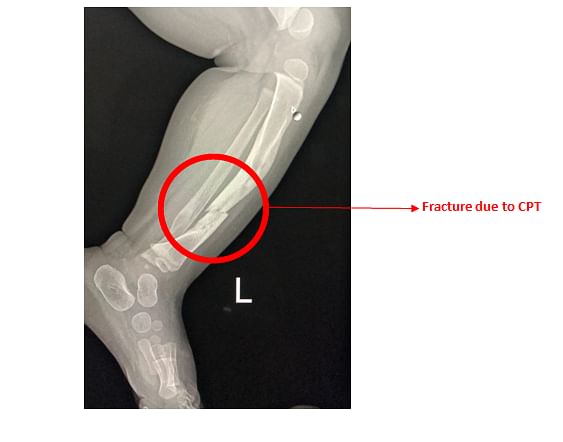 Since we were living in Nagpur, we rushed to the Dr Viraj Shinghade of Children Orthopedic Care Institute, Pravira Hospital, Nagpur. It was diagnosed as a genetic condition called Congenital Pseudarthrosis of the Tibia (CPT). CPT is a rare pathology, which is usually associated with Neurofibromatosis type I (NF). The natural history of the disease is extremely unfavorable and once a fracture occurs, there is a little or no tendency for the fracture to heal spontaneously.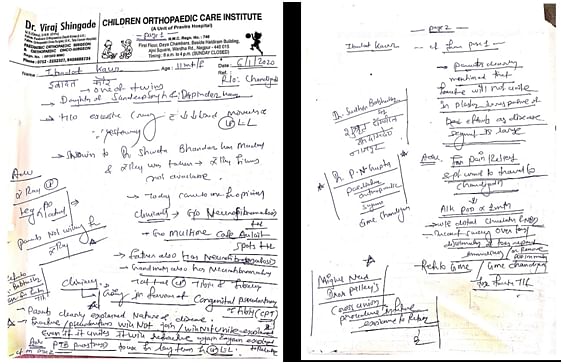 Our world was shattered. A sea of grief engulfed us and we felt unfathomable pain and hopelessness that we thought we would not survive.The doctor said that the bone will not unite and even if it unites, it will refracture again and again. He recommended Dr Dror Paley's Cross Union procedure to heal the fracture.
To seek another opinion, we went to doctors at PGI, Chandigarh, doctors at Mumbai, Thane and Pune. On her birthday, she was in the hospital having x-rays done. All doctors had the same opinion that surgery is the only solution. But none of them were sure that the surgery would succeed. And if the surgery fails three times, the leg would have to be amputated.
In the mean time we emailed Dr Paley. Dr Paley practices at the Paley Institute, Florida, United States. He has developed the Paley Cross Union Protocol which promises 100% union of the bone with assurance that there would be no refracture.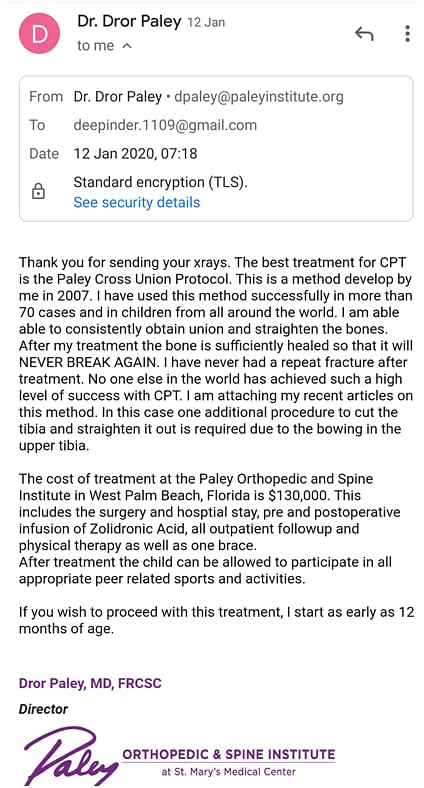 On 27 February, Dr Paley had come to New Delhi. So we booked his appointment and consulted him. He examined Ibu and strongly recommended that this should be treated as soon as possible, preferably in the next six months. Waiting longer will only result in more secondary changes, in particular, proximal migration of the fibula with fibular fracture and leg length discrepancy and foot length discrepancy not to mention foot deformity and leg deformity. Already her condition has started deteriorating.
He also said that "In order to reduce the expenses, I could do the surgery at the Paley European Institute in Warsaw, Poland. My next time in Poland is in April and the time after that is in August. I think to gather funds and also because my schedule is quite full for April, we are aiming to get her into the August surgery time."
Following is the detailed estimate of the surgery: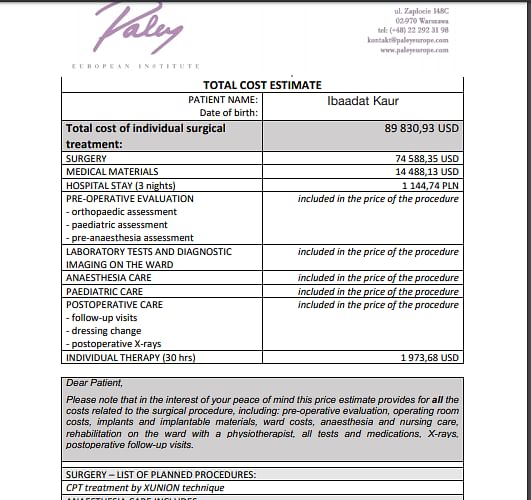 Our gut feeling told us that with his help, our little angel would be fine soon. We request you to please contribute for the same. Please give our little girl the opportunity to explore the world on her own two feet. She has the smile of an angel. Please help us in making sure her smile stays the same and continues lighting up the world always.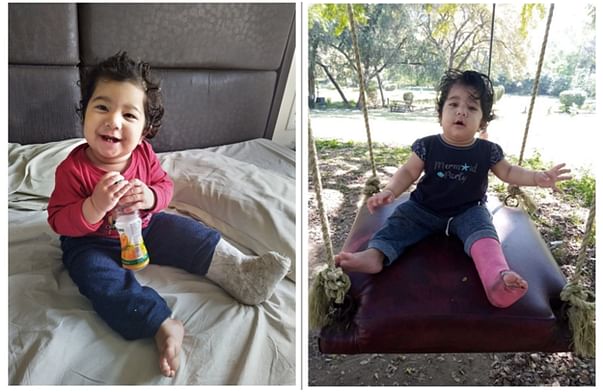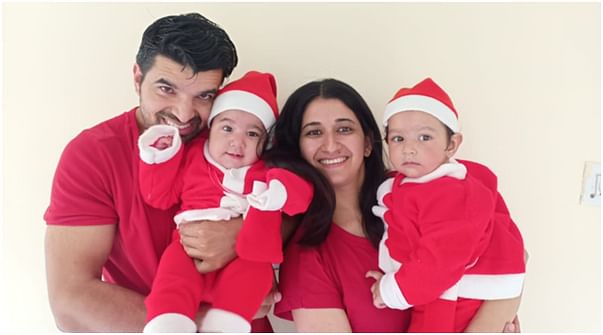 Regards,
Ibu and Inu's parents.