'Education is the most powerful weapon which you can use to change the world' ~ Nelson Mandela.
Education is an important part of our lives. We all deserve a chance in education. Education makes our lives better. It teaches us to be better people. It is a process of achieving values, skills and beliefs. But not everyone gets quality education. Every year millions of workers from rural areas of India come to big cities with their families in search of livelihood. During the rainy season, when the crops related works are available in their villages, they come back to their villages. After the rainy season, they return to the big cities as soon as the work of the crops is over. During this time there is a disturbance in the education of their children. Due to frequent changing of place in a session, their children's admission for studies is neither in their villages nor in the cities. Nobody is paying attention to this serious problem of millions of workers engaged in nation building.
Manjil aims to provide the right kind of quality education for each child. Since day one we have been trying to educate the underprivileged, migrant and construction worker's children around us for free. Currently, we have 165 children at Noida child education center and 70 children at Nuh Child education center near Jama Masjid.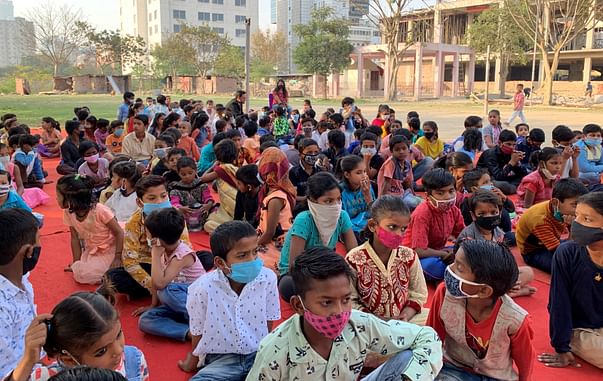 Thanks to our volunteers and trainees, we never face short of staff and therefore we do not compromise with the level of education provided by our NGO. Our NGO's children are curious and full of enthusiasm. We go one-on-one with every child and make sure each of them learns and grows. Children with big dreams can achieve anything and change the world that we live in. We want contribute to make a country where being poor does not mean starving, where being poor does not mean illiteracy. Covid-19 has proved most difficult for underprivileged children's education who are now being forced to drop out of schools and end up as child labor to supplement the family income in these unprecedented times of chaos and instability. Here is a chance for you to change this. You have the power to help a child not dropout of a school. You have the power to help a child enroll for a vocational development course that will enhance her employability skills. You have the power to help a girl get access to a smartphone for online learning. You have the power to help a child get access to healing meditations, loving care and justice.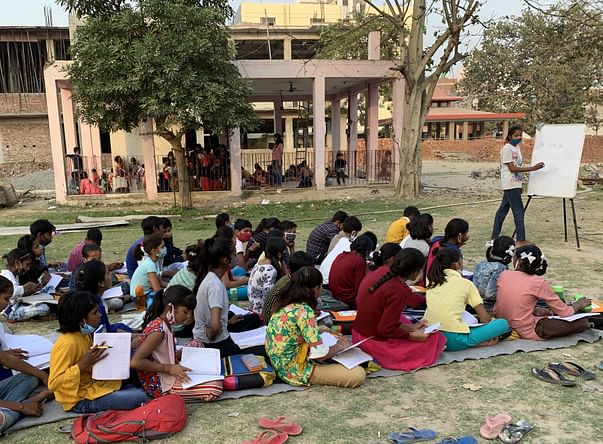 What we do:
Manjil NGO is working to provide free quality education to the children of economically weaker families and migrant workers by setting up their own child education center in north India. Here, we provide Academic classes, Self-defense, Vocational Training, Sports activities, Dance classes and Personality Development etc. and we also focus on Health and hygiene, Nutrition awareness, career counseling and extra curriculum activities. We are doing these all activities from our volunteers and trustee member's money. Manjil NGO team has been working for the last 3 years to educate underprivileged children in a temple's ground located in Noida Sector 126 UP India. Sometimes when there is too much cold or it gets very rainy, then we have to leave the children because it is not possible to teach here during the very cold or rainy day due to being open place from all four sides. Due to which there is a negative impact on the education of children. So now we want to buy 100-200 yards of land for the education of children and build some classrooms for children on it. So that the underprivileged children can become educated and become good citizens without any hindrance and can contribute positively in the nation building. If there will be an education center for the children at a certain place, then along with the education of the children, they will be able to stay safe with our volunteers at the center for a few days when their parents go to their village. So that their education will not suffer. So we need funds for greater good.
Total Required fund: Rs 90,000,00
(For Land: Rs 60,000,00)
(For Classrooms Construction: Rs 30,000,00)

Manjil is a Non-Governmental Organization, established itself for the welfare of the society. This is a national organization (working area: All India). Manjil's purpose of existence is to enhance the lives of underprivileged children and women, and to offer a positive direction and a healthier approach towards life. Manjil continues to vow a credible, honest, transparent and accountable organization that devotes itself towards a privileged future.
Registration No. -: 660
Date of Registration-: 04/04/2018 (Stablished in 2015)
Place of Registration-: Delhi
NGO Darpan ID-: DL/2019/0223940
PAN NO-: AAFTM6716J
Registered Address-: 47/1-A Third Floor Jia Sarai, Near IITD, Hauz Khas, New Delhi, India – 110016
Official Helpline & WhatsApp No.-: 8588972416
E-mail-: manjilngo@gmail.com
Website-: www.manjil.org
Facebook Page-: https://www.facebook.com/Manjiltrust