"Most of the people treat street dogs as lifeless stones. They get pelted, scared away, misjudged and become a victim of human cruelty. What we need to understand that all it takes a little effort through which we can make their miserable conditions better."
Hi, my name is Saurabh and I run a small foundation that goes by the name, Hi Paws.
Who We Are?
Hi Paws is a registered trust and is working in a direction for the betterment of strays. We are a small team at the moment but despite the numbers and challenges faced, we are able to feed the strays, rescue the injured/ill strays seeking medical attention, run awareness campaigns and participate in ABC programs and we aim to expand our team, activities and area of operation.
Why we are seeking funds through Milaap?
At present, we are feeding around 130+ dogs (nearby where we live) who are mostly dependent on the street hawkers and people who pass by but with no constant source of food other than us. The journey started in the lockdown with 20 dogs and now, the number has reached 130+ and it's kept on adding. Hence, we decided to start our fundraising campaign so that we never have to look back and struggle with our finances.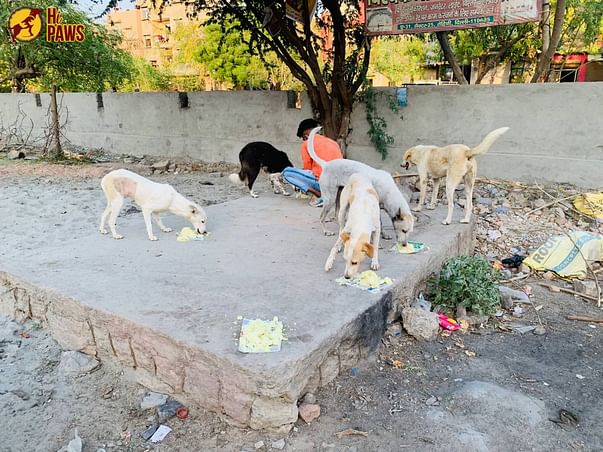 What do we feed?
On a daily basis, we prepare rice mixed with fresh peas, soya chunks and eggs for our four-legged friends with a pinch of turmeric. The food is prepared at home (as we do not have a community kitchen yet) with love.
How we are able to manage the time?
The cooking process takes 3-4 hours and for the food distribution, we have hired a dedicated feeder. Initially, one of our co-founders (Khushboo) and I used to feed ourselves but it's a time taking activity that couldn't let us focus on the other areas, so we decided to hire a feeder, not only with a vision to provide employment but at the same time, to ensure that the strays who are dependent on us never have to sleep with an empty stomach. However, at the moment we are able to feed the dogs one-time during the day, which is in the evening, between 4:30 PM-7 PM.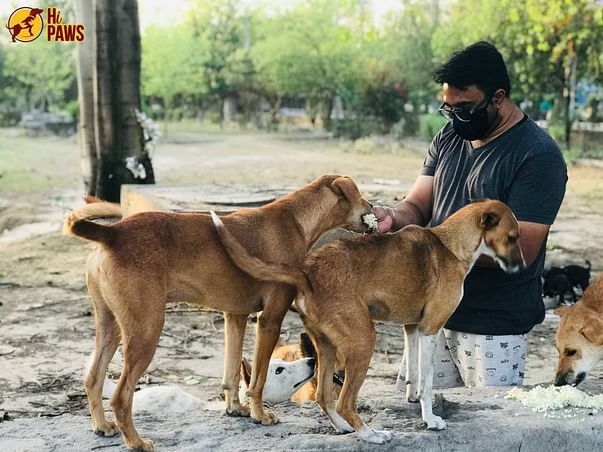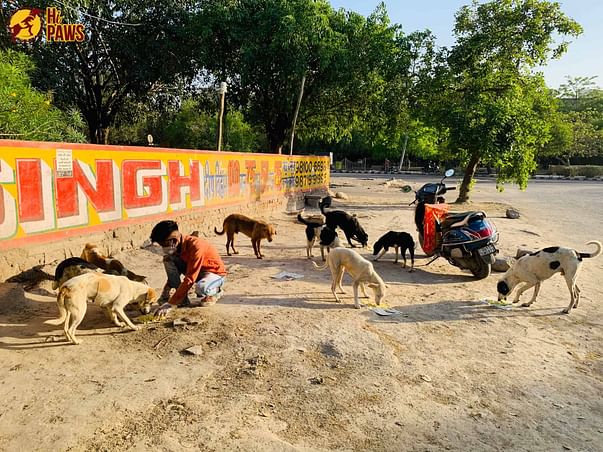 How much does it cost?
- We buy full-grain rice which costs us INR 850/- per 25 kg which runs for 2 days. The monthly cost comes around INR 12,750/-
- Peas, Soya and Eggs cost us INR 300/- daily. The monthly cost comes around INR 9000/-
Monthly feeding expense: INR 21,750/-
How your contribution will aid us?
The amount contributed will be used for Feeding Street Dog. We humbly appeal to open your hearts and contribute which will help the strays co-exist and live in harmony. Please join hands and be a part of the noble cause.
If you wish to contribute to our feeding drive, please feel free to contribute via PayTM @ 8448277741
Also, you can wire-transfer the funds at:
Bank Name: Bank of Baroda
Account Name: Hi Paws
Account number: 40100100004530
IFSC: BARB0MKCHOW (the fifth character is zero)
Thank you for hearing us out! And before you leave, do checkout one of our feeding story at:
https://www.youtube.com/watch?v=_Y2EIa-Iz_8
Gratitude,
Saurabh
(Founder, co-founder Hi Paws)
Our Facebook page:
https://www.facebook.com/HiPaws.org/
Our Instagram page:
https://www.instagram.com/hipawsindia/