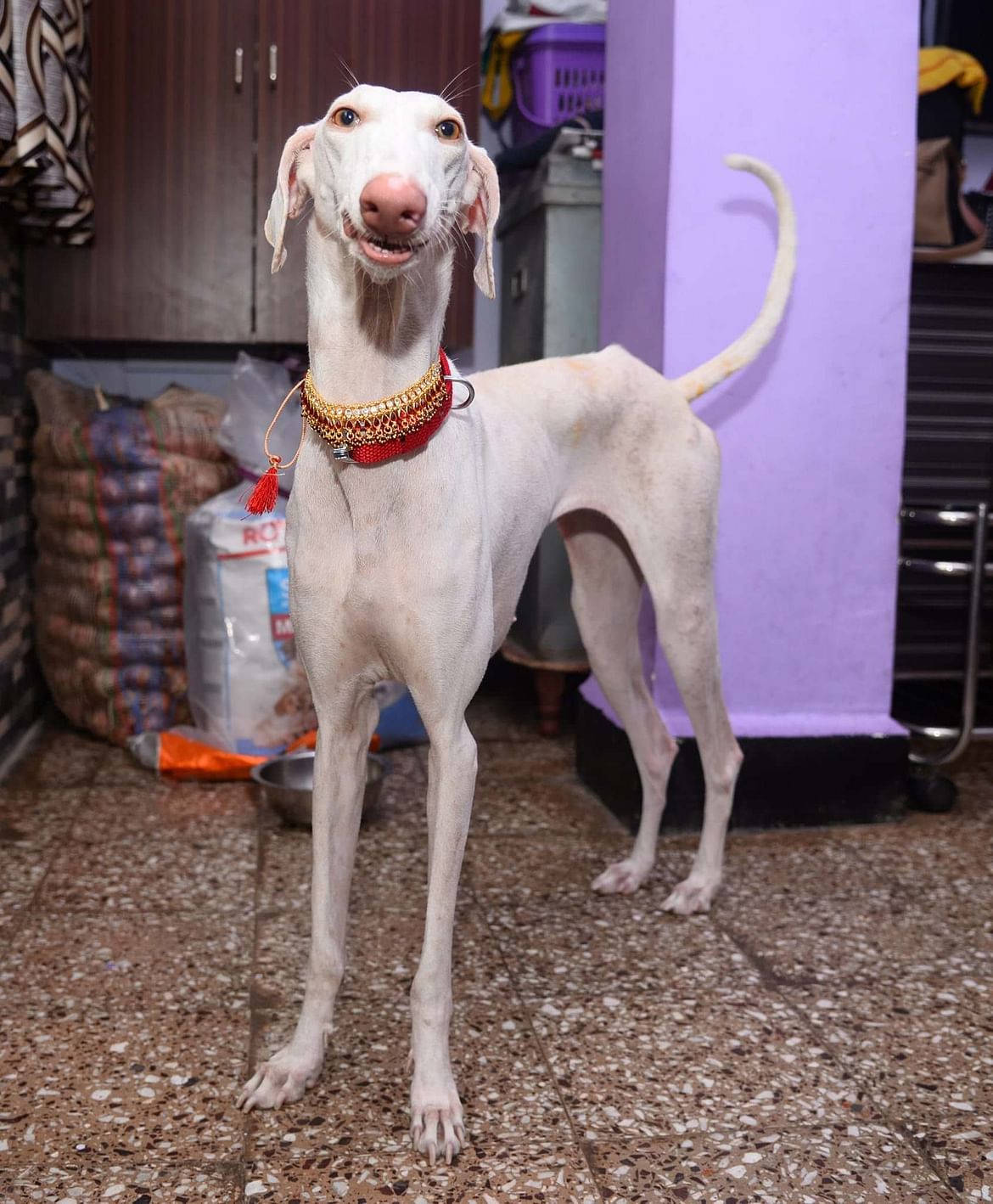 Hello everyone!!
Oh boy! I had hell of a year 2019. so many health issues, abandoned by bad owner, sick lifestyle, frequent vet visits. But 2020 has been kind to me and I m happy to announce that now I have a forever family!
I have gone through a lot in my short life. I was abandoned by my previous family on a busy road, I was scared, but also so lucky that I was not hit by a car🚗
A good soul took interest in me when she saw me wandering. I think she realised i didn't belong on the streets, that my survival instincts were zero for the streets. She contacted many people to get me help and project Meher human stepped in and took over me. Her kind and observant heart changed my life. How? Keep reading :)
As i said i had a lot of health issues and patellar luxation problem I thought I would never be able to find my forever home. Many people enquired to adopt me but when they heard about my patellar luxation issue in both hind legs, which will need to be operated, everyone turned me down. Apart from families other leads were for farmhouse and factories. With terrible skin issue and bad hind legs I wasn't meant to be at a farmhouse.
After 7 months of my rescue, I found out I've been adopted! My caregiver never lost hope and she was determined to find me a perfect family. I am lucky to have found a family who looks above & beyond the issues I have and do not care one bit about the extreme efforts involved to take care of my health.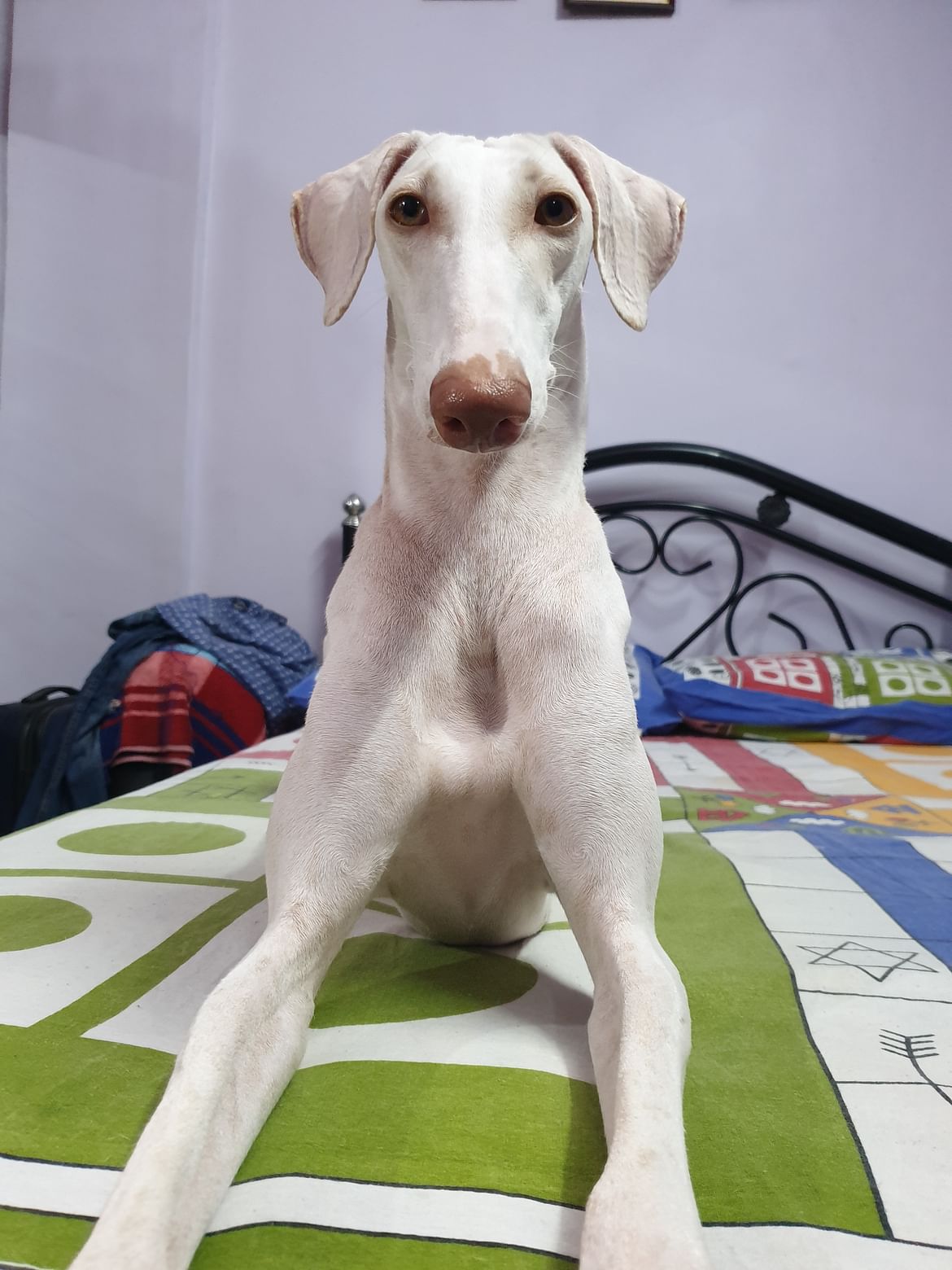 I am currently at a foster and we are looking for a flight volunteer who can take me to my new parents. I had a tumultuous start to life but I am finally on my way to settle down with my forever family in the USA. What a journey! Right !? But I need you help on this journey, as it is only half done.
Can't wait till I get to move in with my family and give them lots of love everyday. It's all I've ever dreamt of… all I need to do is quickly get to the USA!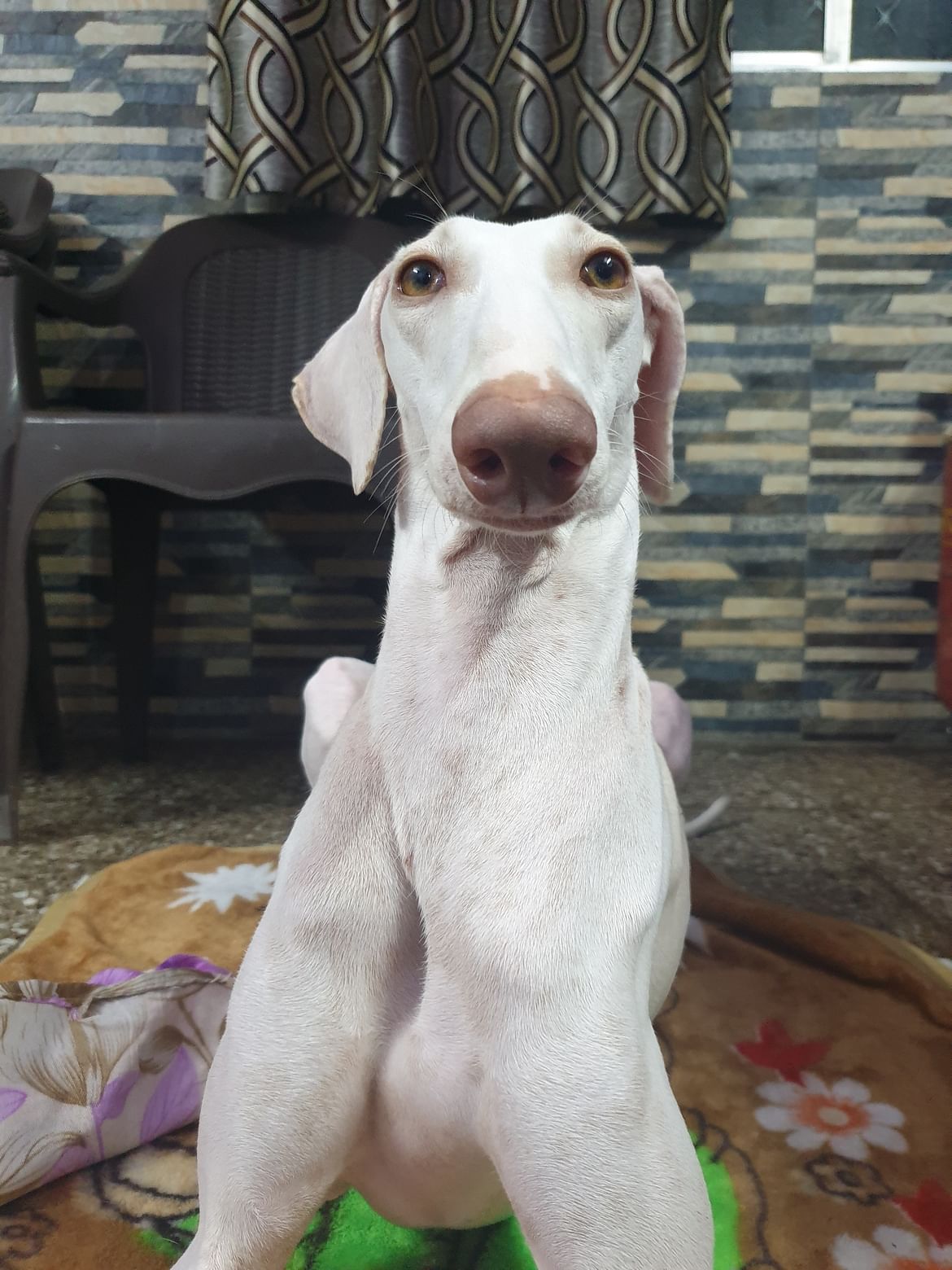 Can you please help me reach my forever home?
My di created this campaign to raise funds for my travel. She tells me it is expensive and we will have to raise money to get there. Will you help me reach my forever home by contributing whatever little for my upcoming trip? Please?
I pawmise to send you love everyday. It will be impossible for me to reach my home without your support.
Boop & licks,
Heer" 🐾
HEER'S STORY :
Heer, a mudhol hound, who was purchased as a puppy by a guy who unfortunately didn't fulfill any of his duties towards her. On 28th June 2019 Heer (erstwhile Coco) was abandoned in thane. After being on streets for 2 days, she was finally secured.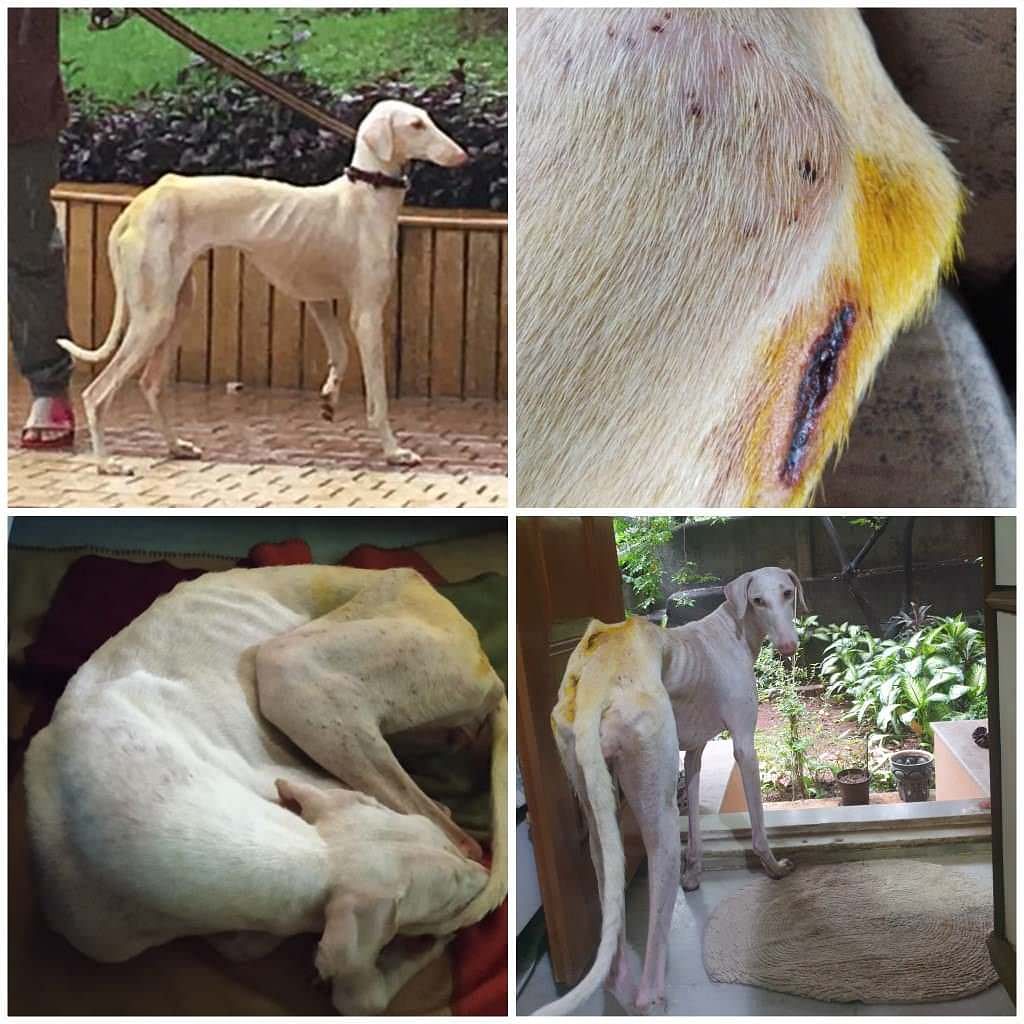 Heer was found weak, with multiple wounds on her body, limping, low platelet count, tick fever, skin infection, couldn't control her stool and extremely poor appetite.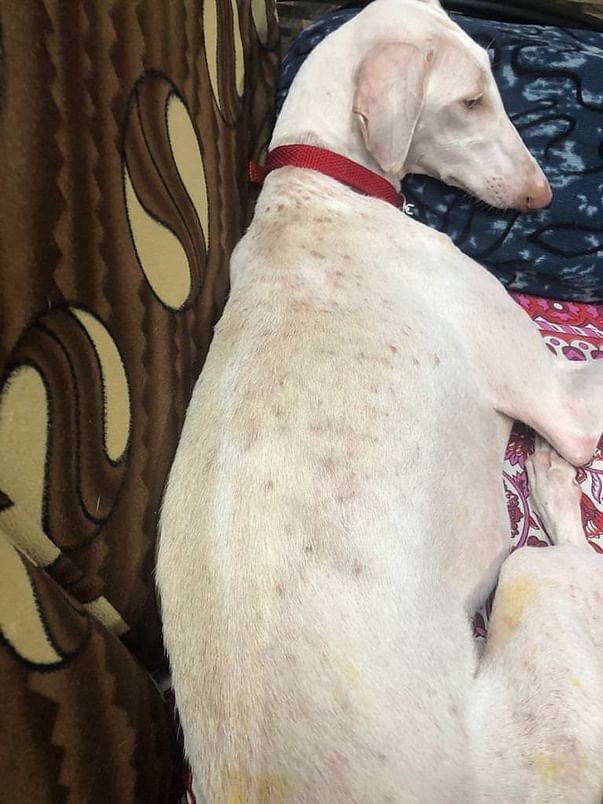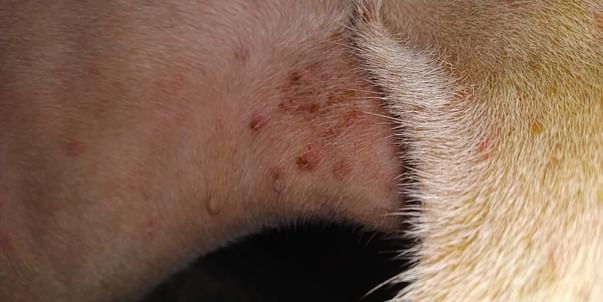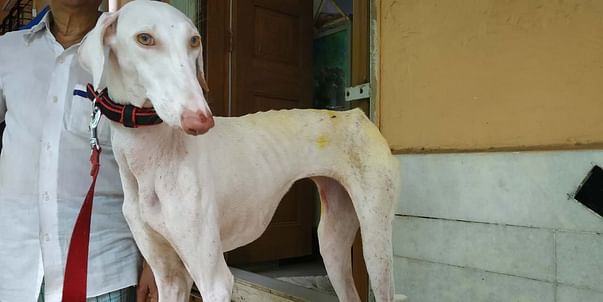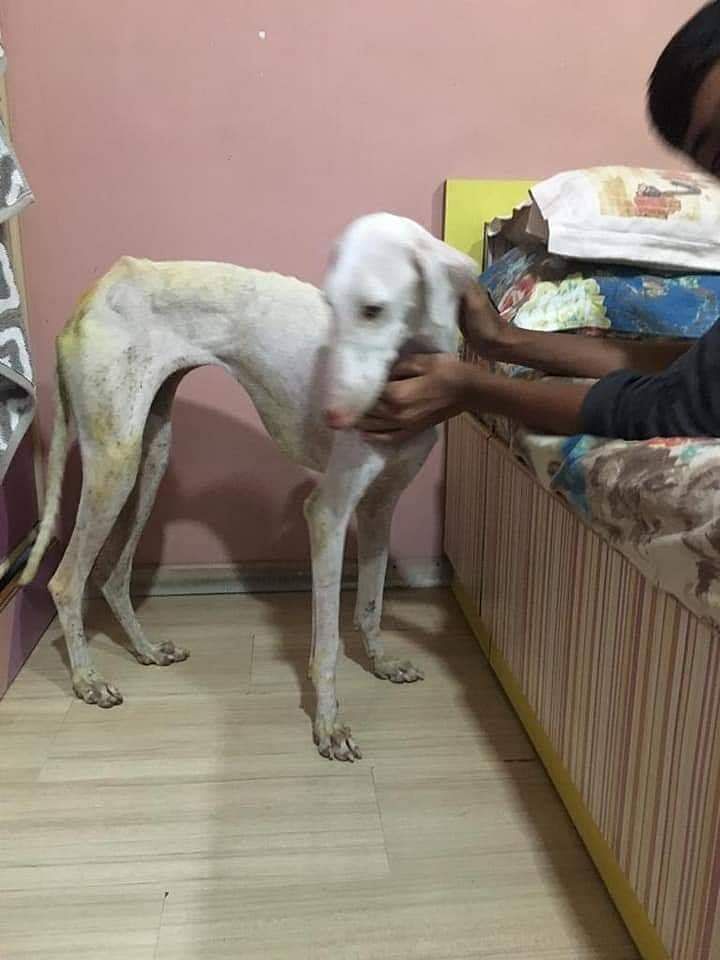 We immediately searched for the person responsible for making her suffer. After a lot of searching we found someone who recognised heer. We tracked her owners and after further investigation we found out Owner took heer for checkup on 28th of june for treating her for loose motions, inappetence, boils all over skin and was given saline and called for treatment the next day but instead he left her at his 'friends' place.
He was asked numerous times to give information about the 'Friend' he gave her away to, but he had no names to give. It is no mystery that he had obviously not given her away to anyone else and it was in fact him who had abandoned her. The owner knew that Heer was unwell and without the vet's consultation kept her antibiotics going on for weeks without proper care because of which she was suffering from antibiotic dysbiosis and other multiple health issues.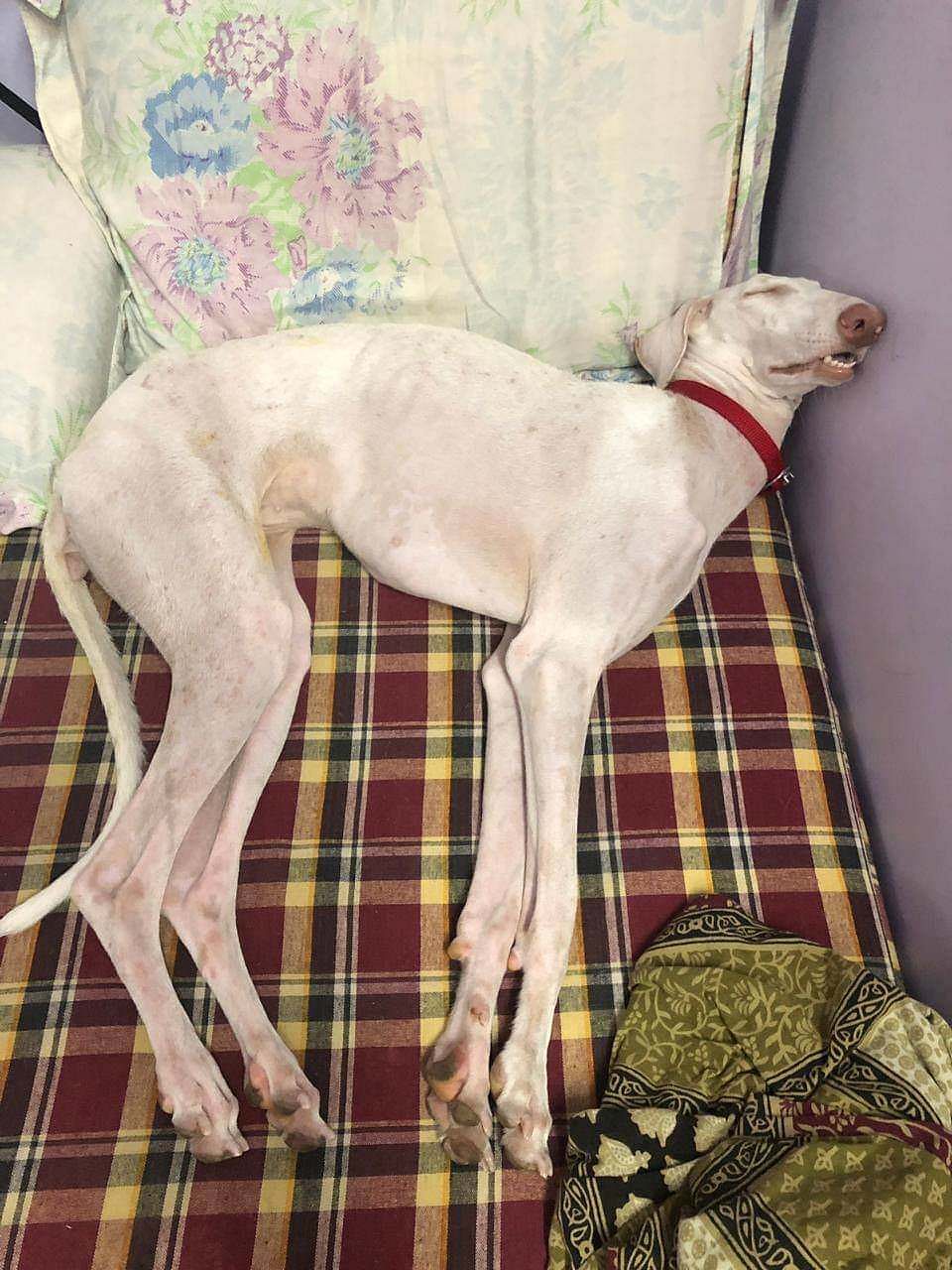 We started treating her for all the issues. Few days in foster and we found heer's limping became worse. We immediately rushed her to the vet.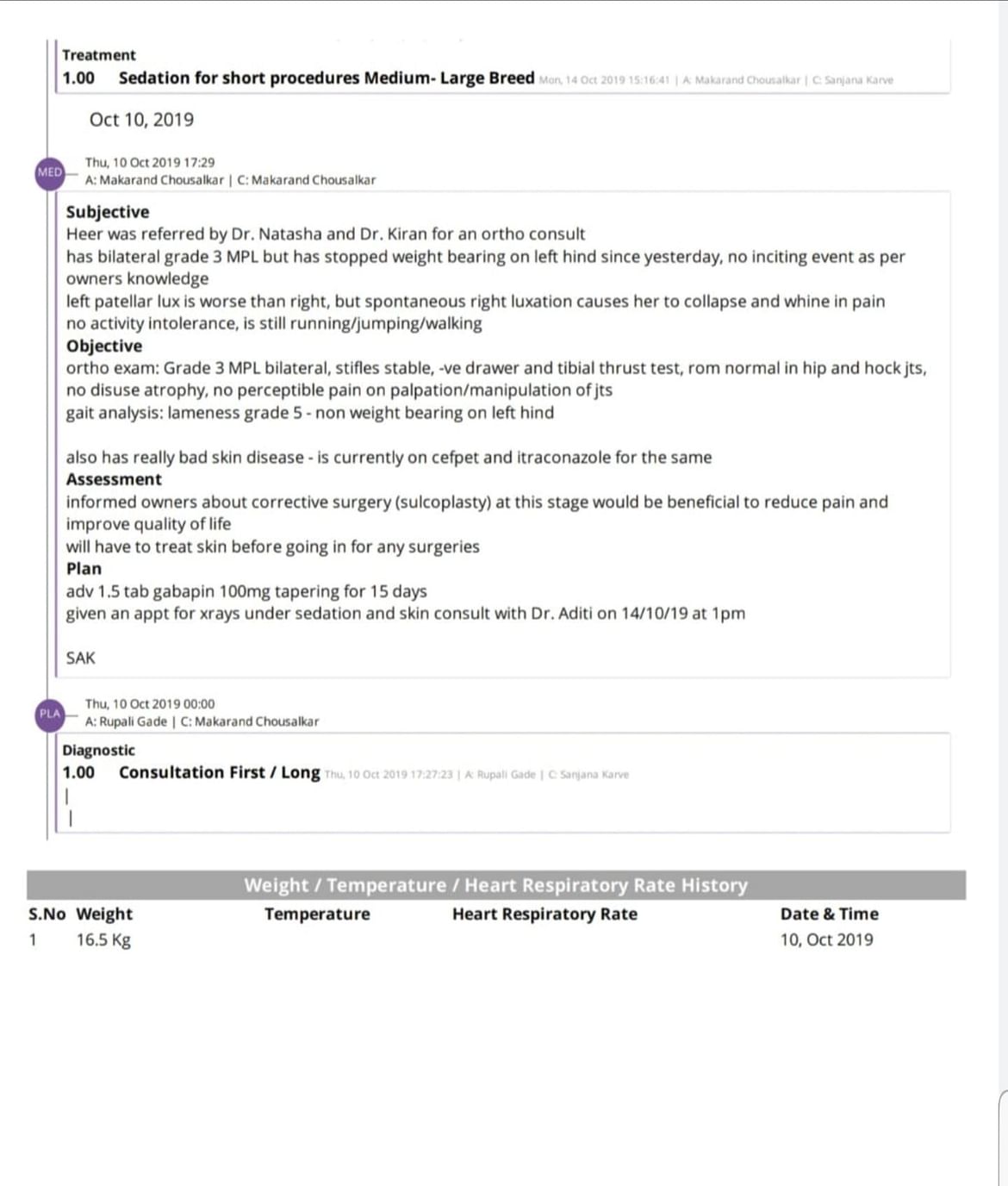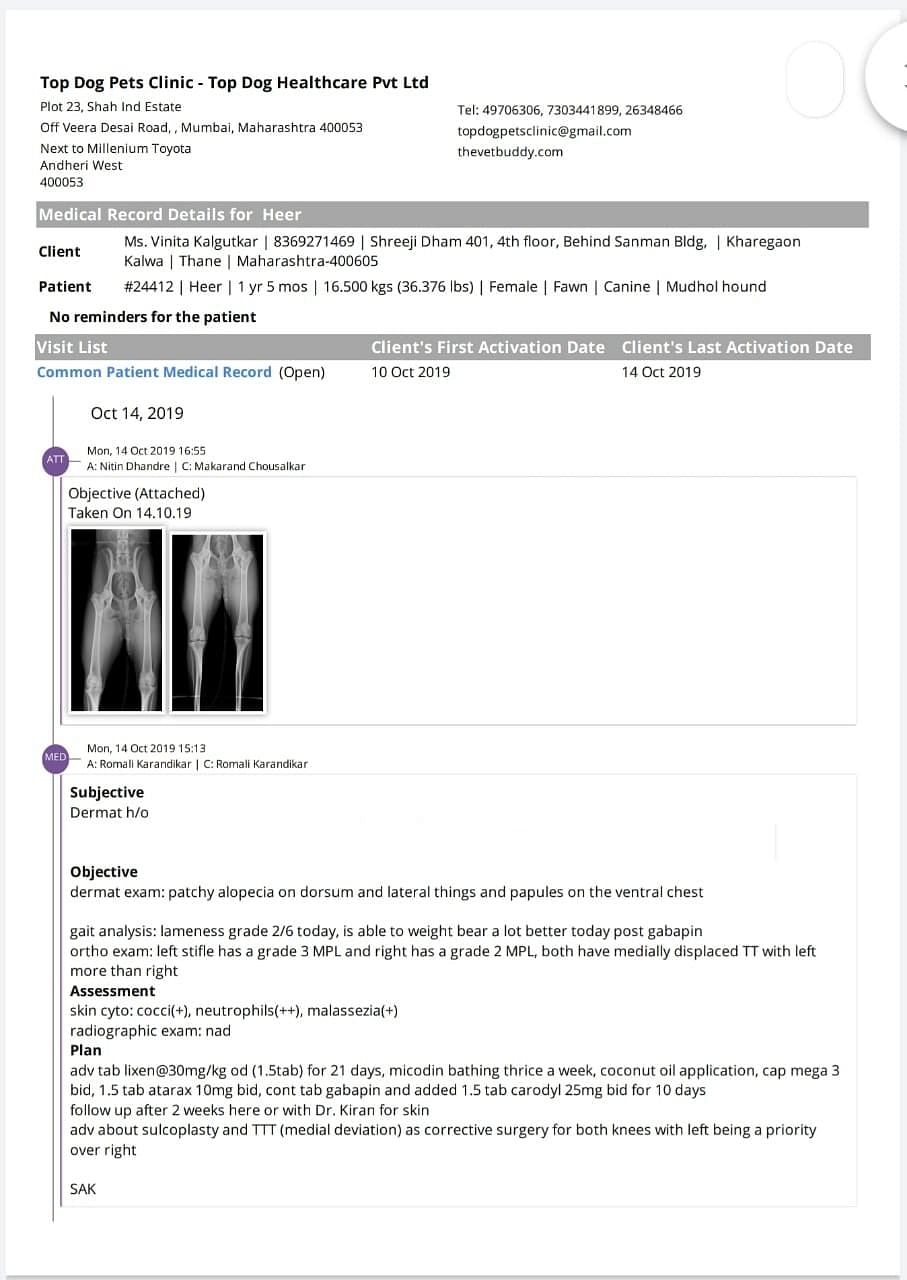 After her ortho exam and radiographs we found out heer is suffering from severe patellar luxation. Her left stifle has a grade 3 MPL and right 2nd grade. Vet recommended we do corrective surgery at this stage to reduce the pain and improve her quality of life. We were all prepared to go ahead with the surgery but her skin never healed. Even after multiple treatments, tests, food change her skin infection would suddenly flare up.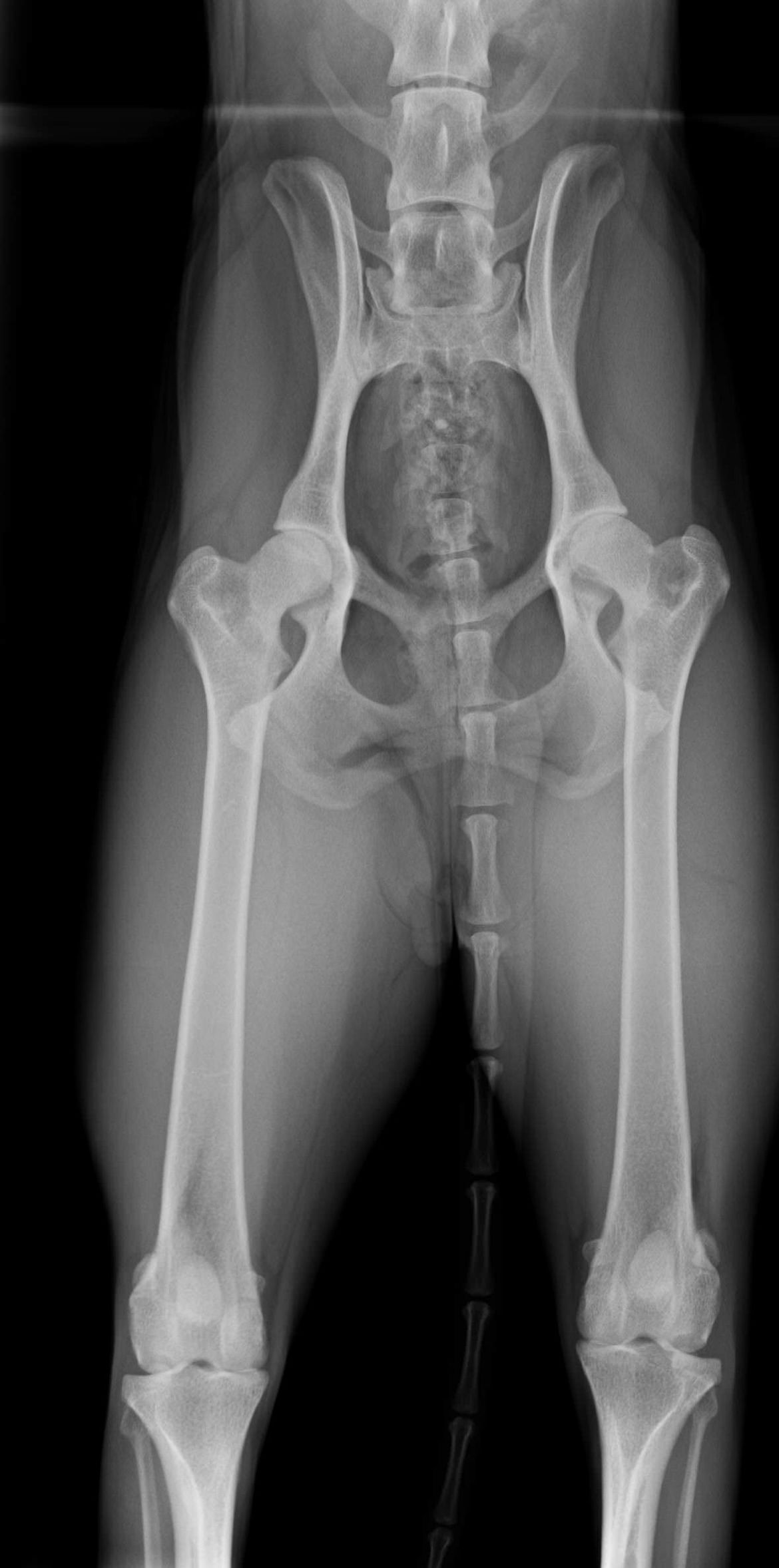 Whenever her patellar slips, she collapses on the spot, she screams and cries in pain. We have to push the patellar back to make her walk again. It's very heartbreaking to see such a young dog limp and cry in pain.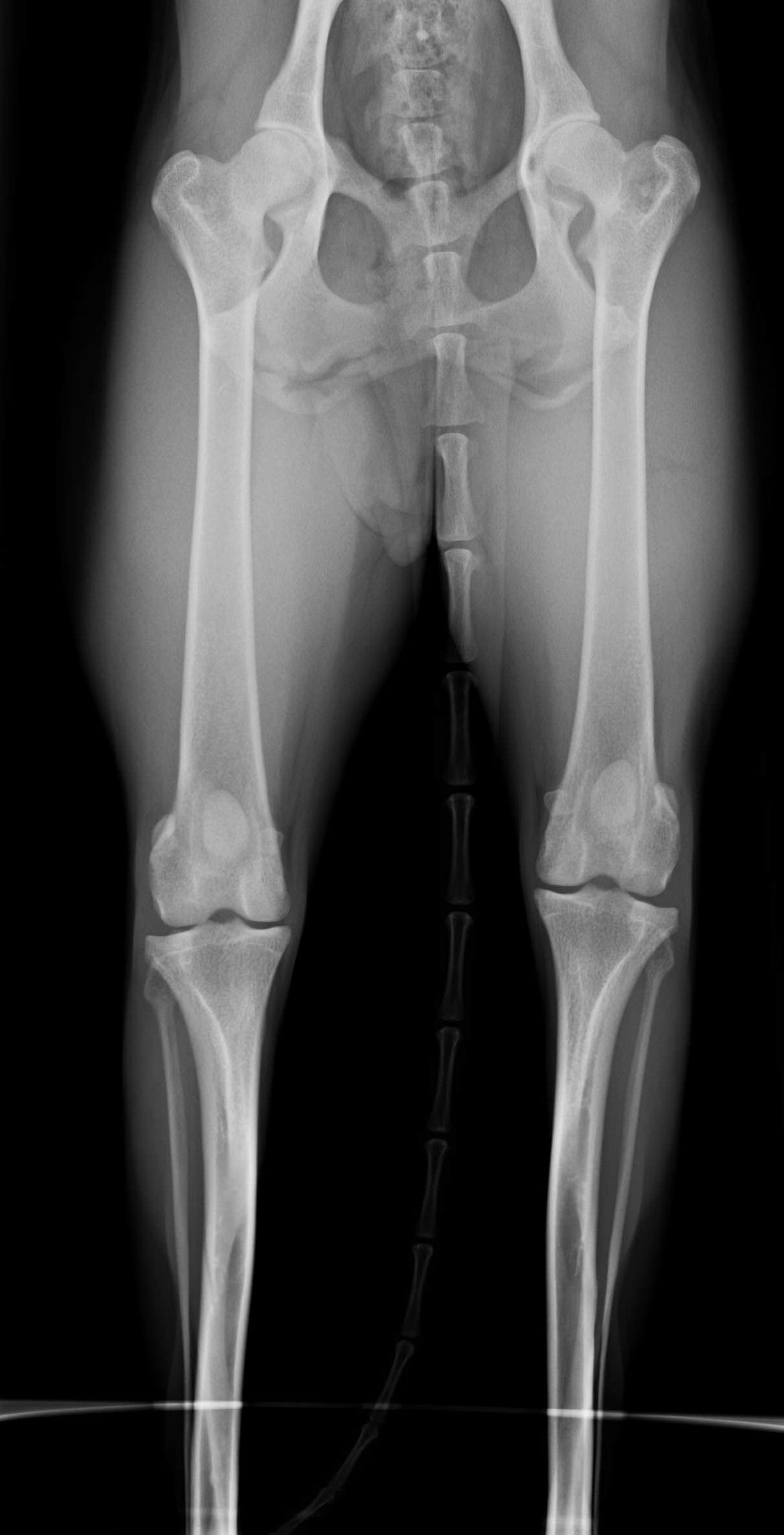 With the help of compassion, love and care, the timid dog we first met has blossomed into a loving goofball who has only happiness and love to offer! Heer still needs lot of care, bathing every alternate day, ice compression every day, & mainly, surgery of both her hind legs once her skin condition is settled.
After months of persistent efforts to find her a forever home who understands her needs, we have finally found a perfect family for her!! She is currently living at a foster in Mumbai and will soon be flying to USA🐾
Donate to help baby Bonnie to reach her forever family in the USA.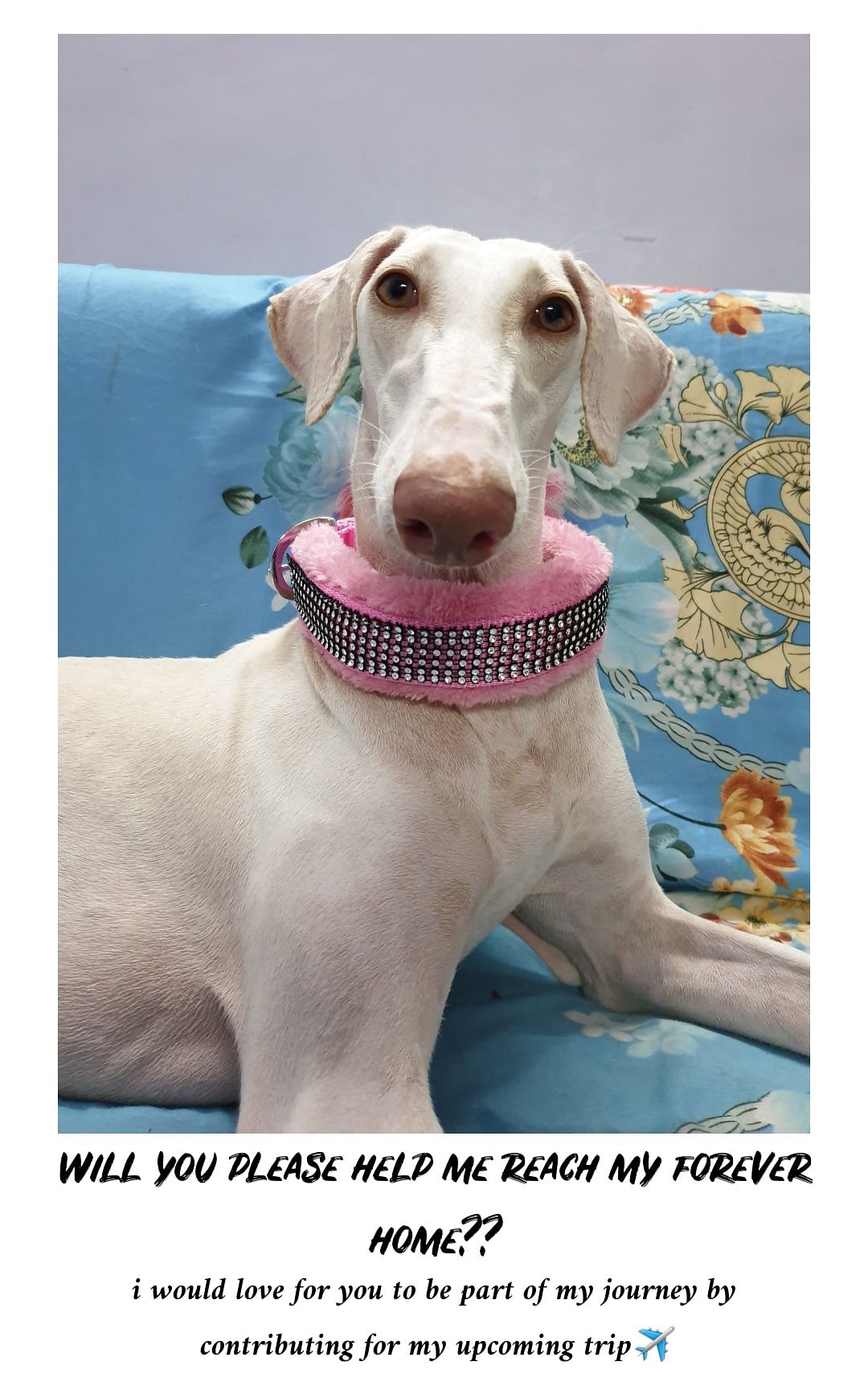 We value any amount you donate. Your donation will support in uniting baby heer with her forever family. Please contribute to make Heer's dreams come true!
THIS IS HOW WE ARE MOVING FORWARD :

* I was spayed from pet vets and I am recovering well and getting ready to fly to my furever home!
* I have been micro chipped. I am healthy to fly & vaccinated. My flight buddy request has been posted and as soon as my travelling buddy is found, I will fly 🤩

Expense breakup:

16000/- IATA approved crate
16000/ pet relocation agency charges {Furry flyers}
Aprx. 42,000/- excess baggage charges depending on the airlines (she will be travelling as excess baggage with flight buddy)
20,200/- pending vet bills + pre-departure medical checks + health certificate + milaap fundraising taxes
(including so that we have final goal amount after deduction)