I am
Harish KB,
a passionate animal activist working for animal cruelty and rescue from past 7+ years.
I am handicap by birth and hence I could easily connect with pain the animals they go through because of the accidents, cruelty and starvations.
One incident that shook my life was during the time when I was pursuing my degree I once found injured dog(accident case whose leg was broken), and I really wanted to help but I didn't know how and what to do, a passerby shared me rescue organization number and I reached out to them for help but with lot of struggle they came to help and until they arrive dog has died due to suffering, I still remember that day I cried whole night with a broken heart and lots of pain.
After that incident inspite of me being handicap I knew this is what I want to do in my life "To Work for Animals" and I without completing my degree, jumped into animal welfare world with whatever I could and from there my journey began and I involved myself completely into Animal welfare
Since then I was added to a small animal welfare WhatsApp groups and started my animal welfare work. I underwent Honorary Animal Welfare Officer training and I worked as Animal Welfare Officer in CUPA for 2.5 yrs, I use to file complaints in Police stations to rescue ill-treated pets and did animal rescues as well, I learnt so many things in CUPA and later I started to work on my own. It's been 7+yrs and Now I am currently handling Animal cruelty cases.
Since I am handicap I couldn't rescue injured animal but I use to feel so helpless when I get rescue calls hence I decided to hire few young boys to attend injured cases and eventually it helped me a lot to attend any injured animals 24/7 but since I need to pay salaries to boys for their hard work, I am unable to pay their salary on time, most of the boys left rescue jobs. I am not able to manage the Rescue Expenditure and Salary of my boys as we are totally dependent on the little funds that we receive from known contacts and also little help that we receive from reporters, Whatever support we receive is not enough for Treatment expenses, fuel, vehicle maintenance etc. I work with most of the animal organizations but help i received isn't enough to sustain the work.
Hence I request for donations so that I can continue serving for the animals and also pay the salaries and improve quality of the rescue
To Summarize Below are the cost expenditure of mine: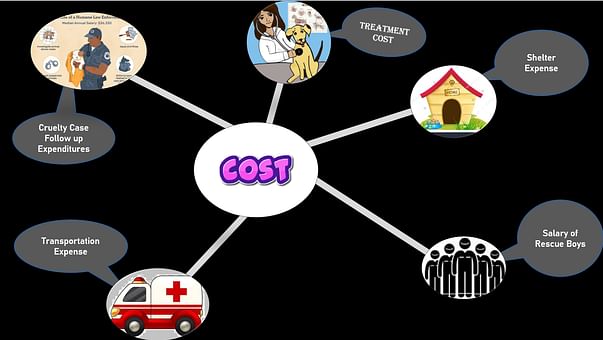 a. Every day I get at least 7 cases which is 210 cases per month and hence me along with the team able to get shelters for 100 animals max and that too if we drop them to the shelters before 10PM.
b. Shelters:-
Though we want to help the remaining cases we are not able to do because shelters are always full and animals that get reported after 10pm are being neglected because no place to keep them in night. Now, cases that get place in shelters has to be given required treatment and this will have a huge burden on shelters, so they have to be supported with the funds for cases otherwise shelters might face financial problems and stop taking cases which again effects the Animal welfare work.
c. Salaries for hiring rescuer:-
Though I do the Animal Welfare work out of my passion, I can't do rescues alone because of my physical disability. So, I have hired a person to do rescues on my behalf and so his payment is an additional expenses to me.
d. Cruelty cases:-
I handle animal cruelty cases like ill treatment of pets, harassing stray animals, beating, killing, using them in illegal activities, relocation etc. I file FIRs in jurisdiction police stations.
Also some of the problems faced by me during the Cruelty cases are :
Physical assault by the accused:- Sometimes when I go to animal cruelty location, accused party tries to scare me, threaten to kill me and I sometimes get beaten up by mob but all these things have not stopped us from serving the voiceless
Transportation Expenses:- Like I mentioned above, funds that we receive are not enough for transportation and on top of that we do multiple visits to the animal cruelty reported spots if the case has to be pursued and bring justice to the animals that suffer
Cost to take the cruelty cases further(court):- So far I only filed FIR but most of them were not followed up because no enough funds to fight the case and bring the case to an end. If I get the targeted amount I will take up all pending cases and try to bring justice for the victim animals.
Counter FIRs trauma:-Sometimes when we file complaint against the culprits, they too file a fake complaint in Police Station just to defend themselves but that fake FIRs formalities drains all our energy and time to prove that we are innocent.
Lacking:- I am unable to give a good quality in rescue because we are lacking with few important things that is majorly needed in every case.
Rescue Kits:- We have no strong rescue kits like a good nets, lasso/catch or other essential items.
Another challenge we face in Animal welfare is, we because are lacking with funds, rescue kits, manpower, time, vehicle and due to other major challenges, our quality of rescue is less and so we are blamed for the same. We always give our best in every case but unfortunately the efforts we put are not considered because we lack with essentials. So people make false allegations and dont consider our tremendous efforts.
Requirements
:-
I am planning to raise Rs/- 500000 to cover most of the expenditure incurred to continue animal welfare activities
I will utilize the money raised to buy a new heavy duty goods vehicle and modify it to a rescue vehicle to rescue distressed animals including large size animals
I will utilize the money to repair the rescue vehicle which was met with accident during rescue
A small amount of money will be used to buy rescue kits and pay the salaries of the rescuers
Hire coordinators or get volunteers to ensure smooth running of rescue operations.
To fight cruelty cases legally and try to amend laws for animals
To meet all rescue and cruelty case expenses
To ensure that the animals are getting treated in private/government clinics and also ensure shelter is getting enough support for providing medical support for rescued animals.
Contributions made will be used for Awareness programs, feeding animals and also to make website for my rescue cases for easy reporting of cases related to animals
I have dedicated my life in animal welfare work and my vision is I want to see everyone treat animals equally and be aware that they too have every right to live like any of us.
I request you to contribute and help me to achieve the dream of living cruelty free life for the Animals.