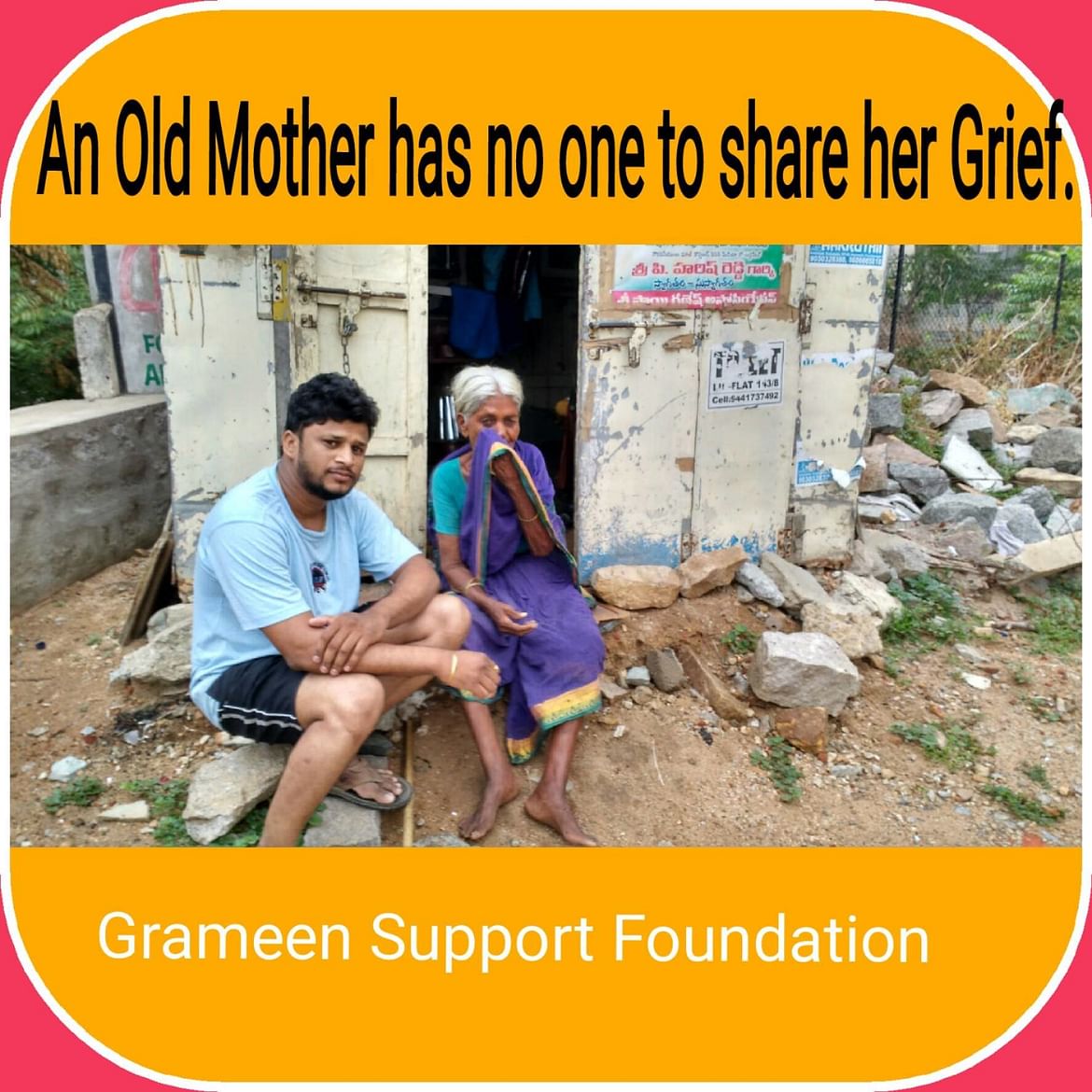 Help the Families of Under Privileged Indians during the Lock down
https://www.facebook.com/Grameensupport
Respected Donors,

We are currently experiencing Pandemic situations and Government of India has takes brave & brilliant steps for controlling the spread of COVID though it will impact the economy very badly. Lockdown is the inly means or the weapon in hand for controlling the situation and ensuring the life's of all fellow Indians.


But during this tough time while many are suffering just the lockdown and getting it pretty tough to get engaged by Netflix & Amazon Prime there are 1000s of Indians who lost their daily bread and butter and not able to meet the ends..

We "Grameen Support Foundation" operate predominantly in Nirmal district have come across number of A large segment of people from unorganized sector i.e., the daily wage workers, the construction labourers, farmers and so on who do not have the necessary resources to survive. They rely on their daily wages to put food on the table. Nirmal also has a huge population of Tribal who are very vulnerable for the virus because of their current living conditions (No Shelter, un hygienic environment, lack of awareness, etc..)
Grameen Support Services in Nirmal district:
We have implemented Natural Plate manufacturing unit in Singapur and Devunigudem village in Nirmal dist. and providing a self- employment to 40 rural women.
First time in Nirmal dist., Grameen Support took an initiative to encourage and empower rural women to create self-employment and provided the Natural plate manufacturing training to 40 rural women at National Institute of Rural Development Hyderabad.
We have collaborated with Infosys foundation Hyderabad and supporting them in various causes. Date 03-June-2019 we are planning inaugurate Sanitary Napkins Manufacturing units in two places of Nirmal dist Mamada and Mudhole Villages this units provide an employment to 30 rural women.
We have already taken an initiative to start Teach for Nirmal Concept where we will be visiting around 200 schools this year along with we will involve all professionals like (IAS ,IPS, Business Mans, IT professionals, Doctors, Advocates ,NRIs , Formers ,all departments ).
We Created an Impact : As part of our Grameen Support Foundation and Mamatha Group (Infosys Foundation) we had a visit to a government school in a remote village named Elvath in Tanur Mandal, Nirmal District to distribute lunch plates, sanitary pads and books.
Till date i have visited may Government schools in all over Adilabad but i have never come across such heart breaking visuals which moved us. It's been 72years since we got our independence and it's been more than 5 years now since we got a separate state, the world is moving forward with digital education but the scenes which we saw in Elvath Government are very much different and quite disturbing.
There is no school building in the first place, the school is being run under a RCC roof with no fans and no side walls separating each classroom. i am still surprised to see that these type of schools still exist in our state while we shouting out to the world that we are the fastest growing state in India in terms of infrastructure and development.
We have created an impact post our visit to school, District Education Department has taken it very seriously and intimated for school building , since it takes 2 years to get completed GSF team collecting funds and planning to construct a temporary school building.
After 71 years of independence first time ever in the history of telangana we've (Police Dasturabad & Grameen Support Foundation) successfully organized 4K Run towards the development of road facility to a tribal village Gonduguda (Dasturabad GP).
To inaugurate this 4K run event we've invited Tollywood Hero Shri "Prince Cecil " Gaaru. And also we've invited Nirmal DEO Smt. " Taamne Praneetha " Gaaru to inaugurate Library which is established in the last month with the help of local youth & people. More than 4000 people have participated in this mega event to support tribal, which is a big record in the history of Nirmal District & Telangana.
We've distributed school uniforms to the students, who recently joined in the school and also distributed primary needs to the tribal people through our Grameen Support Foundation.
We have distributed 4000 sanitary napkins in Nirmal dist.
We have collaborated with Infosys IT organization and doing menstrual hygiene awareness programs in Nirmal and Adilabad districts Telangana. Till now we have trained around 600 women.
It's a heart-wrenching thing that a 8 years old kid: Dasarla Ram Chaitanya was suffering from Heart-disease! His parents were so plunged into despair as the treatment was uncovered in "AarogyaSri Scheme. Grameen Support foundation took an initiative and helped him with his medical expenses also tweeted our IT Minister KTR garu and got the reply from him that Telangana govt will take him into consideration and provide him with complete operation.
Grameen support foundation helping hand trying to get medication funded to one of the family whose son of age 16 years old was diagnosed with brain tumor and family was not in a situation to take care of the medication, by knowing this information Naresh kadari founder of the Grameen support with the help of a businessman named Umesh agarwal came forward to help the kid by donating 30 thousand rupees in favor for the kid medical expenses.
25,000 INR to develop the Singupuram tribal village school where there is a lack of proper toilet facilities and playground.
Note: Earlier Scholl Girls use to travel 2 Kms to use the toilets now.
Established Two Digital libraries in One is in Dasturabad mondal and another one is in Rajura Village.It'll be helpful to the poor students who are not able to attend coaching's.
Implemented 4 digital classrooms in tribal villages in Nirmal dist Telangana ( Kannapur, Rajura,Penchikalpad,Singapur).
Trained and provided an employment to 12 rural area students in IT industry.
15,000 INR to build toilets in the tribal school of Jerhi B village Tanoor Mandal, Nirmal dist. Telangana.
Donated 600 spoken English books to rural area students which will help them to improve their communication skills.
On the occasion of an Independence day, we have conducted Road safty program in rural areas and distributed 20,000 road safety rules pamphlets.
Donated 1000 pens to the poor students in rural areas
We have distributed worth of 50,000 INR medical first aid kits in government schools.
Donated 200 Blankets to the old age people who are sleeping on foot paths.
Donated 250 School Bags ,Notebooks and study material in Tribal schools on 12..06.2017
Helped Gonduguda tribal village people and provided road facility education, donated the led LED Bulbs and blankets.
Adopted 6 poor school girls and providing them a good education.