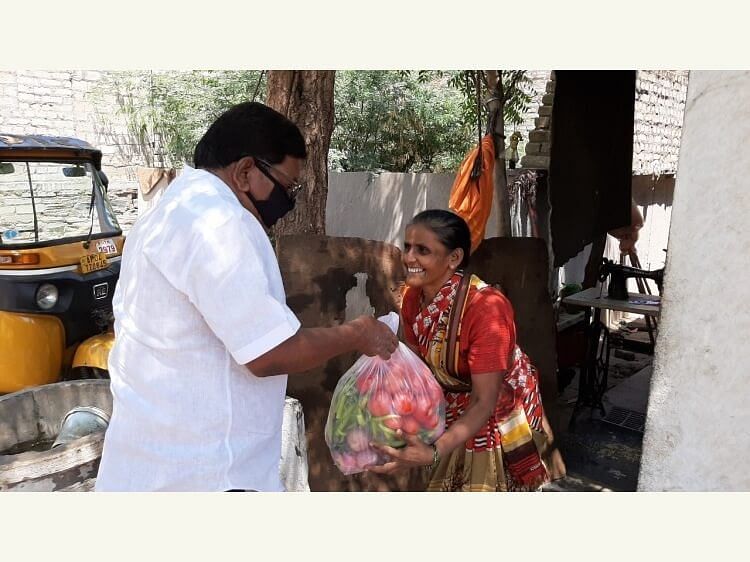 As the crisis around the Covid-19 pandemic grows, the livelihoods of a large number of families surviving on daily wages have been shaken up. In India, many offices have mandated work-from-home and the government has shut down malls, gyms, and other public places including the Government offices. Millions of workers who drive autos are hit hardly. Also, people engaged in other activities like construction activities and indulged in rag picking are worst hit. The lives of people in slums have become so uncertain with the sudden loss of their incomes. For instance, there is around 50% drop in on-demand taxi rides since the last week, Tanveer Pasha, president of Ola, Taxiforsure and Uber(OTU) Drivers and Owners Association, told the Business Todayon March 13.
Already these drivers struggle to make money after footing huge loan payments, insurance bills, and fuel costs. Now, their livelihoods are being put even more in jeopardy. Fear of being infected has already driven 5% of salem, namakkal,rasi puram drivers working for ride-hailing platforms to leave for their hometowns, TechSci's Sukriti Seth told Quartz. About 30% of the auto drivers take loans to buy their vehicles which cost between Rs 1.6 lakh and Rs 2.5 lakh. And now their loan repaying capacity has been hit very hard. Auto drivers rarely have insurance and employment benefits.
In some cities like Nagpur, police crackdown led to seizure of around 270 autos as they were plying owing to their economic crisis. With such penal actions becoming more stringent in India's fight against Covid – 19, the life of the poor auto drivers is not going to be easy.
With the current Nationwide lockdown announced by Honorable Prime Minister at 8PM on 24-03-2020, it's a complete shutdown of the auto rides. They are now at the mercy of the national and state governments. The governments are trying to take a slew of measures to support them during this crisis by providing some ration.
We wish to stand with the Government during this Pandemic and take up some responsibility of reducing the economic crisis for the auto drivers in our area. We wish to support them monetarily for the loss of their livelihood and wish to assure them that the nation stands with them when they are halted. We recognize their efforts in moving the nation when there was no crisis. Now, its our turn to make their lives move on without much hiccups.
If we don't provide them a safety net now, every one of them, their children and other dependents are in danger of falling below the poverty line.
Lets fight Corona.. Donate Ka ro na.
In a neighbourhood dumping spot, you see men and women armed with old shoes, recycled clothes, a sickle, bag hanging on their shoulder. They bend a thousand times, walk miles to pick recyclable waste to earn their living. They maintain the city against the growing tide of waste. In Salem alone, wastepickers save the municipal authorities up to 84 crores for collection and transportation alone by picking recyclables from waste for transportation.The informal waste sector is an essential extension of waste management and wastepickers are the key to recycling trade for 3000 tonnes of material. Now, wastepicker families are in a difficult situation under the COVID-19 outbreak; they must continue to work as they don't have the privilege to work from home. However, the waste on the street that they can pick has reduced and children are out of school, which means they do not receive mid-day meals.Hasiru Dala has identified ~3500 vulneralbe wastepickers' families who have no access because of lack of money or supplies in 6 cities/towns in Tamil nafu (salem,rasi puram,attur, namakkal,and dharmapuri) who need immediate support.
We are seeking your funding support for providing care kits consisting of dry rations (rice, lentils, chilli powder, cooking oil etc.) and soaps for 21 days, with each kit costing between Rs.1600 and Rs.1900 depending on the kind of rice and lentils they are used to
How will your donations be used?
Once you select an amount to donate, all proceeds will be used in providing the monetary and in kind support to around 1000 auto drivers, rag pcikers and other daily wagers living in the slums in salem ,namakkal and dharmapuri Districts of TAMILnadu.
This is a 100% not for profit campaign, and we will disclose the use of proceeds in a financial transparency report sent to all contributors to the campaign.
Lets fight Corona.. Donate Ka ro na.