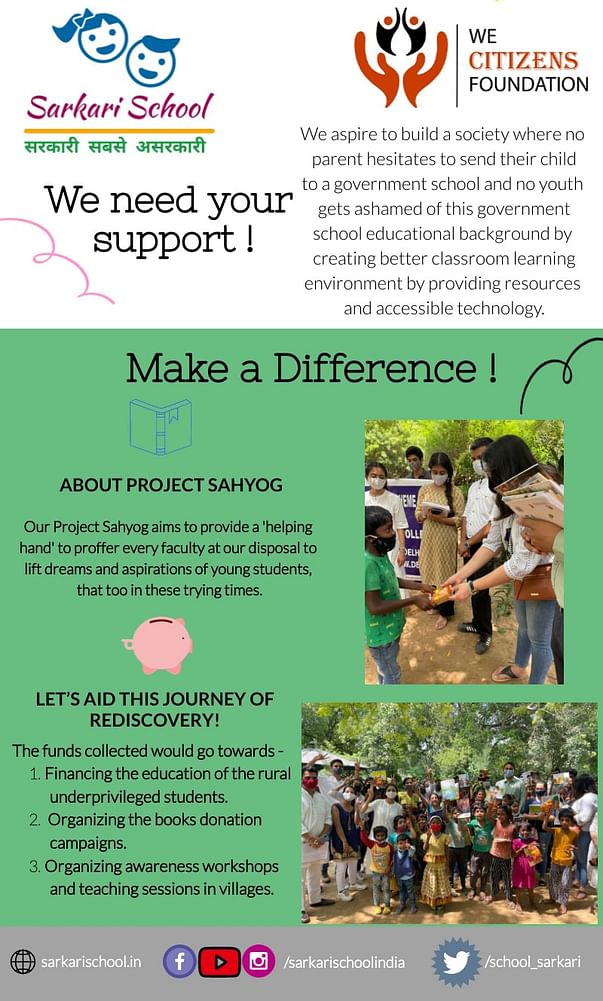 ABOUT THE FUNDRAISER

Today a reader, tomorrow a leader" as quoted by Margaret Fuller very well explains the importance of books in a child's life.
Rural India is home to several girls who do not have access to formal education. There are many hurdles that these young girls have to overcome to complete their schooling.
One of these hurdles includes the unavailability or shortage of books due to the absence of libraries in Government schools.
SarkariSchool.in is trying to support these deserving students.
OBJECTIVE

We at WeCitizens Foundation & SarkariSchool.in aim to uplift young minds by raising funds to provide library access to 1000 underprivileged students in 10 government schools and youth-led initiatives in rural as well as slum areas under our Project- Sahyog. Our project aims to support Children by arranging the storybooks to set up libraries for those students who have not been able to complete their education and for those children who live in remote/slum areas where getting access to books is difficult.
HOW WILL THESE LIBRARIES HELP?

Hanging Libraries will be installed in schools or Youth-led community library and they will include basic and moderate level storybooks that can be read by both beginners and fluent readers.
The libraries will also include Autobiographies and Self-help books that will focus on improving the overall personality development of the children.
Books that are beyond the students' syllabus will engage them in boosting their 21st-century skills like communication skills, writing skills, creativity, and other related interests.
Students will be briefed about how to use the libraries and take care while handling the books through Orientation programs.
A library committee will be set up in schools that will ensure the safe and effective handling and usage of books.
Along with books, some funds will also be allocated for purchasing trunks to store books when they are not in use during holidays and vacations.
Books will be purchased from the National Book Trust with the help of the raised funds. If additional books are required, they will be purchased from Organizations like Eklavya and Pratham.
Along with books, we will provide digital access of more than 100+ Video stories which will benefit students to learn the art of storytelling. Storytelling and story writing workshops will be organized with students.
Sarkari school has already set up 4 libraries!
Book Donation Drive in University of Delhi
Help us establish a few more and thereby let's promote education for girls together!
ALLOCATION OF FUNDS

The total number of books that will be purchased: 2000 (Rs. 50/books)= Rs. 100000
A total number of trunks that will be purchased to keep the books safe- 10 (Rs. 500/each)= Rs. 5000
Total number of beneficiary students- 1000
Average Funds allocated per child - ₹50.
Total Funds Required - ₹ 105,000
RECOMMENDATION

It is recommended that donors make a minimum payment that can support at least two children-
To support 2 children, the payment amount is ₹100.
To support 5 children, the payment amount is ₹250.
To support 10 children, the payment amount is ₹500.
To support 25 children, the payment amount is ₹1250.
YOUR HELP TO TAKE THIS INITIATIVE FORWARD WILL BE HIGHLY APPRECIATED!!!