Update: 03 Aug 2020
Part 2

As of Aug 2, on the occasion of Friendship Day, we have introduced 'A Gift Story', a new brand providing online gifting services. In dire times where there is no possibility to run the cafes for at least a year, we are coming up with this new venture to stay afloat. The business plan is designed in such a way that involves most of our survivor members and staffs equally that will be a way to their long term self-reliance for livelihood.
For more details, please logon to
www.agiftstory.store
Along with this new venture, on the special occasion of friendship day, Chhanv Foundation has launched a new campaign called "#Friends4Charity", which will allow you to relive your graceful memories with your friends with the addition of a reason to bring the support & shout-out for the challenges faced by the acid attack survivors. You can participate in this challenge by simply posting a selfie with their friends on the social media handles & nominate them to do their part of Charity & encourage them to nominate their friends to do the same.
The contribution could be done at
bit.ly/friends4charity
..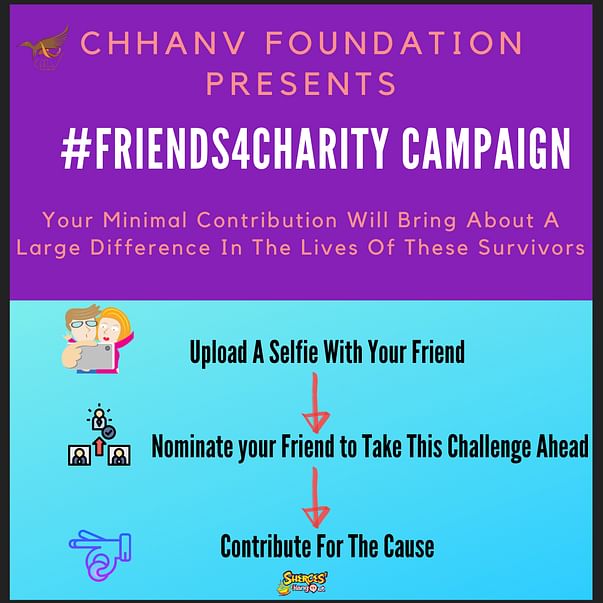 ----------------------------------------------------------------------------------------------------------------
Update: 03 Aug 2020

Part 1

Dear Friends,

We hope you are safe in these challenging & trying times.

We must thank you for your unconditional love which has brought some relief in the lives of acid attack survivors.

The first phase of this campaign has been completed & now we are heading towards the phase 2. Before getting on to the next phase, let us allow to mention what this campaign has achieved & what is yet to achieve!!

The campaign was started with a motive of providing a sum of Five thousand for 6 months to the 30 survivors of Sheroes Hangout after the lockdown imposed in the whole country & the sole source of income of the survivors, cafe sheroes hangout was closed and eventually, it caused an uncertainty in their employment for an indefinite time. Later, the campaign grown a bit & acknowledged the requests of survivors approaching us through our helpline. We promised 30 more survivors to help in their survival with a sum of five thousand for six months & it gives us immense pleasure to mention that we not only assured help to these 30 girls but with the help of loved ones & the supporters we held a successful E-Fundraiser and increased the amount to Ten thousand for 30 survivors of Sheroes Hangout along with a support of Rs Five thousand to 30 more survivors who reached us through our helpline.

Along with this campaign, we were also looking alternative ways to provide a long term sustainability to the beneficiaries, for the same we have put all our efforts & are on the verge of finalising a tie-up with an organisation to ensure the salaries of 30 Sheroes Beneficiaries as well as monetary support for other 30 survivors for 12 months & if we will be able to lock the tie-up, it would definitely bring stability in the lives of survivors for one year.

Challenges Still to be Meet up:
Since the lockdown began, both the outlets of Sheroes Hangout were closed. Anyhow we managed to start the Lucknow cafe with the government guidelines but the results were not satisfying. It would not be wrong to say that the cafe business is going to suffer probably for more than one year. But the concern is the closing of operations has not stopped the operational expenses including the rents & staff salaries other than beneficiaries. Similarly, if we speak of Sheroes Home, our rehabilitation centres which we have in Noida & Agra. The present situation is we have already lost the Sheroes Home, Agra due to lack of funds.

Since we have all the operations closed & we must mention that the revenues from the Sheroes Hangout cover almost 75% of the total income of the organisation & Closing of the cafes has put everything on stake. The present situation is If we would not get any support, we might reach on the verge of losing the Agra Cafe as well as we have not been able to pay the rents for continuously 4 months.

So, in the second phase, after ensuring the help for beneficiaries, we will be saving our outlets which are on stake, which will be further followed by help to the support staff of Sheroes.

Alternatively, we are changing our business model. A new model which could sustain in these times as the food industry is relentlessly struggling to generate the revenues. The details of new model will be shared in next update.
-----------------------------------------------------------------------------------------------------------------
04.07.2020: Update
Chhanv Foundation launched its Crowdfunding Campaign on 31st May, 2020 aiming to provide a minimum survival package to the survivors for the next six months working at the Sheroes Hangout Café. The widespread Coronavirus across and the globe and the forced shutdown of the café due to the lockdown brought in a lot of difficulties for the survivors and they also had to lose out on their income. It had a de-motivational and negative impact on the psyche.

But today, almost after two months, we are extremely delighted to share that we have completed the First Phase of our Fundraiser. They say the journey is more beautiful than the destination and hence, we are grateful to you for your support throughout this journey.

In our first phase of crowdfunding, we have managed to provide an amount of Rs. 10,000 for the month of June and July to our onboard 30 Survivors.

We also launched a Helpline Number in the month of May through which we have reached out to 30 new survivors and have assured them the financial assistance of Rs. 5,000 for the next 6 months and the instalment for the month of June and July has been given out. Our Reach Out Team is leaving no stone unturned to find new acid attack survivors every day who are in dire need of funds.

However, in the words of Robert Frost, 'Miles to go before I sleep', we still have a long journey ahead. This is just the beginning and we shall need you to be by our side akin to the way you have been so far while we push our goal amount from 10 Lakh to 30 Lakh this time.

We're truly thankful to each one of you, the ones who contributed, and the ones who enthusiastically helped us spread the word across. Keep supporting us and keep showering the love that you have been always and we are sure, we shall definitely overcome these trying times.
With the aim of Extending the Monetary support of Rs 10K to 30 beneficiaries of Sheroes Hangout & Rs 5K to other 30 survivors who have reached out to us, the goal amount is revised to 30Lakhs. However the support to outside beneficiaries is not limited, it is open we will definitely support to all the needful who are in dire need. The helpline number is +91-96 1593 1593.
New Budget
| | | |
| --- | --- | --- |
| S No | Particular | Amount |
| 1 | Survival Amount of ₹10000 to 30 Survivors for 6 months | ₹ 18,00,000 |
| 2 | Survival Amount of ₹5000 to 30 Survivors for 6 months | ₹ 9,00,000 |
| 3 | Emergency fund for unpredicted situations including medical & for other beneficiaries approaching for help. | ₹ 3,00,000 |
| | Total | ₹ 30,00,000 |
18.06.2020: Quick Update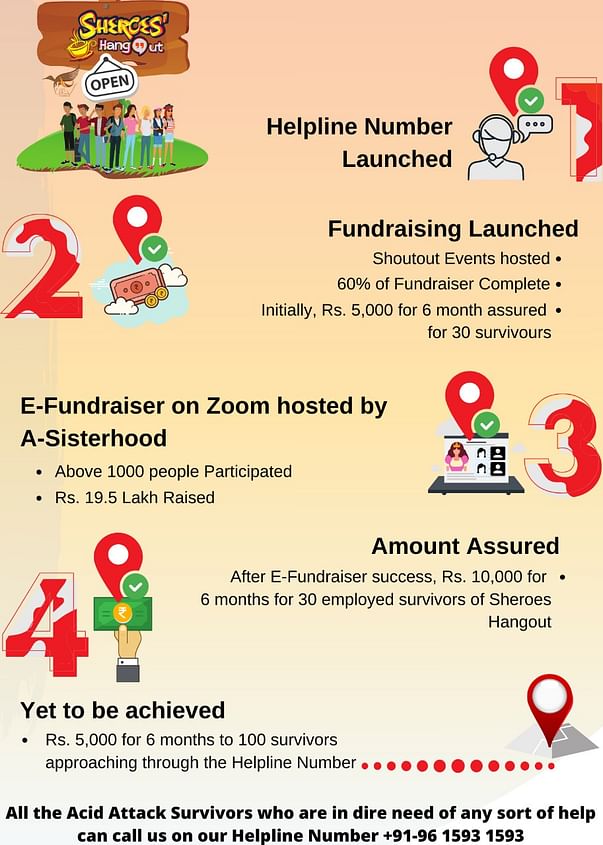 11.06.2020: Here's the quick update for this campaign;

In 10 days since the campaign was started, We were able to raise 60% of the total goal amount, which has enabled us in providing our sheroes with the first relief package worth Rupees 5,000. We plan on doing the same over the next 6 months and that would be possible only when people like you continue to support us and inspire hundreds and thousands of others to contribute as well.

In the same trail, Sheroes with its partner organisation A-Sisterhood, a UK based charity organised a E-Fundraising event on 3rd June 2020 on Zoom which was witnessed by a mass of 900 people like you. The event was hosted by Emma Jenkins, Miss Universe Great Britain & Mr Ram Goyal with this huge gathering we were able to raise 19 lakhs in 40 minutes. The insane response strengthen our belief & with this we are extending this monetary help to Rs 10,000 to our 30 fellow sisters. Following to the first phase of help to sheroes girls, we are also eyeing to stretch this help to the acid attack survivors outside the Sheroes as well. We will target approx. 100 survivors to ensure a survival amount of Rs 5000 for 6 months out of which have reached out to 30 survivors & trying to ensure them a help of 30K for the span of 6 months.

The another important update is there is a helpline number of our organisation +91-96 1593 1593 which ensures complete help to the survivors of acid attack survivors. With the help of this helpline only we will be able to connect to the survivors across the country. We request you to please regulate this helpline number as it might connect us to someone who is in dire need.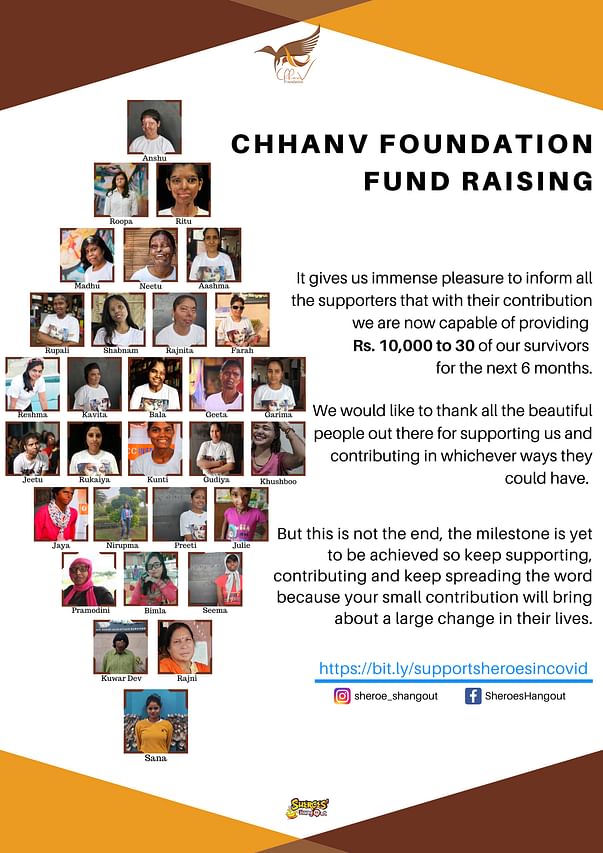 _________________________________________________________________________________
Story:
Introduction
Sheroes Hangout, a small community of around a hundred survivors, one of many communities for whom when disaster strikes they become very scared. Indeed, humanity has not seen before something like this, We all are hopeful & definitely we will win over COVID 19. Like this pandemic there is something equally nasty & threatening called Acid Attacks, which everyone is not well aware & in the result Country has witnessed averagely more than 250 incidents of this heinous crime every year post-2015. As the crisis around the pandemic grows, the livelihoods of many survivors and their families surviving on daily wages have been shaken up. There are many, who rely on the support provided by their carers are particularly at risk during this difficult period.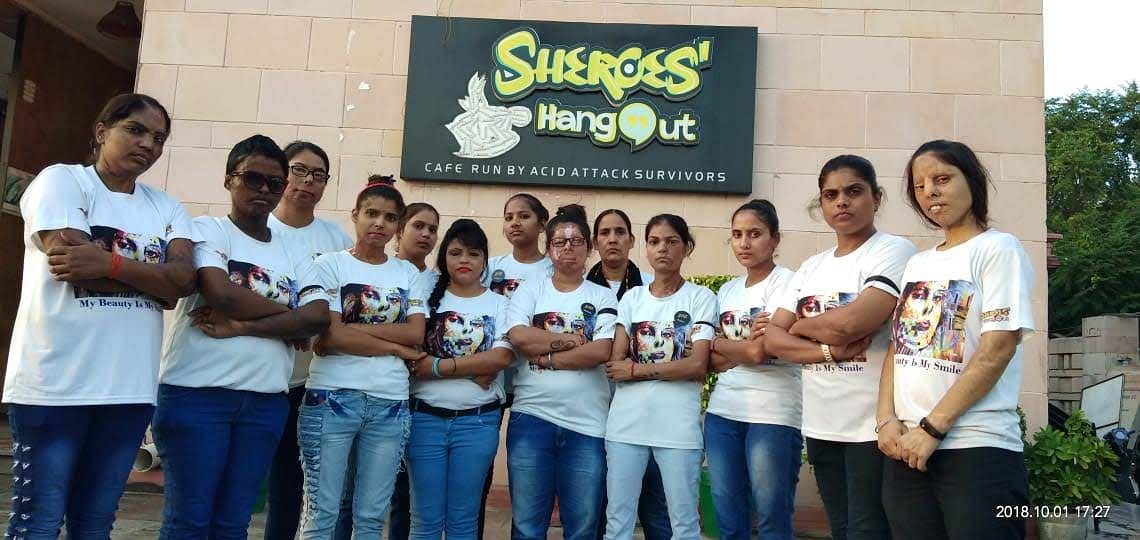 As the COVID'19, Corona Virus hit the various countries across the globe, we too, are not unaffected by this global pandemic. Various countries have been put to complete lockdown in the amid of this virus. In this very high atmosphere, both the outlets of Sheroes Hangout have been shut off accordingly. The closing of the cafes has directly affected the livelihood of the survivors associated with the cafe. They have to nourish not only themselves but to their families, kids who are directly dependent on these survivors.
Sheroes Hangout Cafe & Its History :
Sheroes Hangout, an initiative of Chhanv Foundation was started in Agra in December 2014. Today, with two cafes, in Agra & Lucknow, foundation has employed 30 survivors and added value in the life of hundreds of other girls by providing them counselling, medical help, career and education opportunities.
With an aim that survivor women have equitable opportunities to thrive and participate in inclusive communities, we run Cafe Sheroes Hangout Project that not only provide employment opportunities to women but also a platform where they come out with courage, a first of its kind initiative in a country where beyond suppression, there's fierce trauma and a scarred life. The seed of both our cafes is awareness. It's a fight against stigma, against discrimination, a battle for normalcy after suffering, and for equal opportunities.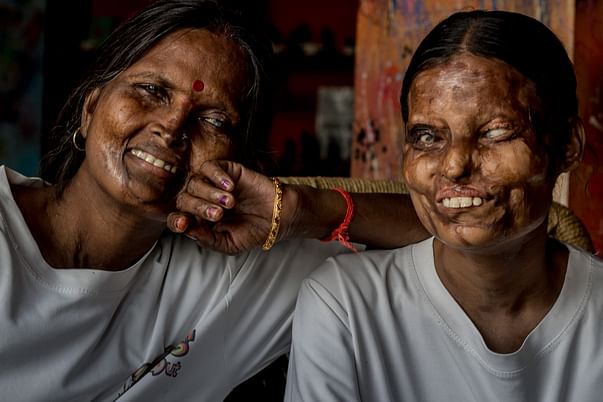 The Role Sheroes plays in the lives of acid attack survivors
While helping survivors to rehabilitate and providing them jobs, organisation found that many of them lacked professional skills and so we thought that a café could be the only place where both the skilled and non-skilled ones can work and earn together besides spreading awareness to other people about acid attacks. Thus, the idea of Sheroes Hangout came up. A venue where new wave feminism evolves every day to overcome the challenges faced by women in societies and cultures.
Today, with two cafes, in Agra & Lucknow, cafe has added value in the life of hundreds of other girls by providing them complete rehabilitation involving counselling, medical help, career and education opportunities for them & their kids.
It is the support of Sheroes which has ensured many survivors to live a life like other normal people. They found acceptance in the society, earning their livelihood with a pride & are self dependent.
What we are fund raising for ?
We need the urgent funds because at present, the employment of 30 survivors is on stake. India has no hope in the upcoming months as the number of COVID 19 patients is increasing day by day. As we are estimating it might take six months or more to be everything normal. We know that cafes will not be operated until one year, considering the help conditions of survivors. Most of them are immune-compromised. We are trying to save the employment of 30 acid attack survivors at the moment. We are also trying to provide minimum survival amount to 100 acid attack survivors in our network. So far, if you ask, How much Government pays to these people, it is just Rs 350 a month. We have received more than 100 requests from different states of India & most of them are in typical situations. The first phase of this campaign will ensure the minimum survival amount to 30 acid attack survivors.
Why Should you Donate?
This is a very crucial moment and we are looking for your participation. We must recognise that the weakest among all, most vulnerable will be the hardest hit. A crisis like COVID19 outbreak presents challenges that touch many areas of the lives of this small community of acid attack survivors. We are fighting, with tooth and nails, to bring all possible solution to normalise the lives of our team members. At this time, we are seeking your assistance with funding this urgent program, providing a survival opportunity for the acid attack survivors.
What Sheroes Has Done in past two months:
Sheroes has ensured two months salary without any delay to all 30 survivors when the country was imposed with complete lockdown for an indefinite time. This salary ensured them with all the basic needful commodities to nourish their families.


My Fellow survivors started winning hearts of thousands of our social media followers during LIVE shows broadcasted on Sheroes Hangout Instagram page. They did really well, there is no semblance of victimhood in them but they are in dire need of help after the lockdown. They're never so vulnerable than today, so fragile that slightest financial or emotional pressure can break them.
Sheroes did whatever was possible to support hungry labours when they were walking for miles after the announcement of a month long lockdown. We helped each other like sisters and brothers, they are spreading love and hope.

Together, we get an opportunity to solve so many important problems, sometime acute like COVID19 but sometime just long term human problems of the people with different needs.
Budget
| | | |
| --- | --- | --- |
| S No | Particular | Amount |
| 1 | Survival Amount of ₹ 5000 to 30 Survivors for 6 months | ₹ 9,00,000 |
| 2 | Emergency fund for unpredicted situations including medical & other | ₹ 1,00,000 |
Thank you
Garima Awasthi
Member, Sheroes Hangout