Donation cause
Folk music defines our culture that has been passed on over generations. However, this culture is dying and so are the folk artists. Covid has had a detrimental impact on many who rely completely on folk music for their bread and butter. We want to help these artists and ensure that folk stays forever.
The need for the campaign

These are not popular artists or ones who can manage difficult times with their savings. Neither they are the ones who can make do with the online medium and reach wider audiences. These are artists who need us at this time. These are artists like Sakar Khan from the Manganiyar community and Jagdish from the Bhopa community.
SRISTI
in collaboration with
ArtKhoj and HACRA
has launched this campaign to ensure that folk artists get the much-needed love and support
. "Support Folk" is an initiative by two IIM-Ahmedabad Students - Nikhil Kedia and Yuvraj SinghFew details on the campaign
1. To begin with, we have identified 4 artists from the Bhopa and Manganiyar communities of Rajasthan. These are artists who are dependent on folk music for their income, and who have struggled over time
2. These artists will be given a sum of Rs. 5,000 each from the campaign. Additionally, we have also tried to secure funds from IIMA's Social Action Lab to additionally support them since 5,000 is not sufficient enough
3. The details of these artists have been taken along with video calls and ID proofs for verification. We have detailed their stories below and also added a few videos of these artists
Details of the artists1. Sakar Khan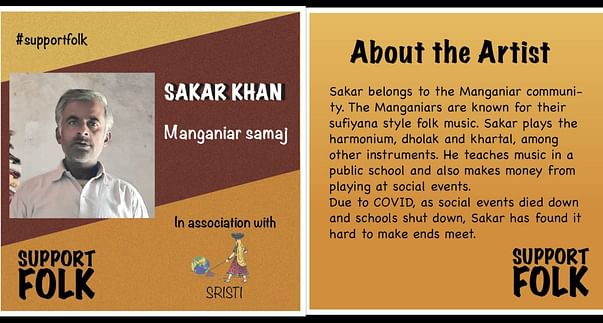 Sakar belongs to the Manganiar community. The Manganiars are known for their sufiyana style folk music. Sakar plays the harmonium, dholak and khartal, among other instruments. He teaches music in a public school and also makes money from playing at social events. Due to COVID, as social events died down and schools shut down, Sakar has found it hard to make ends meet.
2. Jagdish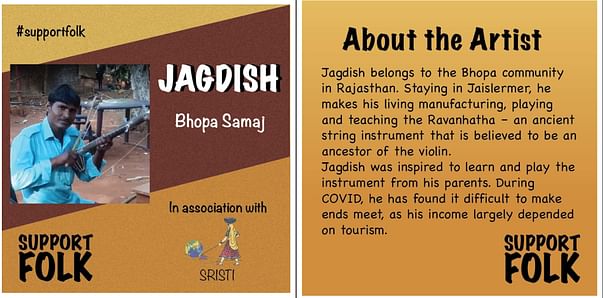 Jagdish belongs to the Bhopa community in Rajasthan. Staying in Jaislermer, he makes his living manufacturing, playing, and teaching the Ravanhatha – an ancient string instrument that is believed to be an ancestor of the violin.
Jagdish was inspired to learn and play the instrument from his parents. During COVID, he has found it difficult to make ends meet, as his income largely depended on tourism.
3. Hazari Ram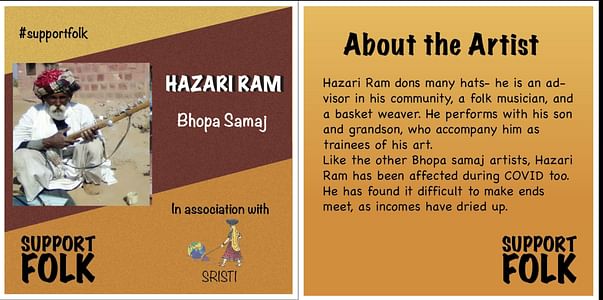 Hazari Ram dons many hats- he is an advisor in his community, a folk musician, and a basket weaver. He performs with his son and grandson, who accompanies him as trainees of his art. Like the other Bhopa samaj artists, Hazari Ram has been affected during COVID too. He has found it difficult to make ends meet, as incomes have dried up.
4. Jagamal Ram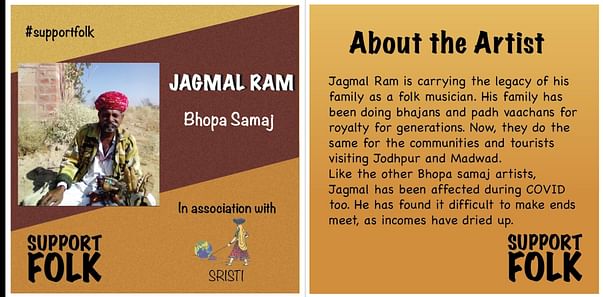 Jagmal Ram is carrying the legacy of his family as a folk musician. His family has been doing bhajans and padh vaachans for royalty for generations. Now, they do the same for the communities and tourists visiting Jodhpur and Madwad.
The money you donate will go a long way to not just help these artists but ensure that folk music and the culture of our diverse country is preserved. This is just the first batch of artists we are supporting. We hope to find many more such artists in need and extend the support through SRISTI and ArtKhoj.#SupportFolk
For any query or support, please reach out to us at:
Nikhil Kedia: +91 7584005514
Yuvraj Singh: +91 7977188612