Hello Everyone, I have been doing rescues of Strays from
last 5 Years
. If I talk about my rescues, It all started in
August 2015
when I rescued a one month old indie puppy first time with my friends, pup was badly attacked by other Street dogs. Found him in very bad condition
27th August 2015
, rushed to the hospital that night around 2 am , treatment was given and 2 month foster was advised for the puppy. I decided to look after him and I got attachment with the pup.
Later I Adopted him too :)
Now he is Still with me , His name is "
MEEPO
" :)
A year after, on
27th June 2016
, Found one more 2 month old Indie being attacked by other street dogs. A very much similar case to "
MEEPO
", I rescued &
Later planned to adopted her too .
She is also with me now, Her name is "
RYLEE
" :)
RYLEE & MEEPO
TOGETHER ,
GROWN UP NOW with me
:)
https://www.youtube.com/watch?v=b1LVnXUP3Ww&ab_channel=FahadAfroz
(I REQUEST EVERYONE TO ALWAYS ADOPT & HELP INDIES, "Saving one dog will not change the world, but surely for that one dog, the world will change forever.")
Here I will be Sharing all my work related to
Rescues, Feeding, Vaccination, Neutering, On-spot Treatment, Reflective Collars Drives.Rescues
: I always try my best to personally attend the cases either its Accident case or Strays which are suffering from diseases like Canine Distemper or Parvo. During Lockdown with God grace I have saved more than
22+
Canine Distemper Cases
in Bangalore by helping them with immediate treatment with the help of Dr.
Mahalingappa
(
Jayanagar Veterinary Hospital
) and also rescued
20+ Accident cases.
(
Since 2015
, I have Helped and Rescued more than
170+ Strays
)
https://drive.google.com/file/d/1AzKZy1Ik9D3BSryF9sG15ORbO7L4n443/view?usp=sharing
Reflective Collars Drive :
Feeding :
Attending OnSpot Treatment with Doctor:
Neutering/Sterilisation :
Some Reports & Bills :
Vaccinations :
Last But not the Least "Always try to give Proper rituals to the most Loyal Friend " :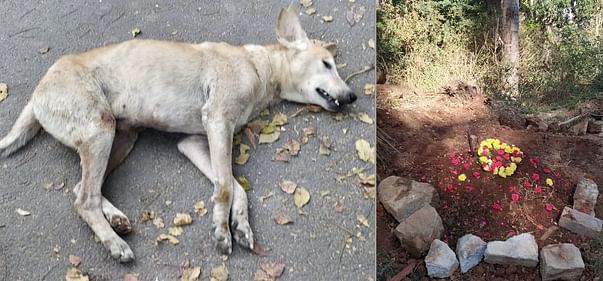 I have been working in the these fields :
On-spot Treatment(with the help of one of the Senior and retired veterinarian in Bangalore ) , Arranging Catchers, Transportation, Volunteering for Strays Sterilisation
, Got done
100+ dogs Sterilised
by volunteering and coordinating with
ABC (Animal Birth Control) drives
. Strays which are escaped every time in
ABC Drives
, I personally get them Sterilise in private hospitals. I am also putting
reflective Collars
to Strays
to avoid Road Accidents
.
Feeding 50+ dogs daily as well
.

Physically Attending cases are not easy , every rescue has Challenges like how to catch, Shift to hospital, post treatment where to keep for foster and then again releasing back to the place from where dog was rescued.

In accident cases dogs are in trauma and gets scared too, so that time its very difficult to handle such cases.
Thankful to my friend for helping me in such rescue cases where its difficult for me to catch and help the strays.

Join my journey of feeding, rescues, vaccinating and helping animals in distress.

Your support can help me save more lives, filling more empty stomachs and much more.

Please donate a little, your small donation will make a big difference in these voiceless animal's life.

You can go through the below links to get to know more about my Rescue work :

https://www.facebook.com/SavetheStrays.BeKindToThem

https://drive.google.com/file/d/1AzKZy1Ik9D3BSryF9sG15ORbO7L4n443/view?usp=sharing

https://drive.google.com/drive/folders/1pGnnPX16Pr4YieDpdy7gugmLXBsOint8

https://www.youtube.com/watch?v=b1LVnXUP3Ww&ab_channel=FahadAfroz

Thanks&Regards,
Fahad Afroz