Enactus is a global, non-profit community of students, academic and business leaders that are committed to using the power of entrepreneurial action to help society and make this world a better place to live in. We, the students of Enactus, Jesus & Mary college are committed to making this world a better place, one project at a time.
OUR PROJECTS
We are currently running two projects & are focusing on the establishment of our third project. Dhara which focuses on tackling the waste management issue & the upliftment of marginalised women, Iffat which involves improving the sanitation & hygiene situation in slums & improvement of the lives of HIV affected women.

Our third project, Sugam, will focus on utilising eco bricks as a solution to solve the open defecation problem in slums.
PROJECT SUGAM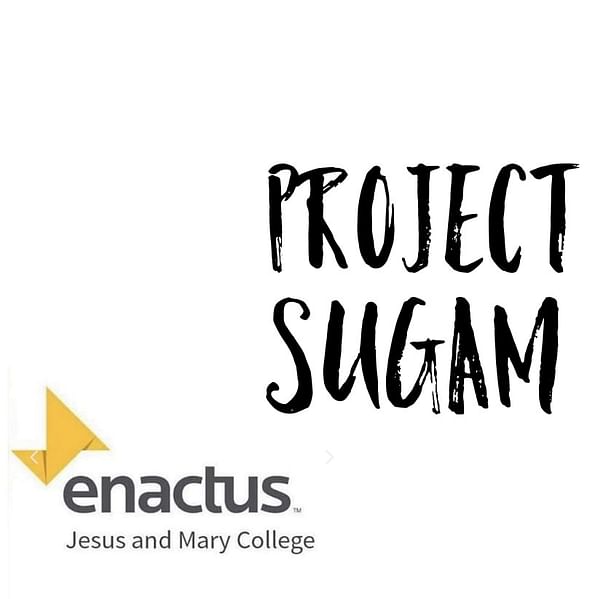 1 million plastic bottles are bought around the world every minute, and this number is set to increase by another 20% by 2021 if we don't act. Lack of sanitation contributes to about 10% of the global disease burden. The World Bank reported that one in ten deaths in India is linked to poor hygiene and sanitation standards.
The two problems, namely the ever increasing consumption of plastic and the lack of sanitation, led Enactus JMC to conceptualize a new project idea.
The current idea solves the dual problem of increased plastic waste as well as the practice of open defecation through construction of public toilets using eco bricks. An ecobrick is a building block made entirely from non- recyclable plastic and incorporates the idea of 'Plastic in Plastic' which strengthens its positive impact on the environment manifold as it serves a dual purpose.
A three-step approach will be followed wherein the first step will be collection of raw materials, followed by making of the eco bricks by marginalised slum women and finally, the construction of the toilet. It is set to launch in various locations in Southern part of Delhi with the help of the MLAs of the respective constituencies.
The huge amount of plastic waste and it's hazardous impact on the environment as well as living beings is extremely worrisome. We, at Enactus JMC, recognise the pressing need to tackle this solution through an innovative and effective approach.
In order to launch the toilets the society requires funds which will be utilised for procurement of raw materials as well the cover the costs of making the toilets. This innovative undertaking promotes waste management as well as improved sanitation. Through this project, we wish to recycle large amounts of plastic as well as combat the problem of open defecation prevalent in the city. Lastly, the revenue generated out of this model will help in the upliftment of the marginalized communities.
PROJECT DHARA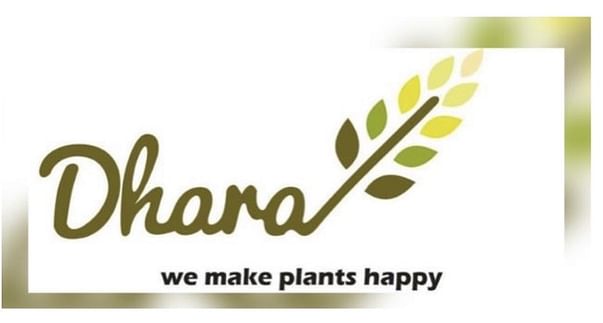 THE PROBLEM
The recurring problem of increasing accumulation of waste in India is a worrisome situation. 1.4 lakh tonnes of waste is generated in India everyday. Delhi itself reportedly produces 10,000 metric tonnes of garbage every day. This garbage is then dumped into landfills. This open dumping practice causes severe health hazards and environmental degradation on an extensive scale. The waste dumped in landfills, produces deadly gases such as Methane and Nitrous dioxide, both being the key contributors of Global warming. As the population in India continues to increase steadily, so does the number of people living in slums, these individuals are often unemployed or are daily wage workers making less than the equivalent of one US dollar a day. Poverty ingrained within each family system, the most oppressed seem to be women. Therefore, we at Enactus JMC, coupled our drive to reduce waste with our hopes of providing employment to these women and thus conceptualised, Project Dhara.
OUR SOLUTION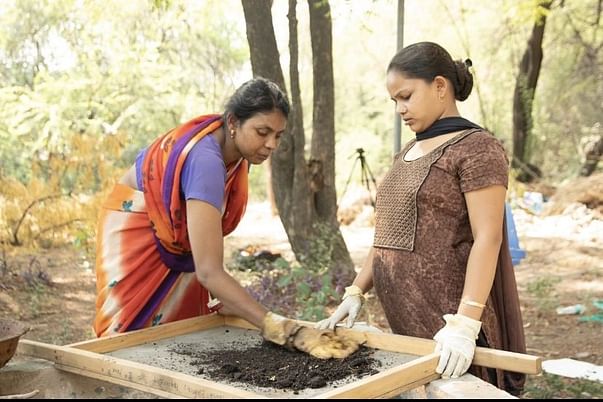 Since November 2016, Project Dhara has focused extensively on this waste based catastrophe. Our solution focuses on the establishment of a waste collection and treatment process where waste is segregated into biodegradable and non biodegradable. We approached the scrap dealers in our target locations to facilitate the recycling of non biodegradable waste. The biodegradable waste is utilised in the production of manure. The manure is produced through the process of vermicomposting. The manure produced is 100% organic and is rich in Nitrogen, Phosphorus and Potassium. It has high water retention and soil texture improvement abilities. It also acts as an alternative to chemical manure, which has proven to be harmful for the soil as well as human health. The product is sold in food grade packets and retails for Rs 30 per kg. To ensure the quality of our manure, our target audience was trained under the guidance of Dr Shivdhar, from the Indian Agricultural Research Institute, government of India
LOCATIONS AND IMPACT
Since 2016, we've established a total of 4 locations in Chanakyapuri, Dwarka, Panipat & Pusa Road, respectively. Dhara has managed to create a total of 11 entrepreneurs. Dhara covers 12 out of 17 sustainable development goals set by the United Nations.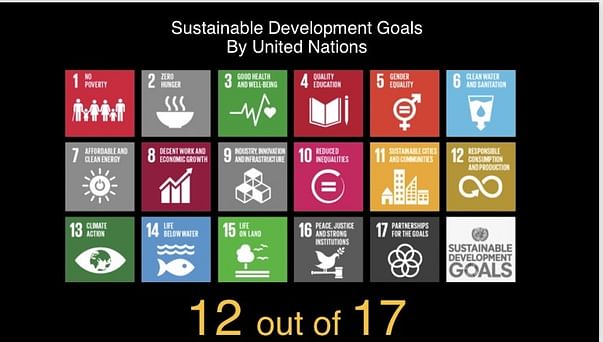 PROJECT IFFAT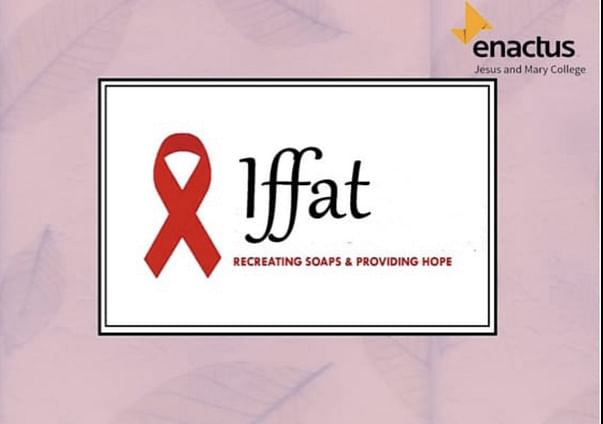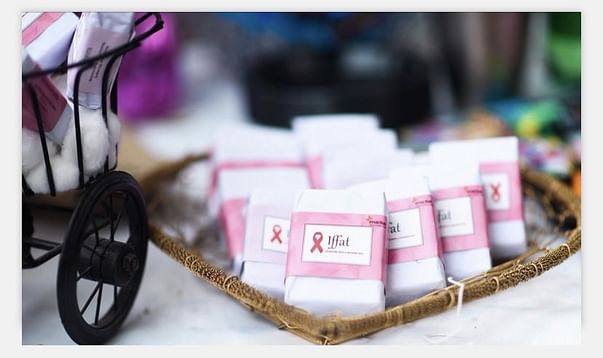 Overcrowded lanes choked with garbage, in areas having homes that seem like hovels with crumbling walls, live 64 million Indians. According to the first complete census of India's vast slum population, about one in six Indian city residents lives in an urban slum with unsanitary conditions that are "unfit for human habitation". Life without basic sanitation and hygiene often makes these people vulnerable to developing diseases and infectious illnesses. One of the simplest yet most effective ways to prevent the spread of diseases is by washing hands with soap. Over 7 million children die each year from diseases that can be prevented by the simple habit of hand washing. On the other hand, there are people who do not use the entire soap bar or even touch it during their hotel stay, and the leftover gets thrown away. Every year, a typical 400-rooms hotel generates 3.5 tons of solid soap waste.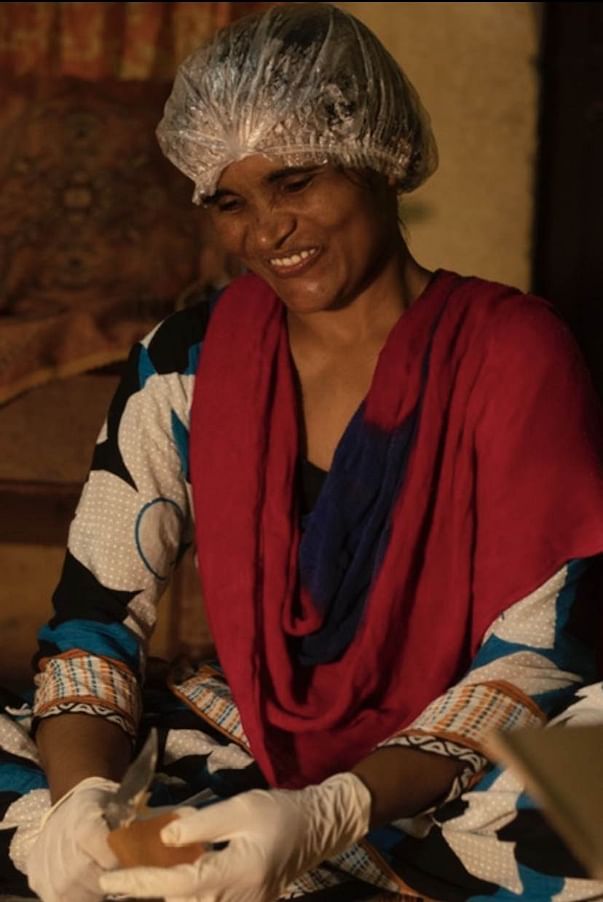 Project Iffat has been operational since November, 2017. Iffat is an innovative undertaking that promotes improved sanitation by upcycling of barely used soap bars from hotels and turning them into new soap cakes. Then, subsequently selling them in low income areas affordable rates.
These soaps are produced by women who are affected by HIV AIDS. As per research people living with HIV experience unemployment pe rates three times higher than national unemployment rates.
Our soap comes in three fragrances rose, lavender & lotus. These soaps are tested by Delhi Test House, an NABL AND BIS accredited body to ensure their quality. Our soaps have biodegradable packaging.
OUR IMPACT
We have trained 4 women entrepreneurs who have earned a total income of 1,55,206 rupees annually.
Project Iffat covers 9 out of 17 Sustainable Development Goals set by the United Nations.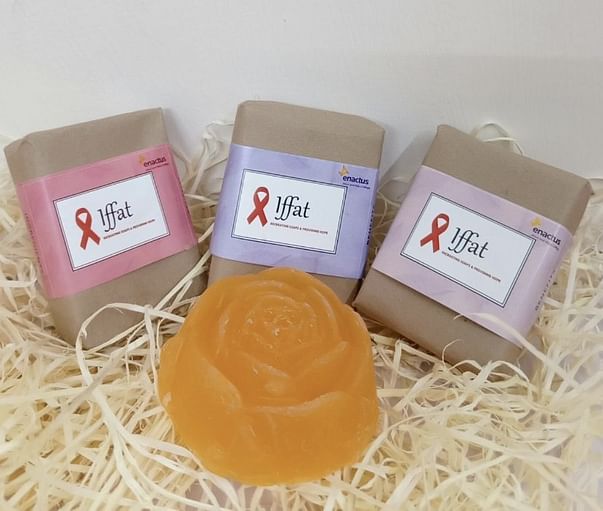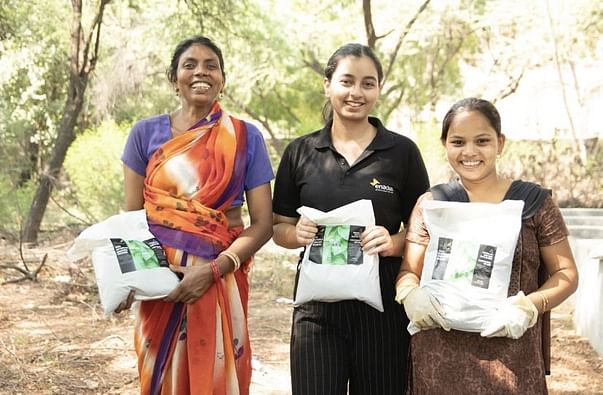 OUR APPEAL
The team of Enactus, Jesus and Mary college have been able to transform the oppressed women of yesterday, to the new age entrepreneurs of tomorrow. By your support, we will be able to continue doing our part in making the world a better place for everyone to live in, one project at a time.