India is at a critical stage in its fight against coronavirus as fears of community transmissions rise. During its lockdown frontline workers are still going out every day to win what one doctor described as "a war India can't afford to lose". The BBC's Vikas Pandey reports. WORLD PANDEMIC 4,35,382 confirmed cases of corona ,Deaths -19620,recovered 1,11,878 cases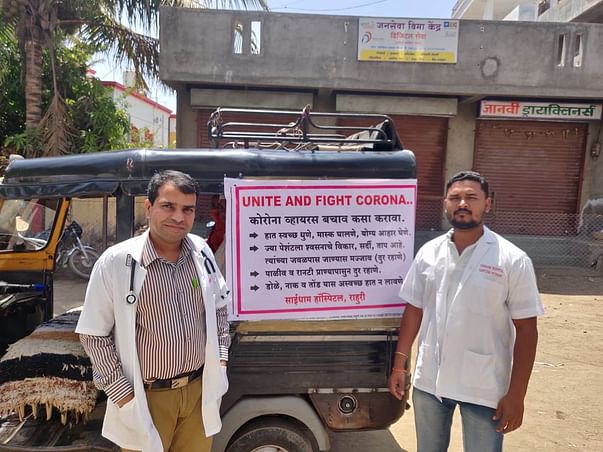 The cancer fatality seen mostly in rural middle age people (40-45 years) especially because there is a paucity of outreach services at village level and also due to low socioeconomic status underprivileged people's are unable to carry out regular health checkups for early detection
So considering above background in mind present projectwill be carried out in 100 villages ( study population of women: 50000)villages of Rahuri Tehsil to provide door step/ outreach services to hard to reach peoplewhich are essential to reduce mortality due to Corona
Aim: To prevent Infectionand reduce mortality due to COVID -19 people's of Rahuri Tehsil of Ahmednagar district of Maharashtra (India).
Objectives:
1.To Create awareness,compaiging ,counselling about Covid-19 Decease
2.To Initial testing of patients for Corona virus infection in community.
3. To Educate doctors ,Hospital staff,Community workers with online CME .
Project period: 1st April 2020 to 30 April 2020
Methodology
Training of Heathcare worker,ASHA worker,Anganwadi worker for Covid-19
PEP kits for healthcare workers,ASHA worker ,Para medical staff,
Distribution of sanitisers, N-95 Masks for patients,doctors,Paramedical staff
4. Well equipped 15 Isolation wards ,Quarantine wards are ready for any eventuality
Budget
Rs .15,00,000 Rs only
Detailed Budget:
| | | |
| --- | --- | --- |
| Sr.No. | Heads | Expenses |
| 1 | Preparation of 5- Isolation wards,Quarantine, in saidham cancer Hospital,Rahuri on war footing | 5,00,000 |
| | Medicines for prevention and Treatment of Covid -19 (Tab.Hydroxy Chloroquine,Tab.Azee,Tab.RopinavirEtc for 500 suspected patients) | 2,00,000 |
| 3 | N-95 Masks,sanitizers, Critical care equipments,Training of 150 healthcare worker in PHC,Rural hospitals of Rahuri Tehsil | 3,00,000 |
| 4 | Fuel,meal for doctors,patients | 1,00,000 |
| 5 | Personal protective kits(PPE)for 100 workers | 2,00,000 |
| 6 | Publicity material(Handbills,Digital boards,E material ) | 2,00,000 |
| | Total budget(Rs) | 15,00,000 |