In the current pandemic, when government machinery and resources have limitations to battle COVID-19, we propose to offer FREE COVID-19 RT-PCR Tests to 3000 needy patients.
We started it all with a zero:
In March 2020, there was absolutely no idea of how should we respond to the COVID-19 situation.
We got ourselves certified and were the 1st lab in Mira-Bhayander to collect the samples and deliver it to approved testing laboratory.
In about 40 days, we came up with our own testing facility
We manifested to be the 1st lab in Mira Bhayander to have ICMR approval for conducting RT-PCR COVID-19 tests.
Current Situation:
In Mira-Bhayander, the number of COVID cases is continuously rising.
What is RT-PCR Testing:
RT-PCR is a common virology diagnostic method and is frequently combined with quantitative real-time PCR, which is widely used to quantify RNA transcript levels in cells and tissues. The combination of real-time PCR and reverse transcription PCR is known as quantitative RT-PCR. This is the ultimate test advised for Covid19 test.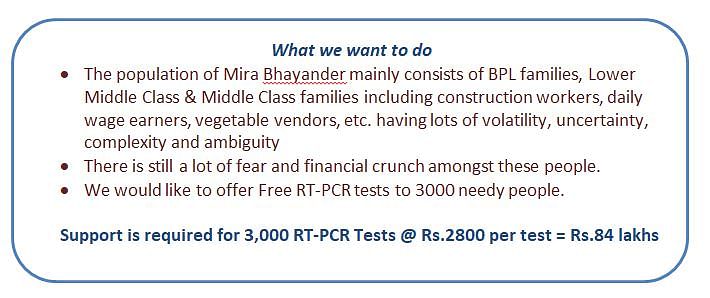 Please donate generously – Touch as many lives as possible!
For more information, contact:
Dr. Balakrishnan
Balakrishnan.bcp@gmail.com
9167973180