Jeevodaya Institute for Social Awareness Research and Human Development is a registered NGO providing free education to 400 poorest and most deprived children from quarries, villages and slums in Bangalore, India. Since 1993 we have educated 25,000 poorest children preventing child labor and alleviating poverty. The second batch of our children who appeared for their High school grade X (SSLC) exams for the year 2019-2020 have passed out with 100% pass rates. These are first generation school going children from deprived families of quarries, villages and slums. We are now in need of funds to support these children to join Junior college which is why we have started a fundraiser. The names of the children including their original SSLC Marksheet and the amount needed for each of them to join junior college has been Attached.
The Donations made to this fundraiser are deductible under section 80G(2)(iv) r.w.s. 80G(5)(vi) of the Income-tax Act, 1961.Click on the link to view their Original SSLC Marksheets
-
https://bit.ly/Marksheets
Fees Structure of Junior colleges for different Courses has been attached below :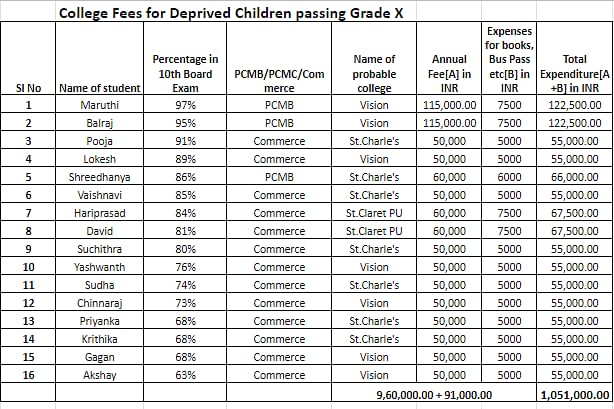 The family background of three of our children has been written below to provide the donors a little insight about them and the other children studying there.
Maruthi hailing from Yerappanahalli stone quarry is the topper of SSLC government board exam of grade X with 97%. His father is terminally sick due to alcohol addiction and his runs the family by grazing cows in fields.
Pooja from Kannur belongs to a single parent family has scored 91% in her grade X. Her father sells vegetables in a pushcart. She comes from a very challenging background.
Balraj from Mariyannapalya has scored 95% in his Grade X exams and is the second topper of the exams. His father is carpenter, mother works as a house maid and his younger sister is physically challenged.
Your kindness and generosity would take these children to different heights in their lives. Do support us.
Drop by drop, the water eroded the rock.
Contributions which may seem small and insignificant to you may be a game-changer, a life-saver for others.
In Just 70 years of Independence, we as a nation have lifted hundreds of millions of people from poverty.
In almost each and every one of those cases, Education was the compass which guided people to an uplifted social setting.
We, as an organisation believe in the all encompassing powers and potent of Education.
We believe through Education, we can fundamentally alter the bedrock of our nation and we call upon you to change the face of our growing nation. During precarious times like these, it takes the courage and tenacity of determined souls to pull this nation through unscathed.
Rise up and aid us in our quest to uplift struggling students from the clutches of despair and poverty.
Support us through your small yet significant contributions. Together we believe, together we can.