Please Save this Life!My brother , Debakanta Pradhan is 41 years old, from Khajuriakata, Dhenkanal, Odisha. Fondly known as Hitu, he is a caring brother, a loving son, and a helping friend, He is also the only income source in his family.
A Few days ago, He was the
only person in his area to help other covid patients. He is dedicated to Society & friends. But
now he is suffering from
COVID & severe pneumonia.

He was diagnosed with Covid two weeks back in Bhubaneswar. Now, COVID has disrupted our family and put him in a critical condition. He's been admitted to the hospital (Sum ultimate Hospital, Bhubaneswar) and in ICU since 10th June, Later he was with the support of a Ventilator till 22 June.(Now he is getting ECMO treatment.)
He has been on 100 Percent oxygen support for the last 2 weeks. Severe COVID infection has caused infections of Pneumonia and is the primary cause of trouble currently. Treatments in the ICU & Ventilator are not sufficient for him. The doctors have suggested that getting him an ECMO (Extracorporeal membrane oxygenation) support is the only course of action left. In ECMO support, his Lungs will get some rest, it will give his lungs a chance to heal. It has now become essential to his survival. Lakhs of money are required immediately for further treatment.
Please help him to survive, and this comes with a huge financial burden and stress. He is the only son of his widow mother who is very old and not too well. He is also the sole bread earner of his family. He has a 9 yrs old Son & a nonworking wife.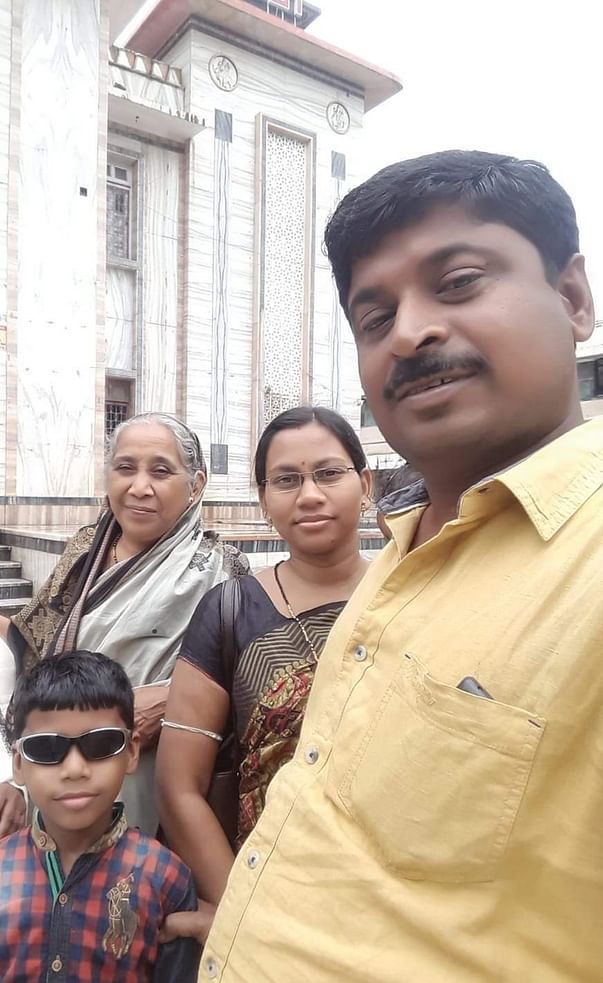 The projected costs involved in the process are:
Estimates at SUM ULTIMATE HOSPITAL.
Daily ECMO charges = Rs.1,50,000 to 2 lakhs.
Total ICU+ECMO charges at a hospital = 60 to 80 Lakhs, Maybe more.
Miscellaneous - More than 20 Lakhs
Estimated treatment duration: 2 months or more.
(
Latest update: As he will be shifted(on 18 July) to MGM hospital Chennai, the Estimated budget will be near Rs. 1 cr.
)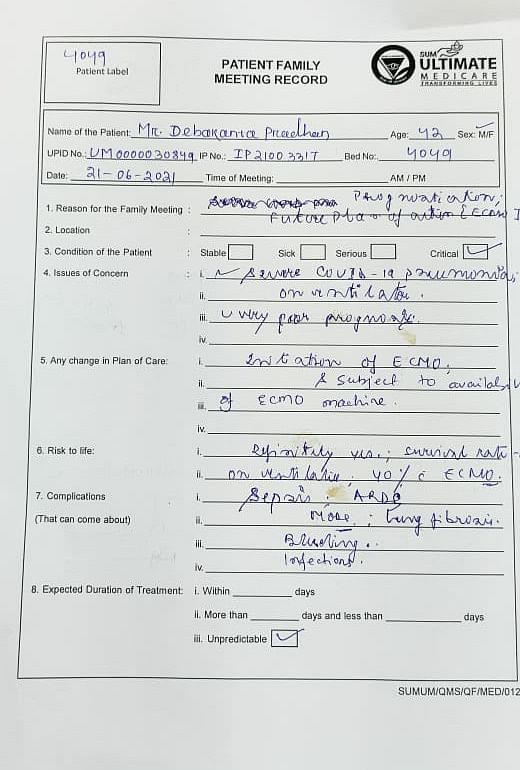 Estimated Cost (Minimum): Rs 1 Crores and more

This is considering he is in critical care support for a minimum duration of 2 months.

I'm writing to you all with a special appeal - While we're doing our best to fund huge medical expenses, we need your help.

Please let Him Survive. Please let him get his life back to help others and serve his purpose. His family needs him. We need him. He needs to survive. This is a desperate plea from his wife, and old mother to save him.


God Please save him. Please donate as much as you can and share with others. God can not be so rude to him. Please please please help.
(Please Pray Mahaprabhu Jagannath for Debakanta)
At the time of Donation, TIPs can be made as ZERO Amount. TIPS-> Select "Others" in the drop-down menu -> type "ZERO" .
Kindly share this more and more with your contacts, so that we can save a life.