This kid just 8 years old has been recently diagnosed with myeloid leukemia which is a type of blood cancer. At such a tender age, he will have to go through an extensive treatment involving chemotherapy for which the approximated cost is 20 lakhs INR. His family income is meagre amounting to just 30K per month.

I used to see him play daily, a very active boy, cheerful, a boy who loved nothing but sport and spreading a smile on everyone's face. The most lovable kid in our locality. Few days back, I couldn't see him for few days in the locality, and on further enquiring I came to know he has been suffering from high fever and was taken to hospital where his tests were done and after the results, the doctors suspected of blood cancer.
And then he was finally taken to the Basavatarakam Indo-American Cancer Hospital & Research Institute in Hyderabad where he was diagnosed with the same. He is still there in the hospital going through some more preliminary examination and treatment.
Knowing him personally, it gives me immense pain to see him in such a situation. It makes me think that life can be really unfair to some of us, but then there is also a hope that persists in me and the goodness of the people around the world. Together we all can make change and actually give this little boy a new life.
We can't feel how his family are feeling,
the least we could do is to support him with whatever we can,
emotionally or financially.

LETS STAND TOGETHER FOR HIM
LET US SHOW HE IS LOVED AND HE IS NOT ALONE
LETUS MAKE SURE HE DOESNOT FEEL ALONE IN THIS FIGHT

SUPPORTING DOCUMENT: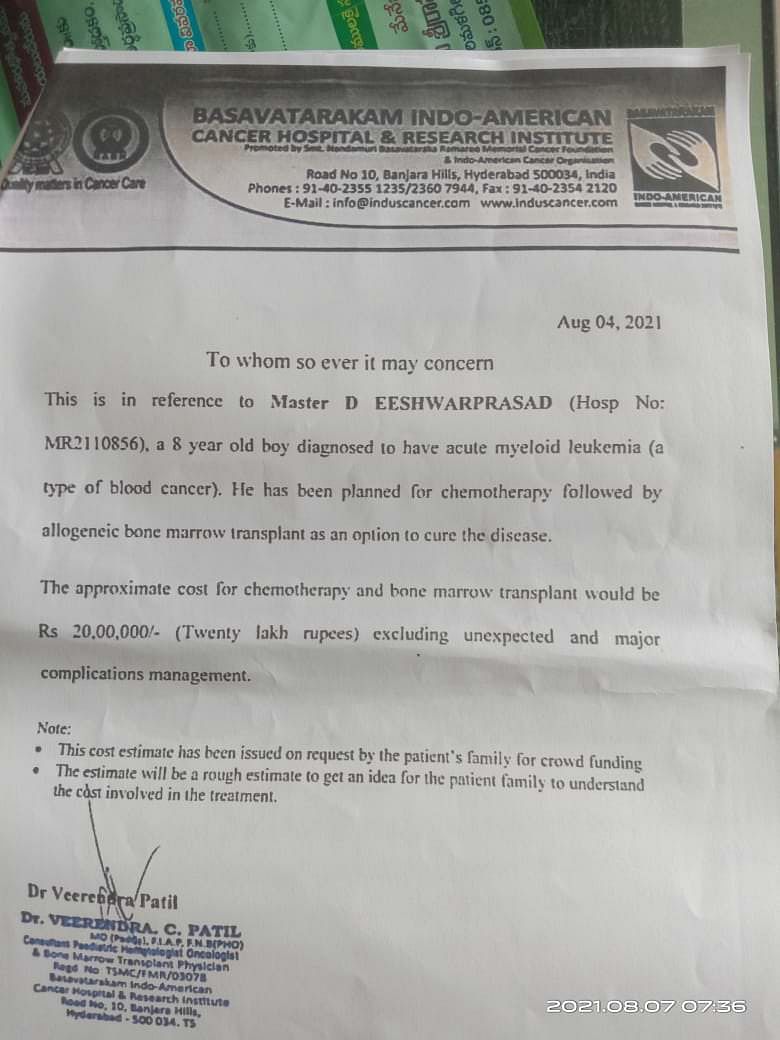 The people of our locality have already contributed a generous amount of 3 lakh 60 thousands INR. This leaves with the residual amount of 17 lakh INR, that we are aiming to collect through this fundraiser. Kindly go through the below links for verifying the same-
కబళించిన క్యాన్సర్... కాలనీ వాసులు చేయూత...వైద్యానికి ఇరవై లక్షల వ్యయం...దాతల సాహయం కోసం ఎదురుచూపు - YouTube
https://youtu.be/A0TS5EdA_50

అండగా నిలిచిన కాలనీ వాసులు : Panchamukhi Colony Members Collect Money For Cancer Patient | V6 News - YouTube
https://youtu.be/5DSBMS3Y_n4

#urgent#verified#cancer#child#donate#mahbubnagar#telangana.