We feel that it is each and every person's responsibility, in these trying times to support and help those in need. It is time for all of us to be Covid warriors, in whatever capacity we are able to.

Our group, Mission Breathe, is working towards gathering leads, verifying them, arranging oxygen cylinders, concentrators, medications, plasma donors and coordinating to make sure it reaches the person in need. We are a group of 15 volunteers working day in, day out, towards this cause. We are based out of Hyderabad and aim to support Covid patients across India.
Our work began on 9th of May. We currently have 3 cylinders that we help refill and circulate amongst Covid patients. We have helped 18 members as updated on 15th May 2021. You can find the details in the documents provided.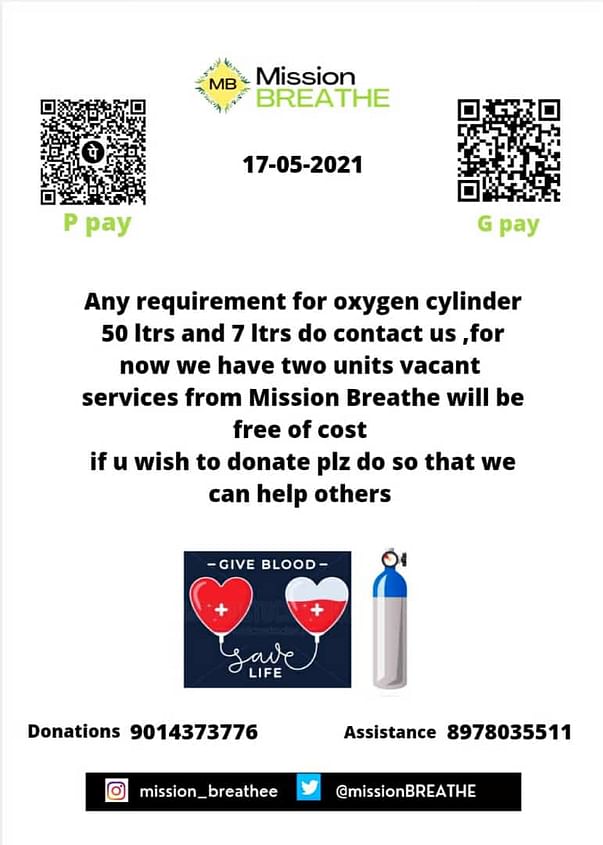 With the soaring prices of medication, oxygen cylinders and concentrators, we are reaching out to you to support us so that we all, together, can help those in need. We are looking for donations so that we are able to buy more oxygen cylinders, concentrators and medications for patients suffering from covid and post covid symptoms.
We thank you in advance for your support.