India reports over 400, 000 fresh Covid – 19 cases for the first time, total infection tally breaches 19 million-mark- Hindustan Times
Covid: India sees world's highest daily cases amid oxygen shortage- BBC News
COVID 19: Expect a million deaths in India by August 1- Down to Earth
'People are dropping dead like flies': In Uttar Pradesh villages, Covid – 19 turns silent killer- Scroll.in
Covid deaths in Lucknow underreported? Cremation vs Government data- NDTV

Dear supporters,
The second wave of COVID has knocked almost every household in India. The figures are just horrifying with 19, 894, 765 confirmed cases and 218, 52 deaths so far. The alarming rise in COVID- 19 cases in India continues to hit new record each day.
This surge has devastated lives causing lack of access to services and resources which are necessary to survive the wrath of COVID. Shortage of oxygen cylinders has clearly been stated by hospitals and medical practitioners. There is crisis of medicines due to high demand and hoarding which has further triggered fear and anxiety. Ambulances are not available for timely transit of critical patients to hospitals for treatment. Elderly people living alone or in isolation are not getting home cooked healthy and nutritious food which is further deteriorating their health delaying their recovery pace. People living in rural and urban rural areas are fed with misleading information and also rub off COVID as mere 'rumour'. Another invisible impact is seen in dropping mental health and well-being of COVID patients and their families.
Considering the deplorable condition, we BADLAV a Lucknow based non profit organisation registered under societies registration act, 1860 is always ready to take up the role of a responsible organisation. We played an active role in last year's COVID situation and lockdown providing relief to the underprivileged.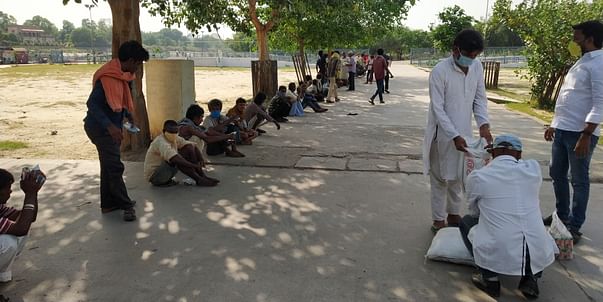 Relief work done by Badlav in COVID – 19 last year (2020)

Sanjha Chulha
In the months of April and May, everyday fresh and nutritious cooked meals were served to 600 people. These included beggars, daily wage labours and homeless who were facing hunger crisis. 36, 000 people were fed during the period.
Khushi Kit (dry ration)
Dry rations were distributed to 650 needy families of trans genders, domestic workers and daily wage labours.
Dignity Kit (dry ration post lockdown)
Post lockdown, 20 people were given dry rations in exchange of dignity for work.
Renovation of shelter home
Renovation of shelter home of Nagar Nigam, Lucknow was done to provide shelter to homeless people.
This year, the situation is alarming and we are taking up the following steps as a response to combat medical emergency.
We shall operate in Lucknow and its adjoining areas as Lucknow is one of the worst hits. All services and help will be free of cost as we understand the mental, physical and financial crisis that people are undergoing right now.
Relief work by Badlav in COVID –
19 this year (2021)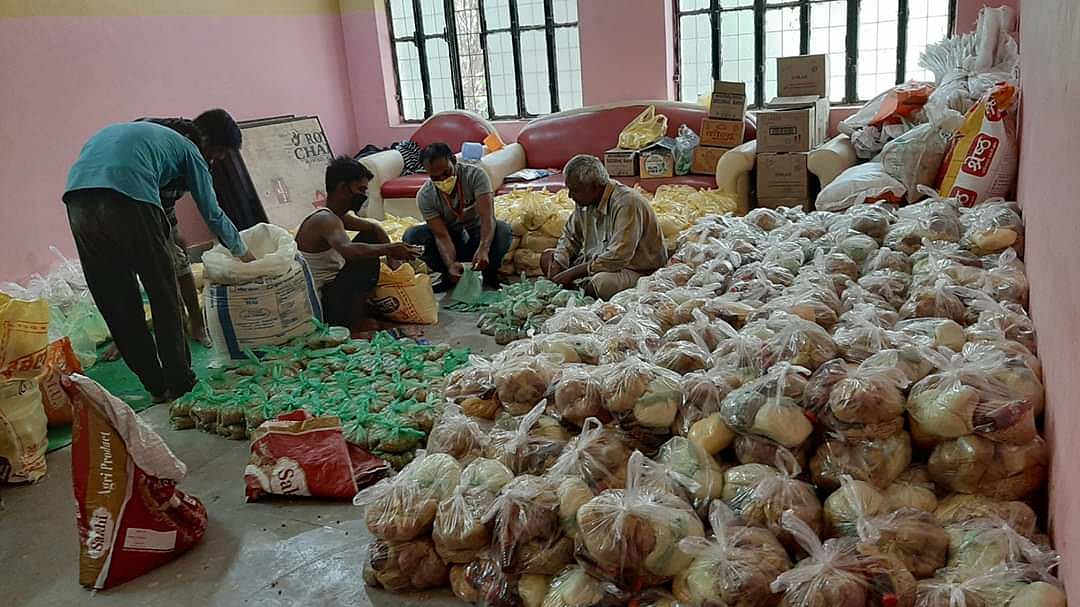 1. Provide oxygen cylinders to needy ones-
Non availability of oxygen cylinders on time has caused a large number of deaths. People are running from pillar to post in desperate search of oxygen cylinders only to face disappointment. There is a huge difference in demand and supply due to spike in demand. The price has shot up unprecedently leaving families to pay hefty amounts. We will fill this gap by making free oxygen cylinders available to save maximum lives. The cylinders will be re filled and re used again.
2. Hearse van to transit dead bodies for cremation-
The fear of covid and elevating death rate has caused shortfall of hearse vehicles. People are forced to use public and private transportation to transit dead bodies for cremation. Also, hearse vehicles are charging heavily making it non affordable for everyone. Our hearse van will carry dead bodies with full safety and respect which a person after death deserves.
3. Awareness for right information-
There are a number of myths and misleading information which are causing further harm. Right information will be disseminated with the help of handbills and posters specially targeting urban rural, rural and poor communities.
4. Free food and medicines for covid patients and underprivileged population –
Details of food partners and individuals will be put in a database providing home-cooked hygienic and nutritious food. Mass food distribution drives will also be organised in slums areas, poverty stricken places and urban rural areas of Lucknow. Partnership will also be done with medical stores for providing medicines as a number of medicines are going deficit or are being sold at higher price.
5. Ambulance service for critical patients-
One of the major problems faced by people this time is lack of ambulance service which is resulting in families to face misery. We will run an ambulance which will help people reach hospitals on time. They can call on the helpline number to avail this facility.
6. Essential kits of food and medicines-
Kits comprising of basic medicines for covid patients in isolation, thermometer, oximeter and dry food items such as biscuits, fruits will be distributed to people who are not able to afford any of these or are unable to access them at present. We will focus on daily wage labourers, slum areas and urban rural population.
7. Helpline numbers for contacting regarding any of the support provided-
To take any kind of support people have to contact us on helpline numbers that will be spread widely.
8. Tele Counselling service for mental health-
Telephonic counselling will be given to people to maintain good mental health. Those who are living alone, ill or elderly are facing depression and lose hope for living. It is important to keep their spirits high so that they are able to recover soon. A phone number will be launched and counselling will be done by a professional counsellor.
9. Production & distribution of masks-
We will make cloth masks and make a family kit consisting of 10 masks. Distribution will be done along with awareness building to those who are unable to afford cloth masks and are also not aware about it' s necessity.
10. Dignity kits-
Menstruation does not stop in pandemic. With continuous lockdown imposed time and again mobility is an issue for people to go out and buy sanitary pads. Girls already have limited freedom to move around. Medical store is one major selling point of sanitary pads which are mostly involved in selling drugs and medical equipment's these day. To overcome this, we will distribute dignity kits comprising of sanitary pads for a family.
11. Safety measures for on ground workers-
People involved in conducting these activities will be provided PPE kits, face shields, sanitizers, gloves, regular testing of covid, medication and vaccination as per government guidelines. Their safety is our top most priority.
Next plan of action-
In the second phase, we plan to develop an isolation cell cum vaccination centre. Proper care and medical aid will be provided to those admitted in the cell. However, it requires permission and support from health department and involves trained human resource and logistics. Therefore, it might take some time to start.
You can play an active role in saving lives of many by donating generously to benefit maximum. Remember we are together in this difficult time.