You can donate a smart phone and save a child.
At times a picture speaks a thousand word: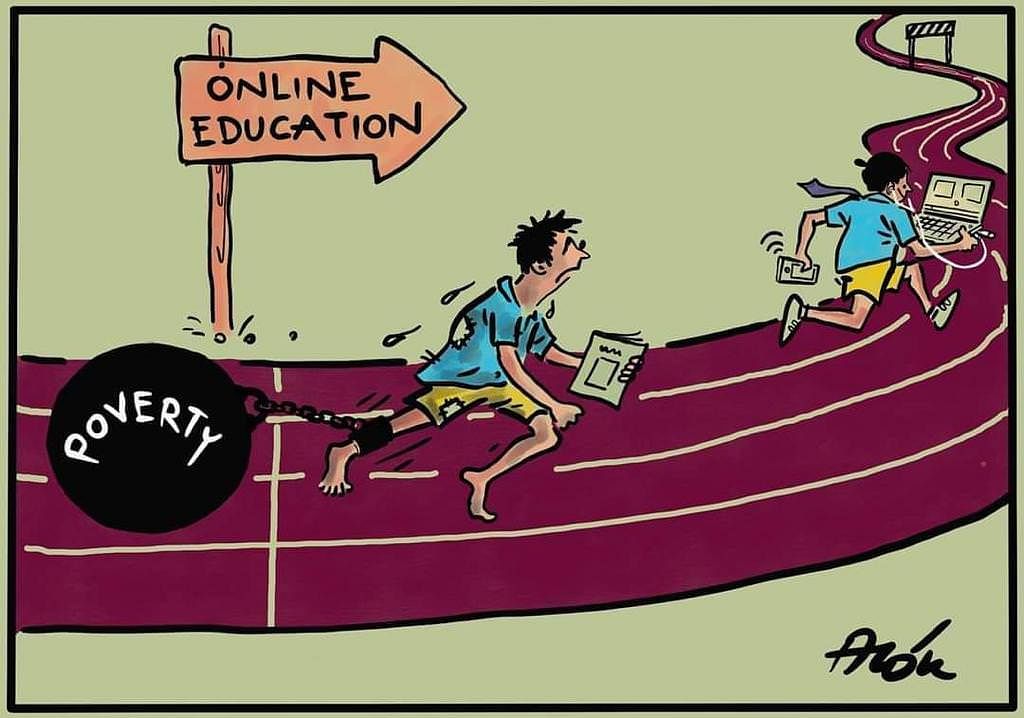 It has been nine months since the spread of Coronavirus resulting in most schools in India being shut down.
Schools are making a valiant effort to continue education of children through online classes. Unfortunately, online attendance of children is extremely poor as most children from underprivileged background do not have access to a smart phone, tablets or computer at home. This has resulted in the following:
The education gap between well to do children and those who do not have access to online education has widened even further.
Due to the isolation imposed by forced lockdown children who are unable to communicate with their peers and teachers are suffering with mental health issues. Access to mobile phones will help them communicate and feel less burdened.
We are nearing seven months into lockdown and there is no end in sight. One-year loss in a child's education is huge. The child may get demotivated and drop out of school all together.
Technology is a force multiplier. It is a leverage that multiplies human effort by 10 to 100 times depending on how technology is used. A child who does not have access to technology will be at a grave disadvantage for rest of their lives.
In over 95% of cases online classes are being conducted through mobile phones in India. It is important for children to have a dedicated mobile to continue not only their education online but also learn use technology that will be an important skill if they are to succeed in life.
Sharing phones with family members is not an answer because parents go to work and take their phones away when online classes are being conducted.
There are many ways in which we can help our children:
I and my wife work closely with an underfunded school in a village in Goa where majority of the parents can not afford a mobile phone for their child.
We are trying to raise Rs 5,50,000 to buy 110 smart mobile phones @ Rs 5000
each for children of classes 7th, 8th, 9th and 10th.
The money you donate will go directly to the school for which a separate account is being maintained. We understand that these are difficult times. If you are unable to donate cost of a basic smartphone which is Rs 5000 then you can help us by making whatever contribution is within your budget. Every little contribution will go a long way in helping our children .
You can also donate an old smartphone phone that you have upgraded.
Please send the phone to the Principal of the school on the following address:
Linda Parrikar
Principal
Sacred Heart High School, Verla, Canca, Bardez, Goa – 403510, India
Telephone: 0832 2472336
Mobile: 0721 8018565
There are other ways you can help a child near you:
Buy a phone and donate it to a needy child. A basic phone these days costs around Rs 5000.
Educate parents of under privileged to buy a phone for their child. Some of the parents can afford a phone but do not understand the importance. They think it is luxury and not a necessity.
Share your Wi-Fi data with a needy child.
Start a social movement of awareness that will force the governments to donate phones to under-privileged children. For national development this is a better investment than any infrastructure spends.
MPs & MLAs have adequate funds at their disposal help our children. Vote for them only if the donate a phone to needy children.
Your help and timely support will have a long-lasting impact on the lives of poor children.
It is possible that during these troubled times you may not have funds to support the initiative. You can help by sharing the donation link and share our effort with as many of your friends and relatives.
We thank you in advance for your help and generosity.