Hi,
I am Irfan founder of Code to Enhance Learning a nonprofit based out of Ahmedabad which uses coding as a tool to build critical thinking, creativity, collaboration and perseverance in children from grade 4-9.

In grade 8, I still remember that I along with my mother went to cricket coaching center in Ahmedabad with all the excitement. When we reached there, the coach took briefed us about the training schedule and all the facilities and my eyes twinkled out of joy. However, hearing out the fee for training just took away all the excitement. On the way back neither my mother gave an explanation about why I can't be a part of it nor did I ask any question about it.
Like me, at some point in life you would have observed that there would be dance, music, theatre, sports, etc. which you were not able to purse because of financial, gender, lack of exposure and many other limitations around us. The feeling sucks!
Out of many things that I liked and couldn't pursue, one was coding. For me coding is like a brush in hands of artist which allows you travel into space full of creativity, fun and helps to paint different exciting virtual things.
Currently, organizations are charging crazy over 1000 per session per child, only accessible to limited fortunate children.
With CEL Kids Hackathon, we are creating opportunity for kids in grade 5 to 9 to learn coding and showcase their coding talent by solving problems aligned to UNs Sustainable Development Goals.
Coding is also a good tool to build 21st century skills which are crucial to thrive in the innovative world as per World Economic Forum Report of 2016.
We are doing sessions for free regularly on weekends to teach kids irrespective of their background to build foundational coding concepts researched by labs at Harvard.
"After the first session, a student excitedly shared a video of an application to wash hands."
- A teacher from government school in Ahmedabad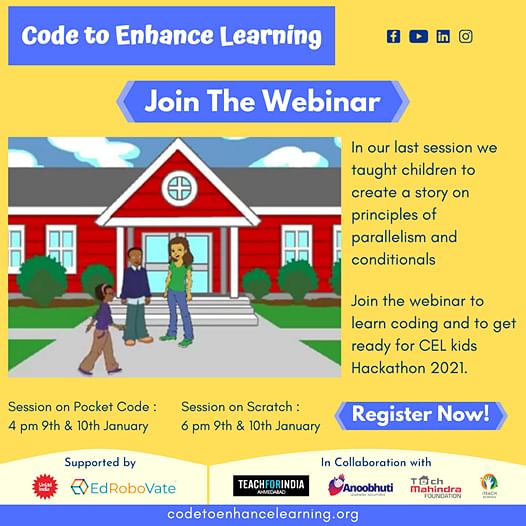 Some other aspects of CEL Kids Hackathon,
Open source coding content to write problem statement, collaborate, build creativity and critical thinking
Children can code on laptops and even smart phones which is commonly available without internet
Participation in competition to solve contextual problem aligned to UNs Sustainable Development Goals
Prize money and recognition for winners
Certificates with individual feedback for all
"Thank you teacher, today I learnt what operators are and how can I make my own calculator using operators."
- A child at closing during one of the session!
In short term, we believe that coding projects expressing and solving problems around them will help children build thinking, creativity, collaborating with others and persevering when they face challenge and being positive. In long term, this would create change makers aware of challenging problems in India and globally and with innovative skills ready to solve them and make a world a better place.

I am looking forward to raise INR 90500 for Code to Enhance Learning Trust which will help in covering the expenses of salary of staff for teaching, curriculum design, training and outreach. In addition to that it will meet the expense of prize money, goodies, shipping, etc. to recognize the winners and encourage kids to code.

In times of Covid, with schools closed, it has become even more important for us to reach out to children with fun, engagement and affordable experiences so that they can grow into confident and happy human being.
You can support this fundraiser by,
Contributing a minimum amount as low as INR 100.
Sharing a personalized message in your Whatsapp circle or social media channels.
Liking our social media page (Facebook, LinkedIn) and YouTube channel
I am very hopeful together we can reduce the sucky feeling experience of not able to do something because of some limitation we are born with or around us at least for children wanting to code.