Chanda Kumari, from Hutup village in Jharkhand, is an incredible young woman who has accomplished much despite steep barriers. This fundraiser is to help her complete her education from a top Indian University and achieve her dream of working for her community.
Chanda started playing football with girls from her village in Jharkhand when she was 8 years old as part of a sports-for-good programme by an NGO called Yuwa. A tenacious player, Chanda was regularly selected for tournaments in India and then to travel abroad for the Donosti Cup in Spain in 2013.
[
Chanda at the stadium in Spain for the Donosti Cup with her teammates, others' faces blurred for privacy.
]
With a compelling performance, she was again selected to play the next year at the USA Cup, which is one of the largest youth tournaments in the world. Her team's accomplishment was featured across Indian media, with her even meeting celebrities like Ranbir Kapoor [
pictured below, others' faces blurred
.]
Having made a name as a football player and continuing to play in tournaments (including the Donosti Cup again in 2016), Chanda began to coach football at 14 years old so that she could pay her own school fees, which her parents (both daily-wage labourers) could not afford. She gained a reputation as a proficient and beloved football coach. This earned her an opportunity to learn from the best international coaches at the La Liga team Real Sociedad's own reputed academy in Spain.
[At the USA Cup in 2014 (other faces blurred).]
[
At the Subroto Cup in India, other faces blurred.
]
[
Leading at a football event by 'Generation Amazing'.
]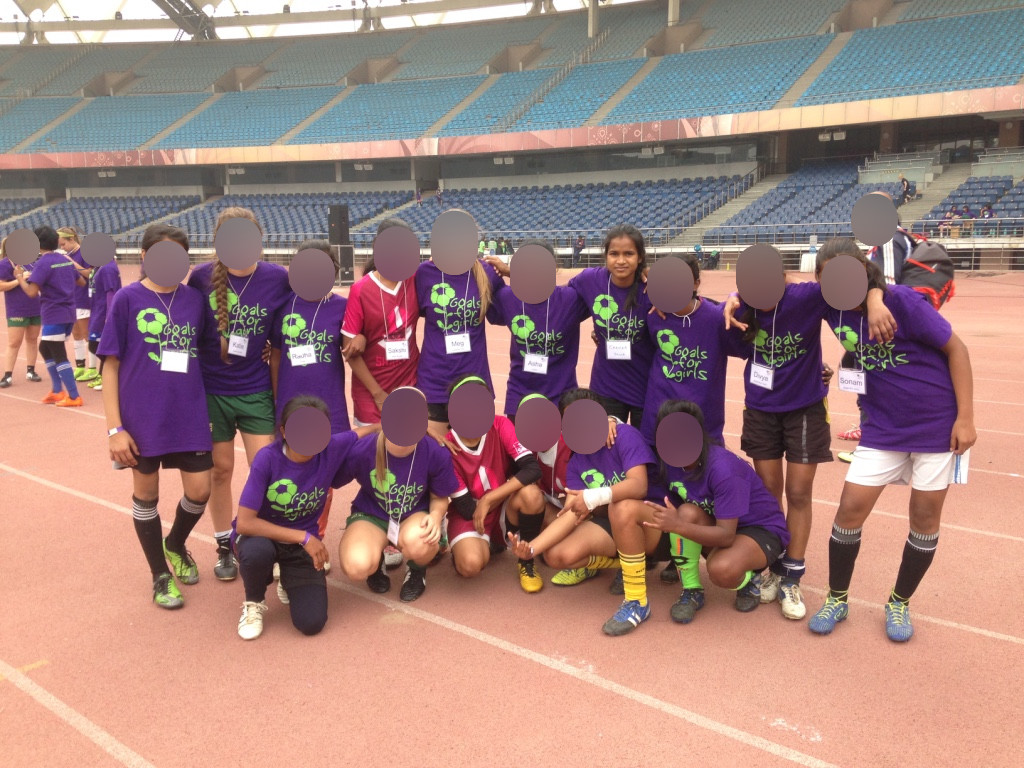 [
Part of the reputed 'Goals for Girls' football leadership events, other faces blurred.
]
[
At the Real Sociedad Academy in 2017, other faces blurred.
]
Alongside her work as a football coach, Chanda also facilitated dozens of workshops for girls in her community, educating them on their rights as children, as girls and women, teaching important life skills, and also educating them on taboo topics such as menstruation. One example of the many positive outcomes of Chanda's work is a girl on her team who spoke up against the child marriage of her friend in their community.
Chanda's work for the betterment of the girls and women in her society established her as a leader and she continued to achieve higher such as at the Young Leadership Program by Street Football World in France in 2019 (photo from event below).
In 2020, even though Chanda started learning English completely from scratch barely 6 years previously, she made it to the top Krea University for her Undergraduate degree where she is majoring in Social Studies.
Chanda earned a full tuition scholarship and now needs your help to pay her living expenses at University to complete her course and continue her pathbreaking journey.
-----------------------------------------------------------------------------------------------
From Chanda:
Dear well-wisher,
My name is Chanda Kumari. I graduated from Yuwa School in April 2020. For further studies I applied to several universities worldwide. After all the years of hard work, I earned an acceptance letter with a 100% tuition scholarship from Krea University. Krea is a great college, located in Andhra Pradesh in southern India. I am ecstatic to be a part of this University to gain a good quality of education and guidance for my future.
However, I still need financial assistance for living expenses, which is why I am asking for your help.
I have already paid the cost for my first year and the total cost of these expenses for the remaining part of my degree is 2,85,000 INR. I am requesting for 3,00,000 INR ($3948) to cover the payment costs of this fundraiser/donation as well.
I come from a small rural village in Jharkhand, India, sharing a small home with my mother, older brother, older sister and grandmother. My father passed away in 2019. As a family of subsistence farmers, the primary income comes from my mother working as a daily wage construction labourer, earning approximately 5,000 INR a month. Our family uses government-issued ration cards for basic supplies and does not earn enough money to pay tax.
I will be the first person to graduate from University in my family. I feel that I have had great opportunities in my life and I want to use my knowledge and skills to improve the condition of present and future generations with positive changes in my society. I want to support my family and to break free from the common societal and cultural expectations of girls and women in my community.
I am very grateful for your support.
Thank you,
Sincerely,
Chanda Kumari
-----------------------------------------------------------------------------------------------
Fundraising request break-up
:
Living expenses fees/term: INR 57,000 [$750]
Funding needing for: 5 terms [2021-2023]
Total amount needed: 57000*5 = INR 2,85,000 [$3750]
Payment gateway charges (approx) = INR 15,000 [$198]
Total = INR 3,00,000 [$3948]
[
Screenshot of email from University, requesting payment for 2 terms (INR 57,000*2)
]
-----------------------------------------------------------------------------------------------