Hi,

I'm Chaitra and I'm organizing a fundraiser for covid relief. I will be conducting a session on "Yoga Beyond The Mat" this June 4th at 7am.
Join Zoom Meeting
https://us02web.zoom.us/j/88270091125
What is it that we do in the time we spend seated in office chairs, attending meetings or waiting in the traffic. The program takes care of the very vital element of your life- your health.

Yoga Beyond The Mat brings mindfulness and awareness on a different level. It allows us to talk and listen to our own body, take an inwards journey amidst chaos.

The Workshop is divided into five topics:
Breathing- The life- force or Prana
Spinal health- The backbone of our existence
Blood circulation- Movements of our energies
Eye health- How to fight the unwanted gifts of modern life
Mental calmness- Reconstruct the autopilot mode of our hindbrain

All proceeds go to covid 19 relief fund.

Please support us. Share the campaign with your friends and family.

Namaste 🙏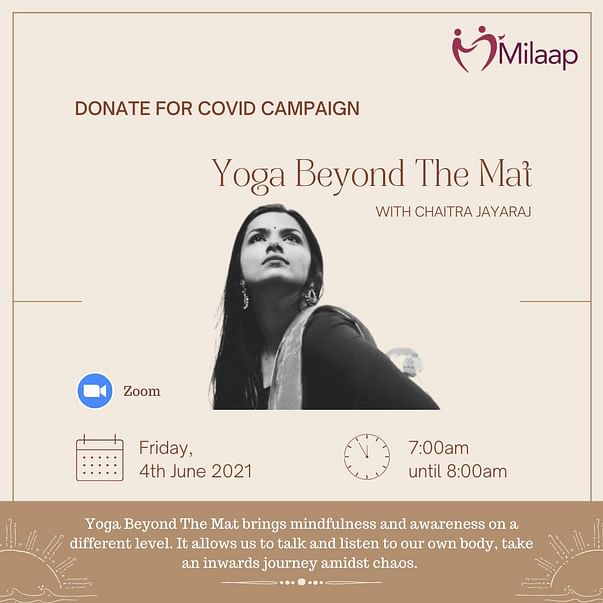 Voice Of Slum was founded by Chandni and Dev, who are from the slums themselves. They worked hard to get themselves out and for the past 7 years, they have been working towards empowering kids from slums with education and training so that they can get into mainstream life.
The team now secures and distributes oxygen cylinders and concentrators to homes of the people. They also provide basic medicine kits including devices like vaporizers. This is saving hundred of lives in these poor communities.
Having exhausted all their resources, they need your support now. With your help they can provide oxygen to these people and save thousands of lives.