Help Us Save Buddy!
This horrific video is from sector 100 Noida and the gut-wrenching cries you hear are of a six month old Labrador puppy who was been beaten with a belt, his thigh is broken and he sustained severe injuries on abdominal and genital areas!
A neighbor managed to capture this terrible incident on video and a team of Volunteers led by compassionate Vibha Chugh rescued the critical pup immediately!
With intervention of Honorable MP Maneka Sanjay Gandhi, FIR against the accused was filed and pup's custody given to Kaveri Rana from PFA, who is the Founder Trustee of SMART Sanctuary.
When asked why he did it, Rishabh shamelessly told Buddy's rescuer Vibha that the pup had pooped in the house and he was merely trying to discipline him!
Well, his atrocities left Buddy with a fragmented and shattered femur and serious nervine injuries. The pup couldn't stand, let alone walk!
Buddy required emergency surgery to fix his severely damaged leg and will require months of therapy and rehabilitation before he can run again!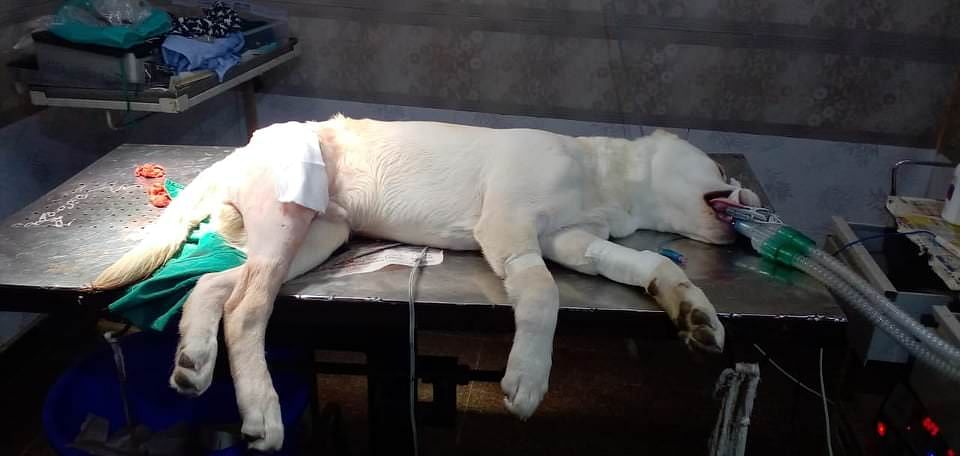 He currently is admitted in care of Canine & Feline Critical Care Unit and the proceedings from the campaign will be paid directly to them. Bills for first 8 days including Buddy's Surgery are attached for transparency.
Post 15 days of post op, Physiotherapy for Buddy will begin and will continue for 6 to 8 weeks depending on the recovery. The campaign will cover Buddy's treatment, transportation, diagnostics, therapy and medical boarding charges.
We need help from all of you for little Buddy's Surgery, treatment and rehabilitation.

Please Donate, Share and help Buddy Run Again.
Buddy will be up for adoption once he completely recovers psychologically and physically.