I found Browny, whimpering in pain after a rash driver ran over her leaving her hip dislocated. She was hiding for almost a day after the accident. After unsuccessful attempt to heal her condition through closed reduction and care at a nice shelter for 14 days, she still faces difficultly in getting up when she falls or defending herself in front of her bully siblings. She can survive on the roads without a surgery as well but the rest of her life will be full of pain.As I got another X-Ray done after getting her back from the shelter, we noticed that her hip was still dislocated and on multiple opinions from vets across Noida and Delhi, we have decided to go forward with FHO surgery which is best done at Maxvets. She is a 1 year old dog and she deserves to live a comfortable life even if it is on the streets. This surgery will improve her quality of life, ease her pain & hopefully gain her trust back in humans.

The overall cost estimate of the surgery and post care is quite a lot. I cannot bear the expenses on my own. The total estimated amount needed at this point is 40k out of which I'll be spending 1/4th from my pocket. I would like to raise the remaining through help of the community.

I take care of 10 dogs in my area how I would care for my own family and try to provide them the best life possible by ensuring that they are properly fed, timely vaccinated & dewormed, receive medical treatment whenever required & safe shelter to live in.

Previously, one of Browny's siblings (Rompy now Gadget) had an accident when he was just a few months old. Now I've found him a home in Brooklyn, USA with help of very kind and generous rescue groups such as Tales of Tails and Delhi Street Dog Organizations on Instagram.

Unfortunately, this time I don't have sufficient funds to go forward with her treatment just by myself. Even a small amount by some of you can help us raise the required amount. Your donation will help empower me to take proper care of Browny post surgery and other dogs under my care. 🙏 Asking for donations is the hardest thing to do but the circumstances have pushed me to ask for help.

What is femoral head osteotomy (FHO)? The ball of the joint is removed, resulting in false joint supported by soft tissue to relive painful bone on bone contact

Can the dog survive without having the surgery? Yes, she can but it will be very painful for her everytime the bones come in contact

How will the surgery benefit the dog? It will ensure her a better quality of life by allowing her free movement without any pain. Since Browny is a young and healthy dog. She can bounce back from the surgery quickly and live a long & comfortable life afterwards

What is the risk involved? The post care phase after the surgery is very important. Regular access to the vet to ensure progress is carefully tracked. Dog must also stay immobile for few days till she fully heals. Supplements also need to be administered daily for few days

Apart from the pain factor, what are the other reasons why Surgery can help Browny? By nature, as dogs grow older, they want to become the alpha of the pack. She belongs to a young litter where her siblings often bully her leaving her with deep wounds because she is slightly weaker than the rest. With the injury, she is pulled down further in the hierarchy making life tougher for her. Therefore, to give her an equal chance with the rest of the pack. We want to get her a surgery to avoid daily pain from being pinned down by her doggy friends!
She has been admitted at Maxvets, East of Kailash on 3 March 2021. I have deposited 15k. PFA Receipts FYR.
I can not find the bill of initial treatment done at Vets n Pets Clinic, Noida but it was approx 3k in total. Apologies for not being able to able to share the proof.
I am attaching pictures of Browny from when she was a puppy and along with her siblings to give you a glimpse of her life.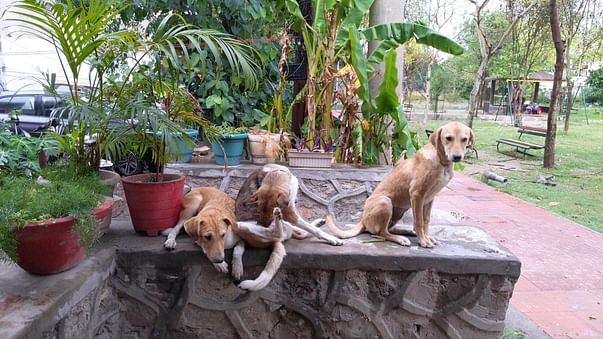 I have also attached her initial diagnosis and vet consultation proofs from Vets n Pets, Noida clinic.
If you have any questions, please write to me at aggu.d.k@gmail.com.
Thanks a lot in advance!