"An eminent doctor told me that proper use of green leaves could revolutionize the customary notions of food. That, of course, means elaborate research and examination of the nourishing properties of the innumerable leaves that are to be found hidden among the grasses that grow wild in India." ~ Mahatma Gandhi.
Help us recirculate our indigenous edible plants!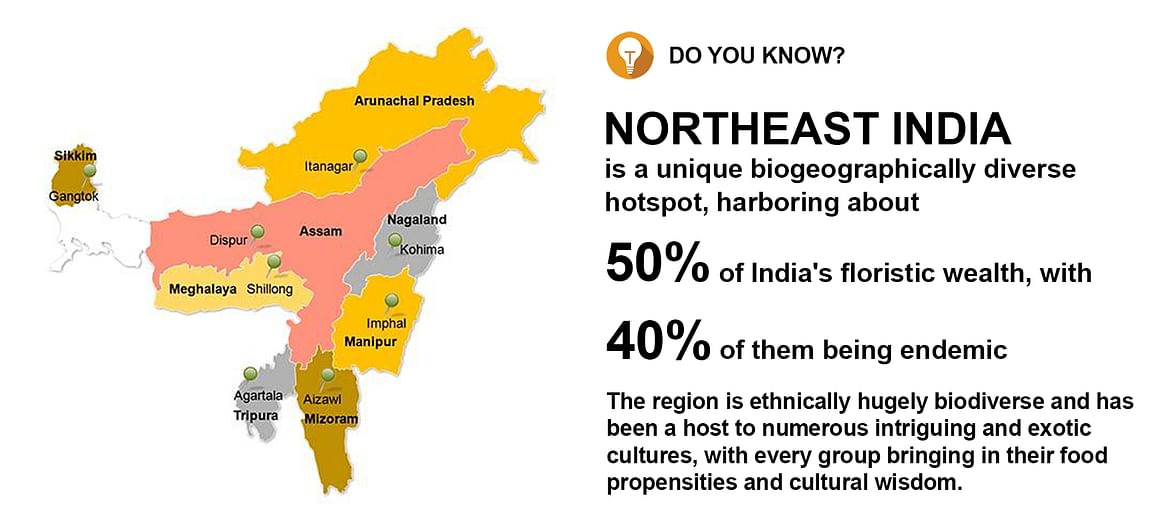 The abundance of wild plants in the region has implied that ferns and greens have become central to the Northeastern cuisine.

In last two decades, with the increasing

industrial and GMO-based agriculture

in Northeast India, the

knowledge about this traditional culinary heritage is diminishing from both, the collective mind-space and space in the plates.


These edible plants have influenced the course and shaped traditional culinary history. If the remaining are to disappear from among us, it would be a colossal loss of precious genetic diversity.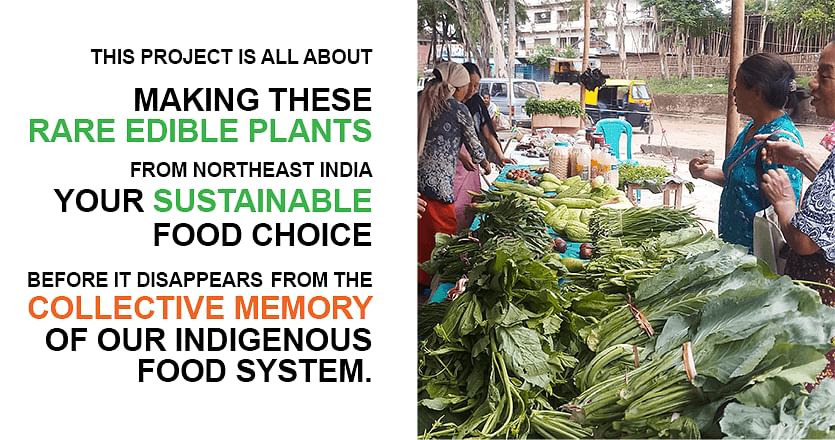 I'm Bidisha from Assam, Northeastern region of India, which you will most intently connect with tea. I will attempt to acclimate you with another culinary fortune of the Northeast region. Experiencing childhood in a quaint, unassuming community in the Kamrup area of Assam, I only ate vegetables of the season. Commercial agriculture was common even then; nonetheless, locally found harvests were never off the shelves. Over the years, knowingly or unknowingly, I have remained a part of the convenience-based ecosystem. Information or cognizance about this transition - from eating local to eating out of shelves - is a reminder to hold our grounds and the urgency behind it. The food system is mechanical more than ever, with business sectors controlling what's on our plate. At such critical times, sticking to or bringing back our traditional food systems will implicate sustainable food choices and collectively pose a challenge to the large food manufacturing companies. On Rongali Bihu or the Assamese New Year, it is customary to have one hundred and one edible plants (tubers, leaves, shoots, fruits), likewise called
"xaak"
in the Assamese tongue.





Before independence, the organized market was not fundamentally evolved because of transportation bottlenecks and the economy's non-monetized sector. Be that as it may, the villages were self-sufficient, with people foraging their foods in the nearby forests and sometimes selling them in the nearby markets. These plants or their parts, their preservation, and cooking techniques found in the wild have moulded our eating practices. Our regional cuisine and its elements are so diverse that it is hard to list down all the ingredients, with some having no english reciprocals.
Since the most recent decade or so, the regional scenario is such that these edible plants' usage has decreased radically. Several of them aren't to be found in the market anymore. If I think about it, the reason can be attributed to several factors.
Perhaps, that is the reason
we have given the expression

"exotic"

to the items that were part of our daily meal "once upon a time."
Even the town's adjoining villages' markets do not sell those "exotic" assortments as they are now "locally unavailable or not cultivated." They can, to some degree, be found in the disintegrated markets of the fragmented villages marginally or in villages' home-yards. As a result of the entire system in action, the green edibles, whether cultivated or grown in the wild, the people producing them have been pushed over to the edges. Luckily, the weekly bazaar system is still there in some towns where once in a blue moon, the local foragers come down to sell their produce.
Regional food pop-ups have been very successful in major cities; famous culinary specialists and home chefs from the region have been dynamic defenders and active proponents of the cuisine. However, very little has been done about collecting, conserving, and documenting the edible plant novelties constituting a significant part of our cuisine and dietary practices and developing a dialogue about the pandora's box that the region is.
A system in place to encourage the ones still stewarding the presence of the heirloom ingredients, purposely or accidentally, be it cultivated or foraged, is the need of the day.
The symbiotic chain of food security concerning these heirloom ingredients/methods has developed crack holes due to towns getting bigger giving rise to high food demand forcing the village farmers to deliver vegetables produced throughout the year.
The indigenous edible plants (or their parts) aren't something that can be made in bulk, therefore further curbing its production and getting lost in the process. The importance of these lost edible plants, an intangible cultural heritage, can be brought back to the culinary landscape only by starting re-cultivation.
We can create an awareness about these ingredients by preserving them, the tangible output of which is either a direct product or a by-product made using the edible plant (or its parts) in question. We shall source the edible plants (and other heirloom ingredients) from the farmer who is already producing them. Likewise, supporting the farmers who had halted their cultivation to re-cultivate by providing seeds and local resources in our capacity.
In practical terms, preservation or protection is possible (partially) just when there is a demand for it.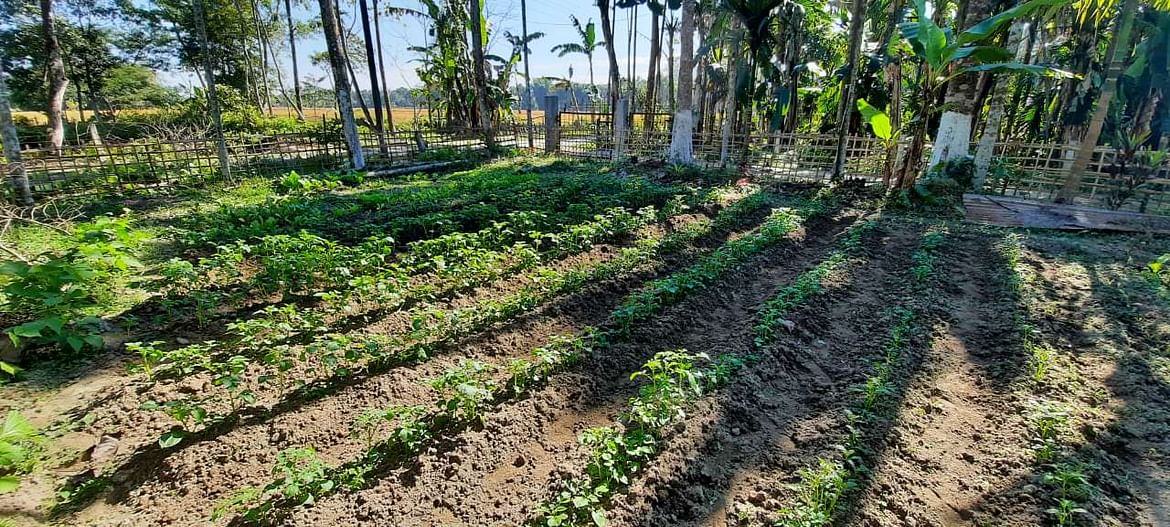 In India alone, several national seed banks throughout the country are holding unheard treasures and are accomplishing incredible work. Suppose I am only talking about my region. In that case,
the point that presses me is that we cannot wait for the existing edible plants to become imperiled or endangered, an endangered origin to become extinct, and later gather that seed from the seed bank to re-cultivate.

We cannot preserve this valuable cultural heritage within four boundaries alone until we bring them back from obscurity into circulation.
We also want to create a collective seed-keeping library through this prospect funding, a living chronicle of the indigenous foodways.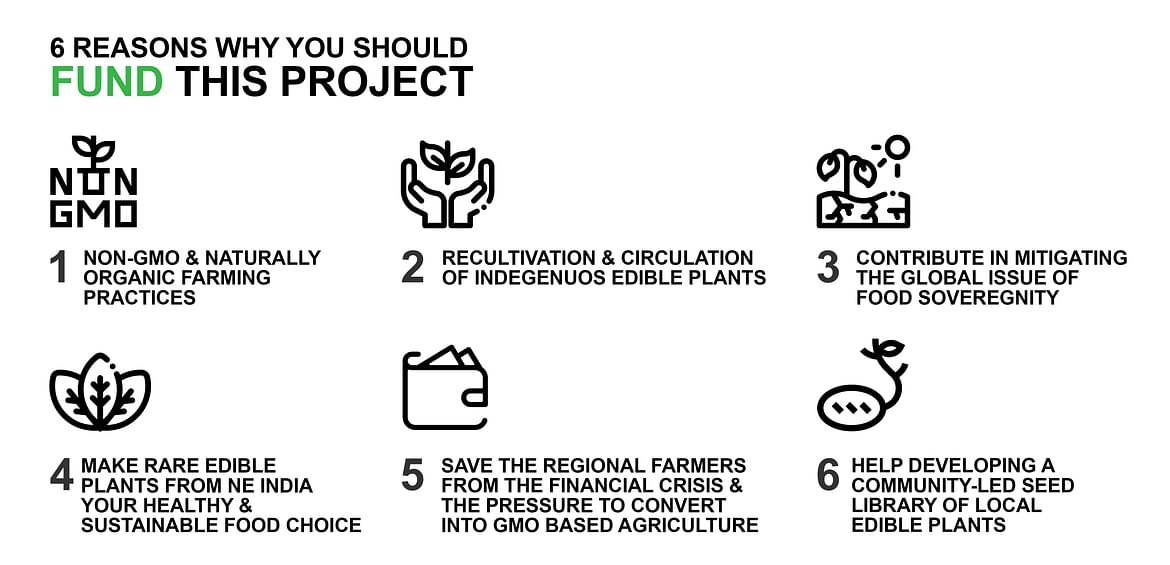 This project comprises of three primary domains;

Farmers (Domain 1/3)
As referred above about the fragmented farmers in the adjoining villages cultivating the edible plants marginally, I have attempted to embody the point beneath. For example, in a moderately small town, the food demand is fulfilled by the farmers in the adjoining villages, who, apart from vegetables, also grows an edible plant(s) variety or "xaak" (As.).There is no deficit in demand because it is a fundamental component of a local meal.
For understanding, I tried to categorise farmers according to the agricultural belt surrounding a town or city.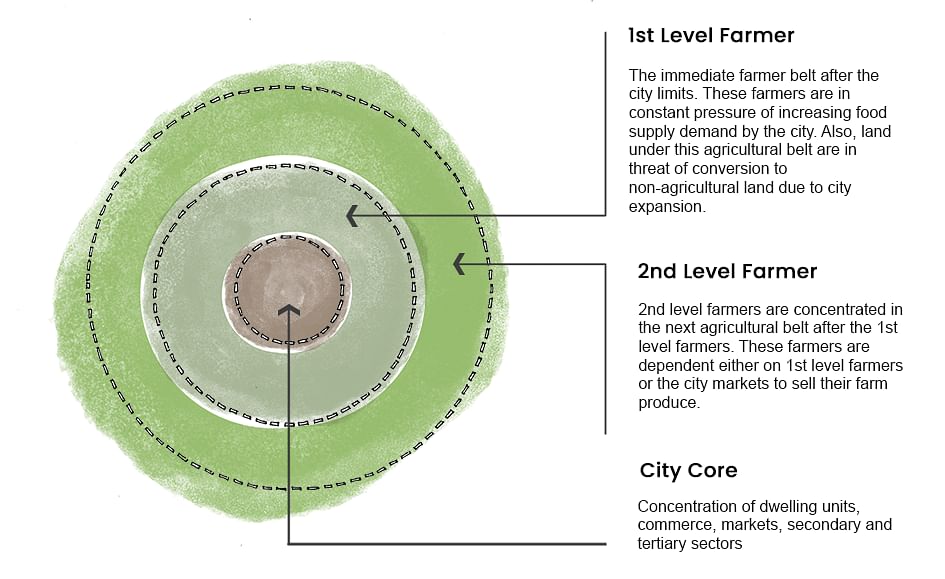 The diagram below explains the effects on farmers and agricultural belt due to change in city/town dynamics.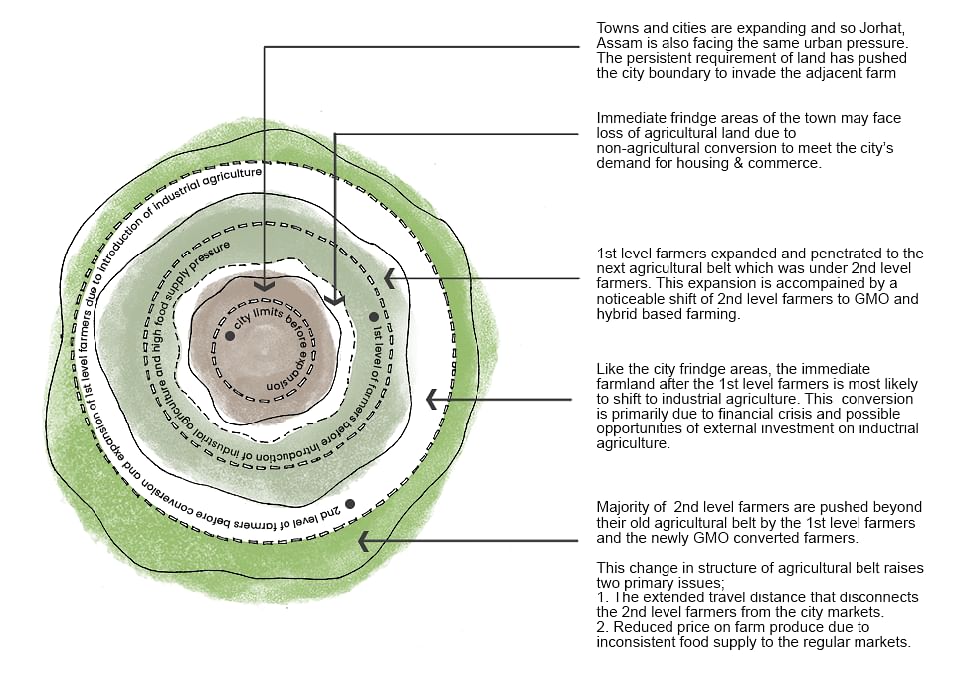 This objective probes to create a network of these widely scattered and fragmented 2nd level farmers.
As part of the farmer networking, we will develop and distribute a farmer handbook in regional languages. This handbook will be a toolkit for xaak cultivation, sourcing and finances, and also for creating awareness about the importance of preservation and re-cultivation of these edible plants. We will procure the produce from them; this network of stakeholders will be the purveyors of indigenous seed keeping, which I will discuss in the course.
Products (Domain 2/3)

"Xaak"
(edible plants) for selling will be the immediate outcome through the network of 2nd level farmers. Alongside it, indigenous fruits, herbs, etc., cultivated by the farmers will be a part of the project. It will be a step in creating a viable alternative in the face of the massive nexus in the food system and encouraging, boosting confidence, and supporting the regional farmers to make a switch. Bringing attention to the variety of indigenous edible plants should be a continuing and fanned-out process that can interface with a more broad base.
Getting products from these edible plants into the system will be a small means of preserving the traditional wisdom about "xaak" in particular and assist in making sustainable food choices at large.
Our products will come from farmers who are engaged in perennial and seasonal agriculture. Our produce will mostly be focused on lesser-known heirlooms and wild edibles from the Northeastern communities that have witnessed seasons' changes. These are some of the raw forms of the edible plants "xaak" before processing;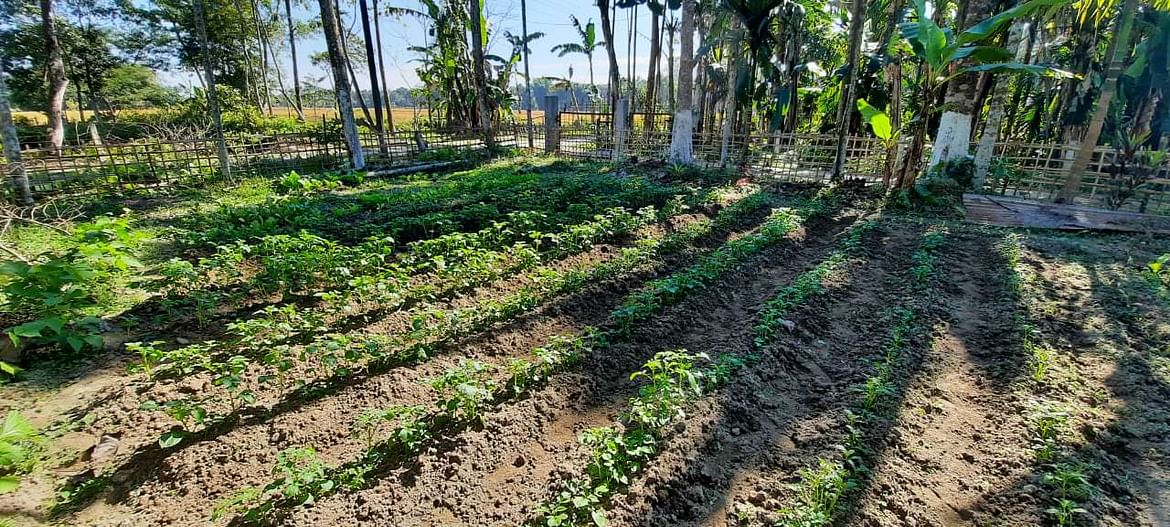 Community: Preserving cultural seeds (Domain 3/3)
As briefly referred to in the earlier part,
we intend to create a seed library that will be a living archive of our regional foodways.
We aim to shape our seed-keeping work around culturally significant and regionally produced seeds. The library will be reinforced by the network of 2nd level farmers, facilitating an exchange of tools, knowledge, and skill-sharing to manifest a focalized and local solution to the worldwide issue of seed sovereignty. These seeds will be in the library for individuals to steward. Community sustained food systems require community participation.
Facilitators of seed keeping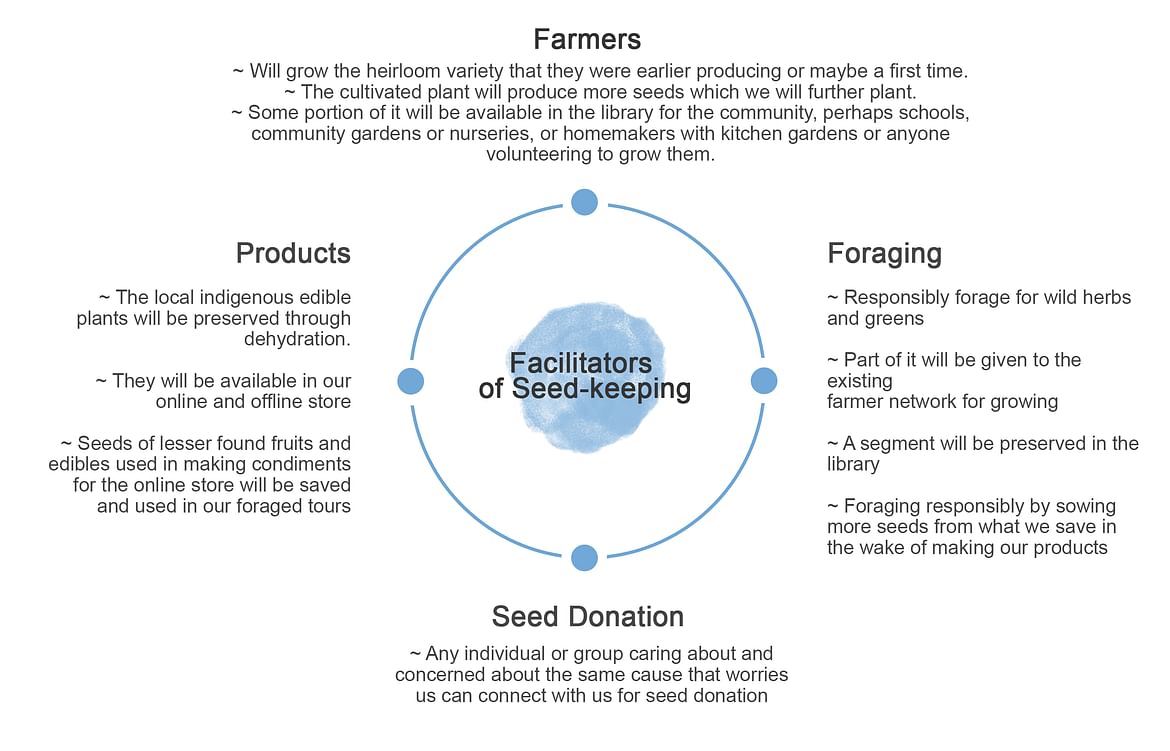 Foraging:
Our ancestors were hunter-gatherers with the concept of commercialized market structure coming into the region only after colonization. They relied upon the available forest resources for their food, and that shaped our eating habits.
Foods grown locally are challenging to distinguish from foods grown miles away in the convenience-oriented and standardized world. The idea that we can obtain food by any other means other than industrial agriculture on store shelves is rare where ready-to-eat meal packs, food boxes, chopped fruits are a dominant force. We have lost traditional wisdom about plants' food and medicinal value and fungi growing all around us.
Our responsible foraging will be a long-running process attempting to build up and recapture the traditional wisdom where survival is based on regards and not mastery over our ecosystem, a demonstration of co-existence. If gathered mindfully, the foraged edibles are renewable assets that shield themselves from herbivores by regeneration.
Project Budget
To successfully complete this project we need a total of 682,489 INR. The detailed budget breakdown is below.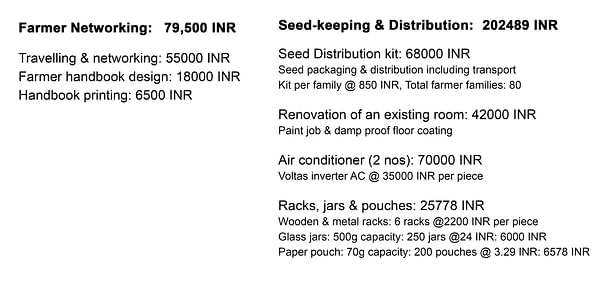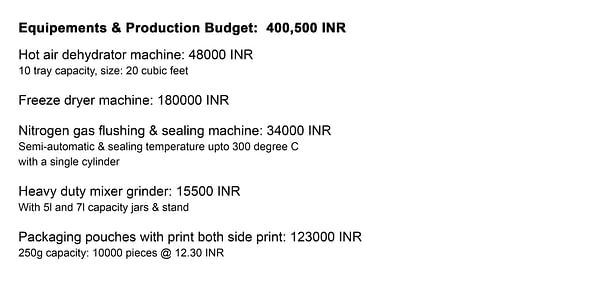 Thank you all for your wonderful support. If you would like to try the farmer produce, you can select any from any of these three donation categories.
Donations of or above 3000 INR, you'll receive:
Four packs of organic Assam orthodox tea (1kg) from a small organic farm holder's garden in the Dibrugarh district of Assam
Donations of or above 5000 INR, you'll receive:
An assorted pack of seasonal dehydrated greens from NE India which possess ethno-medicinal properties.
Four packs of organic Assam orthodox tea (1kg) from a small organic farm holder's garden in the Dibrugarh district of Assam,
Donations of or above 10000 INR, you'll receive:
Four packs of organic Assam orthodox tea from a small organic farm holder's garden in the Dibrugarh district of Assam,
A fresh batch of specialty spicy ginger also called Moran aada (ginger from Moran town). This is one of the worthiest superfoods!
A kilogram of Joha rice (GI tagged)- a distinct class of wonderfully fragrant and exemplary tasting heirloom grain of Assam.
An assorted pack of seasonal dehydrated greens from NE India which possess ethno-medicinal properties.
Note: Please provide your email address in the comment section if your donation amount falls in any of the above categories. We will arrange the shipment for you.* Shipping is only for India.
To know more about the project please feel free to write to us, we will be very happy to discuss more.