All Ganga Devi wanted was a baby in her arms, to shower all her love upon. But fate hasn't been kind to her. Poor Ganga has suffered numerous miscarriages; every single time, her hopes were lifted only to be crushed. A week ago, she was finally blessed with a baby girl. But born extremely pre-term, the baby is now fighting for her life in the NICU! With underdeveloped organs and a hole in her heart, the baby is waiting for a surgery that can save her and let her go back home to her parents. You can help!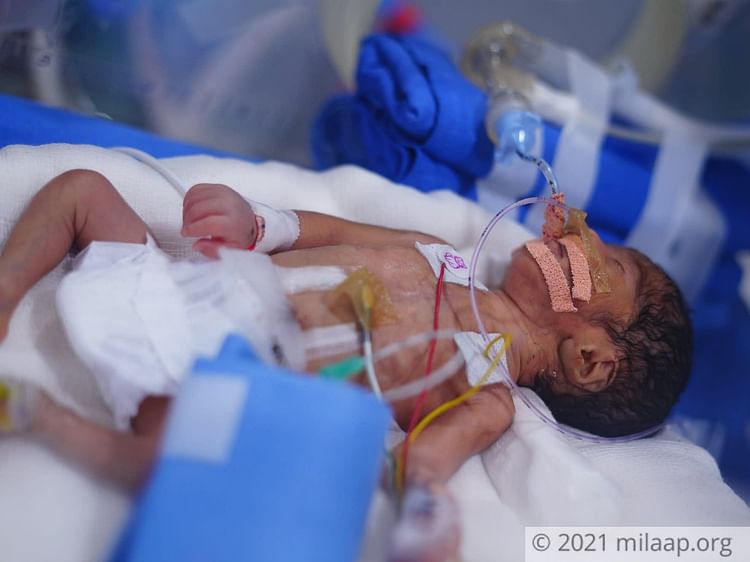 She was only in her 7th month, when she was rushed for surgery
"I was told the water level in my womb had dropped drastically, and that the baby was struggling to move. All I remember is going in for the surgery.

When I woke up, my baby was nowhere to be seen! I was told that she was fighting for life in the ICU.

I'd yearned for so many years for that day. But… she was so critical I didn't know if I'd even see her alive! I couldn't eat, or sleep.

If this baby was to leave us as well, I saw no point in living…

" – Ganga Devi, mother.


Along with premature birth, the baby is fighting heart disease
Extremely pre-term, Ganga's
baby weighed only 600g at the time of birth
. Her vital organs were underdeveloped. She was rushed to the NICU, and kept on ventilator support. A week later,
she was diagnosed with a hole in her heart. The good news is that with immediate surgery, she can be saved. But the cost is astronomical for her parents.
"One day she was stabilizing, but the next day she'd become critical again. My hopes were shattered. But when she was a week old, doctors discovered she was fighting heart disease too. Why is it always my child?

After 12 days of agony, I saw my baby for the first time. I never dreamt she'd be so fragile, struggling to even breathe. Only tubes and needles were keeping her alive.

Without an urgent open-heart surgery, her condition will worsen and…

and she might leave us. Just like all the babies I've lost before.

" – Ganga Devi breaks down.

Surya Rao works in a small finance company and earns Rs.9,000 a month
. Until now, he has spent over 9 lakhs, largely borrowed at steep interest rates. He is torn between worrying about his baby, his devastated wife, and the expenses.
The life-saving surgery followed by treatment will cost an additional 15 lakhs.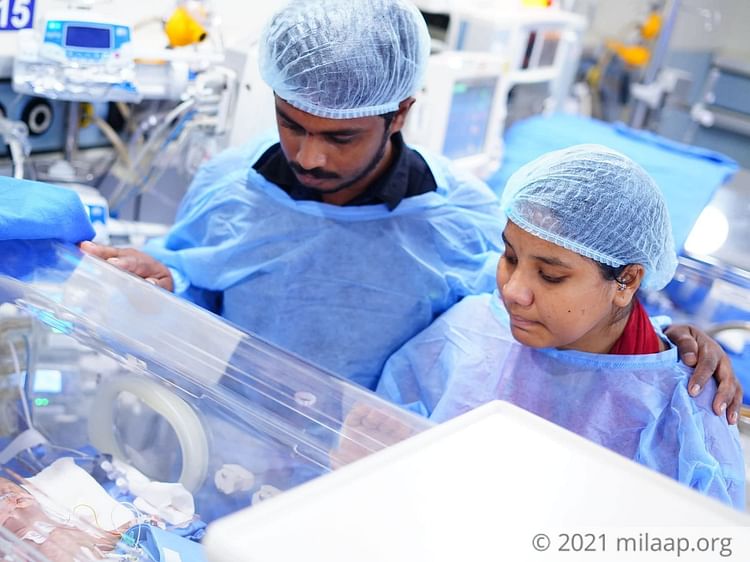 "I had one glimpse of her as they rushed her to the NICU, and prayed desperately that she comes back to us.

The problem has been identified, and the solution too. With this surgery, we can save our baby. But I don't have the money for it.

I've been wandering helplessly, for financial help.

I'm afraid of the debts I've taken upon myself, and have no idea how I'll ever repay them. But for now, all I want is to save our baby.

We have no one to turn to. Please help us!" – Surya, breaking down.
You can help these parents save their baby, and thus themselves, from slipping into agony again. Click here to donate.