"God, please do something. We need you; my daughter cannot sleep, and it's harrowing to see her in such a condition. Please do a miracle; Please do something for my daughter. I cannot see her in such a painful condition." - Priya, Baby Avni's mother, explaining her pain.

Baby Avni is 1 yrs old, and she is suffering from a Vertebral Tumour; if left untreated, it can become life-threatening and cause permanent disability. As time passes, her tumour increases, and it is becoming more painful for her to survive.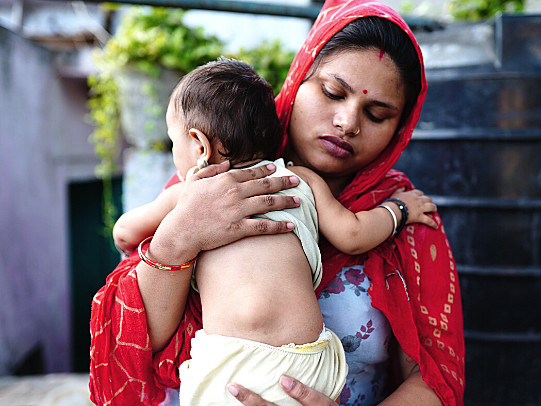 "I was excited when she came into our life, But our happiness was short-lived as we observed that there was a swelling on her back which later developed into a tumour. She cannot sleep on her back, and I am unable to relieve her pain. Her relief cost is out of my imagination. We all are suffering with her." - Sandeep explains his helpless condition.

Baby Avni belongs to an economically restricted background. Her father, Sandeep, is a shopkeeper with a monthly income of Rs. 8000/-, while her mother, Priya, is a housewife. Avni's father is doing everything within his limits for his little girl, but given his financial situation, his options are limited. Baby Avni requires urgent medical attention, and this cannot be possible without your support.

"Neither we can eat nor sleep seeing her in so much pain. We sit all night, taking her in our lap. My baby can't even lie down peacefully. I dream of a happy future for her as I can't see her in such a painful condition anymore. It hurts a lot from the inside. Would you please help our daughter?" - Priya, baby Avni's mother seeking help for her daughter.

We request you to please support baby Avni by all possible means and help her live a happy life. Her parents are seeking support due to their financial condition. Baby Avni needs your blessings to survive.
Project Global Cure -

Project Global Cure is an initiative of the "Humanity Welfare Council" to transform health globally.
Please note that we raise financial support for financially fragile, debt-ridden people with no social support during medical emergencies. We at Project Global Cure raise funds only through Milaap to maintain our work's legitimacy and transparency. We do not use any other platform for raising funds. If found, please report to us at
helpdesk@projectglobalcure.org
.
Warm Regards,
Team Project Global Cure
Humanity Welfare Council