Heritage Foundation of Art and Culture
provide extensive support to Children with
Autism or autism spectrum disorder (ASD)
, refers to a broad range of conditions characterized by challenges with social skills, repetitive behaviors, speech and nonverbal communication.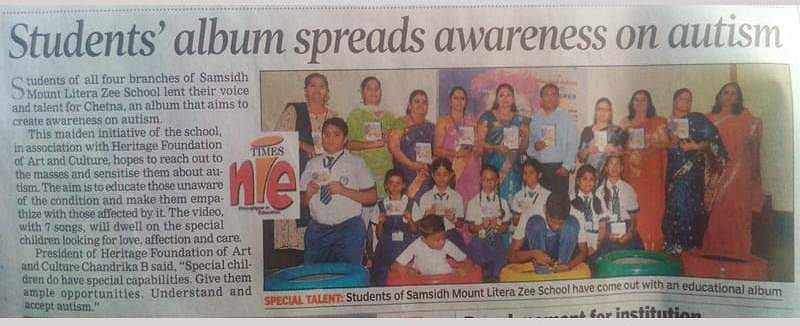 The corona virus (COVID-19) outbreak is keeping parents and kids home — and away from others — to help stop the spread of the virus. Adjusting to a new routine is stressful for everyone, but especially for children with autism who have trouble with change.
Awareness Campaign CHETNA (2019)
What We Tell Our Child About Corona virus?
Kids with autism may not know what is going on, or might not be able to express their fears and frustrations.
How We Help These Child Stay Calm?
Kids with autism who feel frustrated, worried, or scared may have more repetitive behaviors (like hand flapping or rocking), tantrums, and other challenging behaviors.
Also try calming activities, such as deep breathing, music, or watching a favorite video throughout the day. Exercise also can help ease anxious feelings.
There is an ongoing pandemic of COVID-19, the disease caused by the novel corona virus. Since there is still no cure or vaccine for this disease, it is important to take preventative measures.
Children with autism may exhibit strong resistance to change. Closures of kindergartens, schools and other facilities that children with autism attend on a daily basis can create additional tension.
Campaign Cause
The covid -19 pandemic has caused an economic crisis across various industries and one of the most deprived ones are the schools, majorly the unaided and special schools, kindergartens ,pre-schools etc who are on the verge of closure. The current situation has forced many schools to consolidate by means of layoff and other cost cutting measures only to sustain in this crisis. In the last 5 months of lockdown, many are still struggling to survive. They have to manage their rent, teacher's salaries and other administration costs. The current situation seems to cease not too soon though, for the next few months at least. In view of the same, we as an NGO have initiated this campaign to help our associate autism institutes to sail through this tough period with your humble support.

We seek your kind support to help us raise the fund for the needy and thereby make a difference to the society. Together we can create a more inclusive world for autistic children.