Dear Readers,

I hope this letter finds you in the best of your health.
My name is Ashutosh Rana. I am very pleased to share that I have recently got an unconditional offer to study Masters in International Relation from University of East Anglia commencing from 27 September, 2021.


It is an honour to study one of the most distinguishing characteristics of International Relations. As it gives us a global understanding about the power equations between the countries, diplomacy, and how external forces shape the policies formulation. The strategic deals and the areas of cooperation between the countries is one of the reasons that I am interested in this subject.
Thank you for taking out time to read about me.
Story
I was born and brought up in a small town of Bihar, India where very few people go for higher studies. I come from a middle class lower income family where my father is the sole earner of our family and my mother is a home maker. The value of education is something that I have understood since a very young age as the literacy rate of my village is too low were you hardly find anyone who can write and understand English language. Neither of my parents had an opportunity to attend college, and faced many struggles in their personal and professional lives because of this. My family has made many sacrifices to allow me to focus on education throughout primary and secondary school. I now have an opportunity to become the first person in my family to attend college, I am the first guy entering the UK from my village. Though I'm in need of financial assistance to realize what has been a long-term goal for me and a dream for my villagers. I am trying to raise funds for my tuition and living expenses to get me into the University of East Anglia.
Below are the estimated expenses I am going to need for the duration of the course INR
| | | |
| --- | --- | --- |
| Particulars | Cost in Pounds | Cost in INR |
| Tuition Fee | 17600 | 1926373 |
| Other Fee | 708 | 77492 |
| Visa and Air Fare | 348 | 38089 |
| Living and Maintainance Cost | 9200 | 1006967 |
| TOTAL AMOUNT | 27856 | 3048921 |
I have completed my class 10th from a local school of my hometown where I started my journey with scoring 10CGPA. My schooling was the root of building my career in political science and participating in election surveys organized by Developing Countries Research Centre was like icing on the cake in choosing my final goal.
I completed my graduation in political science from Satyawati college, University of Delhi. During my graduation, I have been an active member of Saksham: Career counseling, Placement and E- cell and Environmental Society which helped me in brushing up my further skills. I also showed keen interests in different kinds of seminars that took place in my college as well as other colleges which helped me to know about various topics from various fields as well I have also been an active member of "Unnati", a Delhi based nonprofit organization which works for overall development of student by hosting events and various programmes. Being a student of Political Science, I have not limited my theoretical knowledge of politics to the papers, but also applied and manifested it in the Student' Union Election Satyawati College Day by contesting for the post of Treasurer and ending up being a runner up where I learned leadership skills.
During graduation college time, I participated in an internship program of UDYAT under which I used to go to the slum area and would teach the children that changed the way I viewed society. . The experience I would be getting through this internship will encourage me to innovate and help enhance my skills and techniques so that they can be utilized for the betterment of the society at large and also help me realize my dream of working in the field of my interest.
At first, I thought that government has so many policies regarding our education system, in fact Indian constitution has the provision of imparting free and compulsory education to the children up to the age of 14 without any discrimination on the ground of caste, creed, status or physical challenges. But during my internship at the ground level, I found that how slum children are not getting benefitted from the schemes of government due to lack of proper awareness and various other loopholes that exist in the system so that I also raise my voice by writing so many articles published in India alive and youth for express.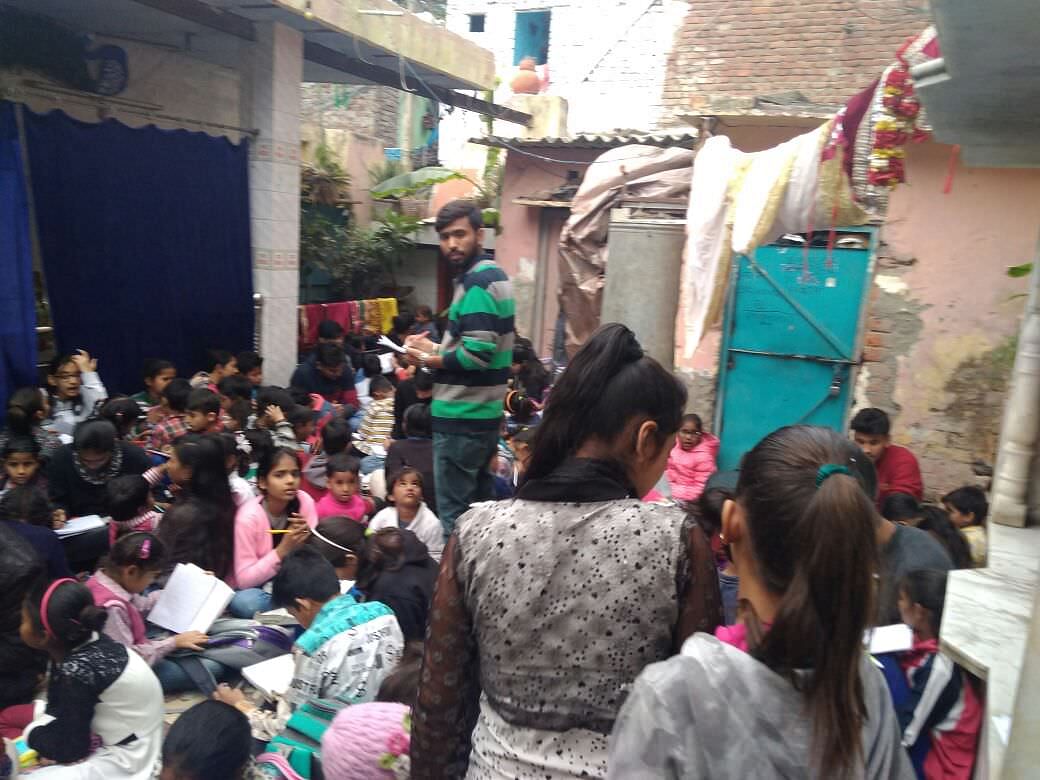 My current post graduate degree, M.A. (Honours) Political Science, from the University of Delhi (Top University of India for arts and commerce) provided me with a strong foundation of political science, comparative politics, International Relations and Public Policy. It's not only taught about the political system of India but also gave us a wide view of the Constitution and political system of any other countries like the U.K., U.S.A, and China. It also helped us in understanding various global issues and events which changed the world i.e. outbreak of World War 1 (June14, 1914), Russian Revolution of 1917, German invasion of Poland (1st September 1939), Establishment of Maoist China, Fall of Berlin war, 9/11 attacks, Indian Independence of 1947 etc. During my post graduation period I've also completed my internship as a Human resource with Unschool.in which is a company recognized by Government of India which helped me to grow my personal development. Along with that I also got selected in SSNLP program also pursuing Sathya Sai National leadership Program.
Opting for social science in post graduation and pursuing it further, then I joined the Political Sampark (a well recognized political consultancy in India) as Area of Resource manager. Further, my active participation in this company adds on to my engrossment of becoming an international level political analyst/journalist. Chasing the following subject from an international institution will help me a lot in discerning different cultures and distinctive ideologies from different states across the world, which will assist me in my profession in time ahead.

Plans for the Future
After obtaining a spectrum of pragmatic acumens in this field(International Relation), I would like to proceed in my career leveraging the same to relinquish more responsible and challenging higher authoritative levels, down the line. With my academic expositions and the focused practical education at university of east Anglia, I will undoubtedly be able to mentor myself to one of the most sought-after professionals in the market.
As India is fastest growing economy of the world, continuously faced with challenges of justice, inequity, exclusion and progress. The study of International relation informs the state as to how it could respond to the new dynamic challenges that emerge in the society. As every legislation requires clear policy formulation, there is demand for trained professionals who will be equipped to design, implement and evaluate policies and programmes. I also want to be a part from where we all together can transform the Constitution while addressing the contemporary challenges of pluralistic society. I want to become a policy practitioner capable of supporting inclusive and sustainable development focusing on the interface between policy and law as our niche area.
My experiences have only heightened my interest in this field. My goal to make a tangible contribution to societal developments .I felt that it is essential for me to undertake international relation as it covers a broad range of socio- political issues both theoretical and practical that are directly relevant to different levels of society (individual, community and government). Since I have faced the struggles and difficulties of the marginalized and weaker sections of the society in the locality I lived so far, I am aiming to work for their cause and upliftment in future as I have been doing since my college life.
Through this course, I am eager to acquire and then implement my acquisitions to the Indian society and ultimately desire to take it to a whole new pinnacle. After the completion of this course, I have the wish to gain relevant experience and return back to my country, my state and my society and then serve them in a better manner than they have served me for years.
Request
My passion for studies compels me to ask for financial aid from your end. I am in need of financial assistance in order to attend college because I am a low-income student. Although my parents gave me a lot of support, I received limited financial assistance due to low family income but due to the high amount of tuition fee I am facing more financial need. Due to the pandemic, many funding institutions have frozen their scholarships and funding opportunities Therefore, I would greatly appreciate a helping hand so that I can successfully obtain my masters degree. At the end of the day, I will definitely materialize my dreams by paying my best services for the country after getting post graduated from the University. I am looking forward to your kind support. I would humbly request you to support me in the best of your capacity to reach my dream and please share to this yours friends & family as well. In case you have any queries, please feel free to reach me out at ashutoshrana9111@gmailcom.
Thank you