Hello friends.
My name is Ashita and I am a co-founder of (and one of the volunteers at) The Good Harvest School.
In 2013, my husband and I decided to leave our jobs in Delhi and move to a small village to invest in the lives of rural farmers. Little did we know that more than seeds or loans they needed basic education. Visiting families and spending more time in the villages I felt the disparity in education levels between city and village schools. To make matters worse it was mostly the boys who went to school in the village. Girls are held back at home to do household chores. Slowly, we reached a point where we couldn't ignore it anymore. So, we decided to open our farm doors to girls and give them the same quality of education as compared to city-based schools. And to create better opportunities for them in the future, and we incorporated agriculture as a core subject in the curriculum.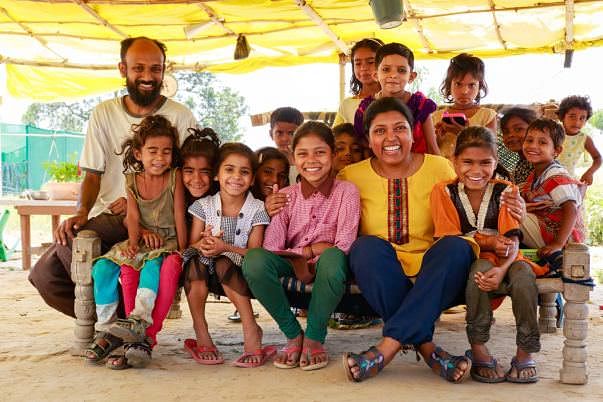 Today, The Good Harvest School is led by young individuals from diverse fields, providing green education to village-girls, and nurturing in them values and competencies to become responsible food growers in the future.
Our mission: Empowering women in the agriculture sector.
In 1989, the government released its first report on India's women workers in the unorganized sector, of which agriculture forms an overwhelming majority. The findings stated that 85 percent of employees in the farm sector were women, be it as cultivators or daily-wage laborers. The report also discovered that women were equal toilers in traditionally men's activities like transplanting, harvesting and threshing paddy, treading pulses, and breaking stones. They did this in addition to performing their socially assigned roles of child-rearing and household chores. But to the Census, they were just 'housewives'.
Agriculture is not a male-dominated field anymore. It is actually women who often outdo men.
From selecting, preparing, and sowing seeds to transplanting the seedlings, applying manure, and then harvesting, winnowing, and threshing, women work harder and longer on the field than men. Yet, we fail to recognize their hard work. The Good Harvest School is a small and long-term effort to support young girls from the farming community to make the right choices from the beginning.
The Good Harvest School is the first green school where girls get to learn regular subjects as well as extensive lessons on sustainable agriculture.

WHY ARE WE RAISING FUNDS?

This year we have entered into our fourth school year and it's amazing to look back. All these years are filled with so many incredible stories and wonderful memories that inspire us each day. In a short span of 3 years, all our students have pushed themselves hard and progressed well. With the same energy, we are now setting our aim for the next 20 years. And as we are growing, we are in need of a school bus. We know that our goal this year is not going to be easy. We have a huge target in front of us, but we also know that people like you can really make a difference.

Thank you for your time and willingness to help our students. We are looking forward to receiving your ideas. We will be implementing the top two ideas in our school/community. We are excited to work on your ideas.


Regards,
Ashita Nath
www.thegoodharvestschool.com
Please send your ideas on thegoodharvestschool@gmail.com