We're trying to attempt a "massive collaboration" of learners and teachers to address the risks and provide significant cost-effective approaches versus costly courses. This could mean that you can have someone coach your kids for free for holidays homework, or help you earn from taking online classes for any subject or topic.
McKinsey (American management consulting firm)
reported that COVID-19
has impacted 1.6 billion children globally.
A large population of India has to fight the lack of digital infrastructure as well.

The complex environment of Education has extended to very costly responsibilities for Parents.
What we do now, could impact a century.
Our immediate focus of this fundraiser is to help students' families stay afloat with access to education & learning resources, along with providing Jobs (to Tutors for teaching online).
While children will be out of school for the next few months at least, we want to ensure their learning doesn't stop, and very importantly, we want to reduce the possibility of children dropping out. Kind people like you have the power to change for good and impact thousands of lives!

By donating, sharing, and becoming the voice of noble causes like this! Remember, someone in need is hoping and eagerly awaiting your help!

You could bring relief to some of the parents, guardians, students, and teachers who are facing this tough time.
My name is Ashdeep Singh and I am raising funds for this cause with my team. In terms of objectives, we're going to -
Enable instructors/tutors to find online jobs
Enable students to approach online instructors and learning material for their requirements
Enable Students/Learners to ask questions and find solutions to learning problems
Enable instructors/tutors to offer their services and promote them.
Provide online teaching and learning tools with interactive smart classes.
The ultimate goal is to spread education "throughout the world" and invest the raised funds accordingly to reach all areas regardless of the digital abilities.
I am a concerned individual with the intent of providing a solution to learning and job difficulties in these desperate times, where people are struggling for jobs, and learners are struggling for guidance, and I want to develop a platform that'll provide an affordable solution to this problem.
A project is already in process at
Otute.com
where all the services will be carried out. The Project is being Headed from Mohali (SAS Nagar), Punjab, India, where contributors may work remotely, and we need to make it available as soon as possible.
Considering the current situation of COVID-19, we need to deploy more resources on this platform to make it quickly available for the public. This requires resources and budget.
The Funds will be used for:
Developing the Platform to provide online education
Raising the Infrastructure required to host and run the platform
Make payments to tutors/instructors to be able to provide free education for learners
Promoting the platform among needy ones
Pay wages to ones contributing to developing the platform
Performing Research via experts
Hosting Virtual Webinars/Seminars to increase the reach
This is an ongoing project and will require monthly expenses. Here's a snapshot of approx monthly expenses, for which we need your help to achieve the goal.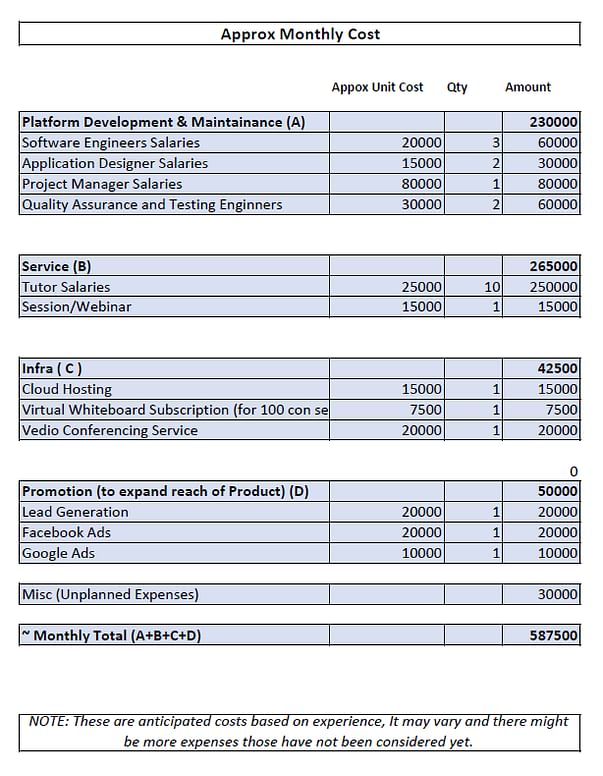 Please find the attached document to have a look.

Lend a helping hand to helping hands trying to address the challenge.

Please help me in the cause by contributing to my project, or by sharing this fundraiser with your friends and family!

I am grateful for your help!