ABOUT
Vector is a team of ebullient engineers who constantly strive to push the limits of Formula Student Racing. The team consists of 22 students from the various departments of PRESIDENCY UNIVERSITY, Bangalore.

OUR TEAM
Our enthusiastic team members are divide into different departments namely, innovation, mechanical, electrical, and marketing. Our team has participated in various National Level Event and the team has gained a lot of experience and has had a prodigious improvement each season. We self-fabricate our kart with international standards.
The kart is put through their paces and tested to find the best overall package of acceleration, handling, design, reliability, and economy.

Our crew has secured 4th rank in RANGE EXTENDED ELECTRICAL VEHICLE, SAE India(REEV) in February 2020.
Ranked 4th and titled 'Best Design' in SAUR URJA VEHICLE CHALLENGE(SUVC) march 2020.
Nationally Ranked 8th in NATIONAL ELECTRIC CHAMPIONSHIP 3.O (NEKC 3.0) in march 2020.
nationally ranked 16th in NATIONAL ELECTIC CHAMPIONSHIP 2.0 (NEKC 2.0) in 2019.
THE EVENT
Hindustan Formula Karting Championship (HFKC) season 4 is a National Level Event recognized by the Government of India (MSME) and organized by Hindustan Motorsports which is going to be held in Madhya Pradesh.

ABOUT THE PROJECT
The team believes in upgrading the vehicle from the previous one to a fully loaded Innovative Vehicle that will run on the Kart and the team will get the live Database from it.
Not only live data, the vehicle will focus on important safety measures which one might not see in other vehicles but in Vector. Coming to the outcomes they are like:-
1) One can publish a paper on the calculations, innovation, battery cycles (charging/discharging)
2) Apply theoretical knowledge taught in class to a real-world application, etc.
3) The team focuses on minimizing the Cost and Building a cheap marketable Vehicle which further can be reused in other Championships.
OUR DREAM
We consider our team, a family. Since the inception of this team, we have only one dream – To build a car that leaves more than just tire marks on the race track and creates a Benchmark. From the past few years, we've constantly strived to make a perfect Racing Vehicle that will help us realize this dream. As a sponsor, you get to be a part of making this dream come true. Every Kart we make has our blood, our sweat and our prayers embedded in it.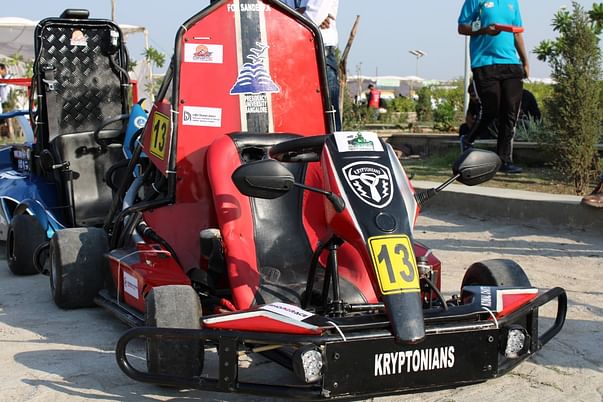 WE REQUIRE YOUR MONETARY SUPPORT TO BUILD THIS RACING VEHICLE. PLEASE HELP US TO TURN THE DREAM INTO REALITY.
Our Website
http://teamvector.xyz/
follow us on following links
1. Instagram
https://www.instagram.com/_team_vector_/
2. twitter
https://twitter.com/TeamVector10