Dear supporters and fellow kind beings,
This fundraiser is to help save the lives of kiwi, chia and Chip. They are 3 out of the 5 puppies from a litter, a month back they came under my care and they were added to my 50+ dogs who I have been taking care of and feeding on a daily basis for the past 2 years now.Since they were barely a couple weeks old, and I couldn't get them vaccinated I started them on immunity boosters and multivitamins for puppies a d prepare a schedule for their deworming and vaccination.These tiny little babies were all active, energetic, healthy and had a good appetite, they were eating three meals a day.They even got dewormed on time and everything, but then another person decided to deworm them just two days after we did, and the very next day one of the 5 puppies fell extremely sick with neurological symptoms and passed away.
Post this I knew I couldn't follow the vaccination schedule because if I would get them vaccinated without their blood tests done to check for any possibility of a viral infection present, it would do more harm than good.
So I decided against getting them vaccinated right away and planned to take them to max bets for their blood tests and their checkup, to rule out the possibility of distemper, and this costed 10,000 for the tests ( 2500 x 4 )
[ the bill will be attached below ]
When I took all the 4 puppies that were left kiwi, chia, chip and dale to max vets, Delhi they were still fine that day but were a little low than they usually used to be.
The very next day I received the news I was dreading and it was so heartbreaking when they told me that 3 out of the 4 barely 2 month old puppies have tested positive. And luckily somehow dale tested negative.
I immediately shifted dale to a foster and had to separate him from
His siblings kiwi, chia and chip who had tested positive for distemper and their CBC report didn't seem to good either.
At this point they only had one symptom which was discharge from their eyes.
So I knew I had to get them admitted to a god medical boarding in order to give them a chance to survive, and I only know of only 1 good medical boarding to provides treatment for distemper.
So I took them to pets and vets Delhi the very next day and got them admitted, when I showed the CBC reports they suspected tick fever as well, so they decided to do tests for tick fever for the three of them as well.
Since all of this was happening so suddenly I hadn't even thought about the money that might be needed and I barely had time to raise funds since I had to pay an advance of 47,750 INR which is the advance for only the first 5 days of treatment.However it will continue for a minimum of 15 days, which will make the total to around 1,50,000 INR.
Post this they will also need post care for at least 2-3 months to fully recover.

[ all the bills will be attached below ]
And I started calling everyone I knew could loan me any money and I somehow managed to get loan of ₹47,500. on the promise to return as soon as possible.
so before i am able to even raise more money I also have to clear out the debt which is 57,750 ( 47,750+10,000).
While i have done everything in my ability as of now, i require your help and kindness to save these tiny kids who are fighters and at this tiny age are fighting this deadly disease with all their might. It breaks my heart to even see that they might not get chance to fight it due to money issues. please please come forward and help me help them see the light of day and have another chance at life. Be their life saviours. No amount is big or small, any amount you donate would help save their lives.
If you cannot donate you can also help, by sharing the appeal of these tiny puppers with your family, friends, neighbours, followers, and anyone who can contribute to help them.
Thank you
Kiwi, Chip and Chia, woof you for your support in saving them.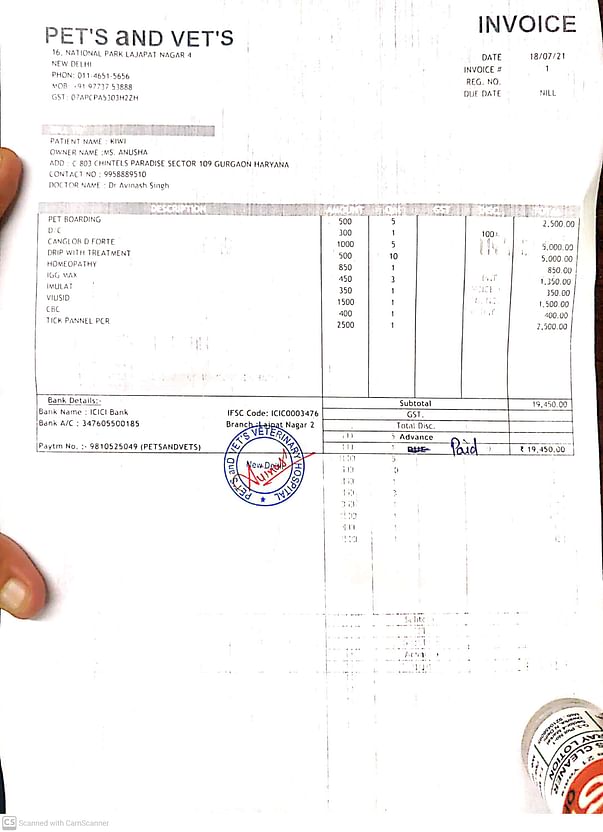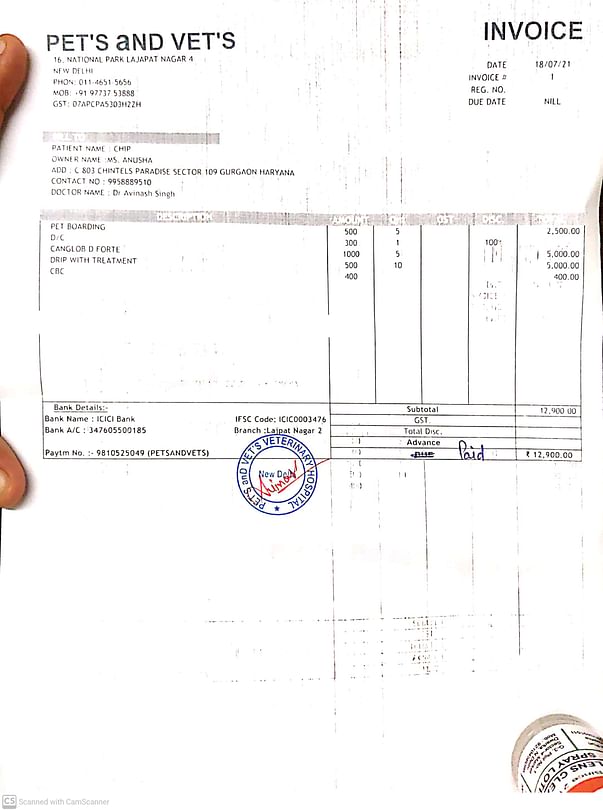 The Blood tests bills -