About us -
Hello everyone!
We are a group of 4 friends -
Megha Garg
Himanshu Mangtani
Suhani Bahl
Anant Chhabra

During this lock-down due to COVID-19, we have noticed that people are abandoning stray animals near them. Private colonies and apartments have closed their gates for strays to enter for shelter and food. Also, mainly because of the fear of contamination people are avoiding and harassing strays. Over the past few months we have been providing food to the stray animals in the vicinity and now we want to expand our operations across Jaipur.
We all being students have limited resources and thus we cannot afford to help these animals on a larger scale because till now we were doing this depending on our personal capacity.
Now, our main motive is to feed at least 200 strays each day and also try to increase this number gradually.

Why this idea came to us -

These are difficult times and not only just for mankind, these days are difficult for strays too. Our most loyal friends need our help during this time especially when the temperature is also on the rise. Not to forget that this is the delivery season for most of the stray animals.
As most of the organizations are helping towards getting migrant workers and other homeless people to have food and shelter, we should also do our bit towards those who cannot speak. With their increasing need for food and water, most of them are going to have a harder time if we don't be their friends. Usually stray animals are dependent on food they find on the streets, leftover from cafes, restaurants, weddings etc. but due to this lock-down they are not able to get even a one-time meal.
With some experience and immense love towards animals we'd like to help them during this time and will try to continue feeding them with your support. Help us in providing food and water to them.

Inspiration –

Our team also has 2 pet dogs. We know how a small effort from us could make their day better. We got inspired by a person who owns an adoption centre and shop for dogs and other animals for about 10 years and is an animal lover himself and also has at least 8-10 pet dogs with him. We watched one of his videos on social media about feeding stray animals in different parts of the city during this pandemic and we were deeply moved by the act. He was helping and feeding stray animals amid this whole lock-down since day 1 amongst this entire city and its almost more than 2.5 months.

That moment we felt that we need to do something about this situation as these animals aren't getting food to eat on a regular basis.
Even thinking about this whole scenario got us scared about what will happen to them if they are not taken care of. At that moment we decided to feed as much stray animals as we can. More contribution will help us to get better resources so that more number of animals can be fed.

How can you help -
Even a bar of chocolate costs more than INR 100 right? It doesn't make a hole in your pocket but it does give one time meal to at least 4 stray animals. Their lives matter equally so please donate your bid.
With your contribution we can help these stray paws wag their tails again!
If you feel the same way, we feel about the ones who cannot speak, and want to become their voice, we will help you to reach out to the right ears.
How funds will be utilized –
For a single day meal for dogs, we are going to prepare 200 packets consisting of 8 Kgs of plain rice mixed with 3 Kgs yellow dal and 4 Kgs of soya bean chunks boiled in water.
For a single day meal for cows, we are going to prepare 50 plain chapattis. (This will be made on the team member's personal contribution) and 30 bundles of fodder.
Bananas or Watermelon (Depending upon the availability) for monkeys, cows and dogs.
The average cost of 1 box of meal for dogs will be approximately INR 6 each.The average cost of feeding the cows would be INR 300.We would also be distributing fruits of INR 400 to INR 500 daily to other stray animals such as monkeys, cows and dogs. Apart from the above expenses there may be further miscellaneous expenses of nominal amount depending upon the requirement.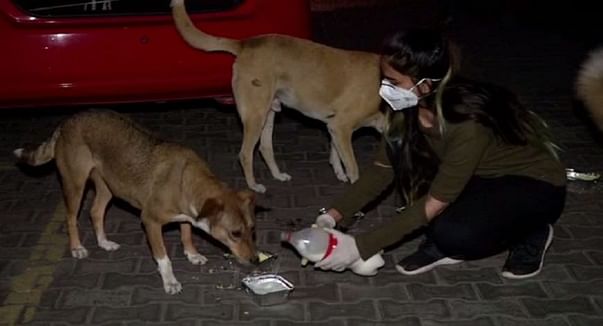 Have you ever sat near a street Dog and looked into his eyes?