This organization was established in 2010 by only 5 voluntary and visionary persons with the aim of Educational upliftment of the financially weaker section of people. Till the end of 2019, we deposited the admission fees and tuition fees for higher education for both boys and girls who belong to poor families.

Those students who are talented and hardworking and failed to deposit the fees to their colleges and universities, we come to rescue them by providing them all sorts of help that is needed for his / her education.

This organization is not an NGO nor Trust, it's a Voluntary Based Self Help Group(SHG) we are in the process of registering it as a society but due to outbreak of covid 19 and political instability from August 2019 we were totally focussing on the poor chronic patients who were not able to meet the medicinal or maintenance demands.

From August 2019 till the outbreak of this pandemic we almost catered 25 chronic patients by providing them costly life-saving drugs and managing the cost of their dialysis and therapies. With the outbreak of this pandemic, we got more queries all over Kashmir from the poor chronic patient families. Different organizations like NGOs and Trust forwarded the cases of chronic patients to us. so we got the queries in hundreds from the underprivileged people as they were unable to meet their medicinal and dialysis/ therapies costs.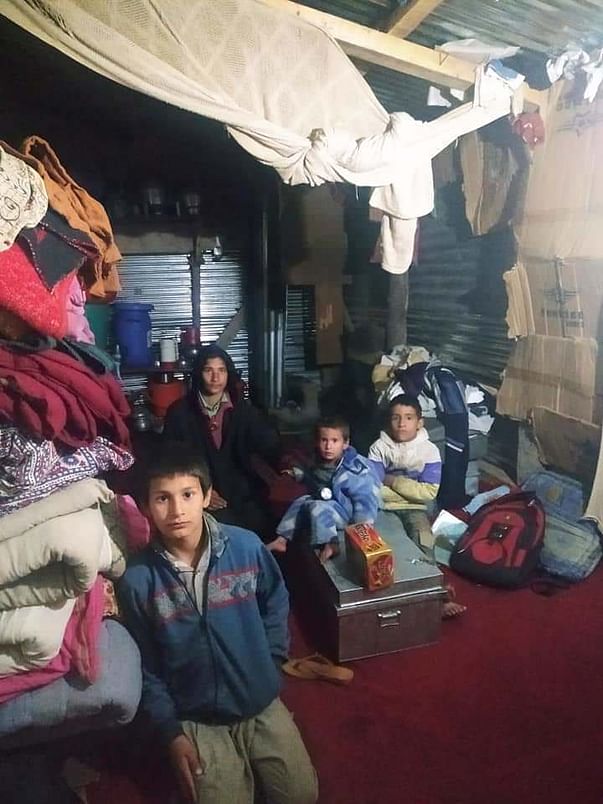 By verifying the cases of chronic patients which we have registered phonically, we came to know their painful stories as they were unable to take proper care of their patients as they would be missing the dialysis, therapies, and medications on time and all it was compelled as they had no money to bear the costs of therapies, dialysis, and medicines.

The chronic patients viz kidney failure ( CKD, ESRD, Cancer ( leukemia, colon, affecting other organs) diabetes, hypertension, hyperthyroidism, and cardio patients have different aspects of medicational and medicinal requirements.

Kidney failure patients have to undergo maintenance hemodialysis. The approximate cost of dialysis+ medication+ investigation comes around Rs. 30,000 per month per patient with time to time modification in medicine and dosage as per the disease status of the patient some patients have to undergo through transplant which costs them more than ten(10) lac. The cancerous patients have to undergo Chemotherapy which costs them per therapy around Rs. 1.5 lac. some patients have to undergo a transplant in Leukemia and other ailments which costs them more than 20 lac per patient.

So far till today as our official record is concerned we have almost catered 40 patients and we look to bear the costs of kidney failure and cancerous patients which costs about 20 lac per month without transplant mechanism. We got hundreds of queries from poor, downtrodden, and weaker sections of society with the painful stories of their home and while dealing with chronic patients. we are duty-bound to our responsibility as a human to not let these patients suffer.

❤Helping the needy

There are some people who really find it very hard to make both ends meet and they cannot manage their daily affairs in the prevailing situation of Covid 19.

This is very important that we should be of some help to the weaker section of society, in particular as the holy month of Ramadhan is commenced. The month of Ramadan is the month of giving alms, making a sacrifice, and helping the needy. It will be such an excellent move to contribute for charitable purposes and offering pious help to the needy and the poor.

We as a team of Mura wat e Insaniyat ( An amalgam of Human Development pertaining to Education, Ethics and Human values) work tirelessly amid this pandemic for a noble cause to not let any family sleep without food or patients of chronic disease viz kidney failure, cancer and diabetes be left without life-saving drugs.
Our motto is to elevate the financial standard of underprivileged sections of society and those who are having health issues like cardio, nephro and cancer-related problems we provide the necessary help in regards of medicines, injectable and food kits

How mollifying it is to help those who are in dire need of life-saving drugs, essential food commodities, and helping people financially amidst this pandemic.
So respected visionary people, we have got lots of queries about medicinal requirements and need of food kits. So come forward to donate in the form of food kits, medicines, or a monetary basis.

With regards
Murawat insaniyat

Amid this pandemic, we got the queries from the underprivileged people about their food demands.
So our voluntary team which comprises of 100 visionary and noble cause-driven people prepared the food kits (comprises all essential domestic commodities viz oil, ghee, spices, pulses, wheat, Soap, detergent, salt, tea, and milk) we almost catered approximate of 420 households all over Kashmir and in order to outreach all over the valley we coordinated with other organizations. the demand for food kit which costs us about @Rs. 1500 to Rs. 2300 depending on the family strength is continuously increasing.
So far our esteemed volunteers and trustees managed by their own pocket money but now we were compelled to look for a big platform for fundraising and one of our trustees Dr. Shabnum suggested us go for Milaap. I hope your esteemed organization on humanitarian grounds helps this sacred cause.

regards,

Murawat e Insaniyat
Jammu and Kashmir

Our campaign organizer is to collect money to meet the demands of chronic patients their medicines, dialysis/ therapies, and transplant. The demand for the food kits among the underprivileged people amidst this pandemic.
Our organisations email is Murawateinsaniyat@gmail.com

Contact chairman Murawat e Insaniyat = 7006834759
Mr. Dr. Majid
Contact General secretary
Murawat e Insaniyat= 9696513231
Mr. Sajid Hussain

The funds from the volunteers and trustees are utilized judiciously and systematically and proper records are maintained.
The volunteers which comprise more than a hundred visionary youths have segregated work viz some manage account section, verification, distribution of food kit and medicine, and procurement of food kits and medicines.

Due to the outbreak of a pandemic, we are unable to get an 80 G certificate at the earliest as it will take some more time for this process. The website of organization is under process as the speed has been decreased to 2G from the last 2 months and still. And the internet was fully snapped before outbreak of a pandemic.

Hope your Excellency can provide an alternate way to help these destitute families on humanitarian grounds
Regards,
Murawat e Insaniyat
Jammu and Kashmir

Here are some appeals regarding help people in need in order to reach the needy and poor people.
Some videos and images while distributing medicines and food kits.
And videos and images pertaining to patients
Let's join our hands to help these patients amidst this pandemic as they are grief-stricken and full of sadness.